Mr. John W. Cooley USA (Retired)

Cullum: 25774




Class: 1965




Cadet Company: E2




Date of Birth: October 28, 1943




Date of Death: July 21, 2009




Died in Evanston, IL




Interred: Inurned, West Point Cemetery, West Point, NY - View or Post a Eulogy




Location: Colu 1-27, Row A, Niche UL



---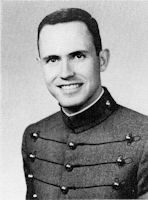 Each of us has the privilege of writing a few lines in one another's "Book of Life." And the lines that Jack left for those he knew—friends, family, and many whom he casually encountered—were beauti- ful indeed. A classmate recalled one such time in the winter of 1965 at a dingy, remote officers' club at Fort Benning, GA. It was one of those strange breaks between sessions of Airborne School and Ranger training—too brief to go anywhere, but long enough to seem te- dious. A group of new second lieutenants were celebrating the end of Airborne or Ranger training and the beginning of the adventures that lay ahead. Through the cacophony of voices and the cigar smoke broke the music of a piano, and those notes, at once brave and cheering, lent an unexpected touch of grace to the occasion. And it was Jack at the keys.
Jack Wayne "Jack" Cooley was born in St. Louis, MO on October 28, 1943 to Angela and Clyde Cooley, a farmer and St. Louis barber. Jack graduated in 1961 from Christian Brothers College High School and then set out on the adventure that was to shape the remainder of his life. On July 5, 1961, he and 838 other anxious young men wandered through assorted sally ports to seek out the "Man with the Red Sash."
Then came plebe year. A classmate from Jack's plebe year company (B-2) tells more about the extraordinary talent that would materialize that night at Fort Benning many years later: "He was a phenomenally gifted piano player. On Sundays, Jack would head over to Cullum Hall where there was a piano. He would sit down, pause as he reviewed his 'playlist' of hundreds of pieces he knew by heart. And when he began to play, we were transported into another dimension where the only objects were Jack, the piano, and the amazing music."
Jack turned from playing music to writing it when the class put on its 100th Night Show in March of 1965, titling it "Sadder Bud Weiser." Jack wrote much of the music for this, and CWO Whitcomb of the USMA Band arranged it. The pro- duction was hugely successful, drawing stellar reviews from local and New York City papers. It was held over for two ad- ditional sold-out nights.
Far more than a gifted musician, Jack was a brave and capable soldier. After graduation in June 1965, his first duty station was with the Air Defense Artillery that protected St. Louis, MO. There he earned an Army Commendation Medal, which is as good as it gets from the Army perspective for a junior officer outside the combat zone.
But, even better from a personal point of view, in 1966 Jack married the love of his life, Maria. They had met at a West Point "hop" after Jack had played the "Maria" song from West Side Story, not knowing that Maria was in the audi- ence. They raised two children, John and Christina, and remained a team until Maria died of breast cancer in 2002. But that's not the end of the story; through faith they shall be together again.
In 1967, Jack shipped out to Vietnam to serve with the 53rd Artillery Group until 1968. He was awarded the Bronze Star and Air Medals. Jack closed out his Army service as a faculty member at the Artillery and Missile School until 1970. And again, he was awarded the Army Commendation Medal. Jack resigned his commission in 1970, thus opening a new venue for his keen intellect and a new chapter in his own "Book of Life."
After Army service, Jack attended the University of Notre Dame Law School, graduating in 1973. He worked briefly as a litigation attorney at a private law firm, but soon turned from advocacy to his real passion, justice. He began as a senior staff attorney for the U.S. Court of Appeals (7th District), went on to serve as assistant U.S. attorney, and then to the position of United States magistrate judge.
Though Jack could judge with discern- ment and wisdom, he preferred mediation as a pathway to dispute resolution. And, in the process called "alternative dis- pute resolution," he found a mission well matched to his keen intellect and sense of fair play. He became a respected and sought-after mediator with the Judicial Arbitration and Mediation Services (now known only as JAMS). A legal colleague characterized Jack's mediation style as "… creative…fair and not flashy, dramatic, staged, aggressive or arrogant." In Judge Cooley, the term "the Honorable" found its full meaning.
A teacher as well as practitioner, Jack taught mediation courses at Northwestern University and at Loyola University. He authored 15 books, most recently Pracademics, which explores the art of translating the theories of creative prob- lem-solving into practice.
No mere intellectual, Jack also had a long-term relationship with a 1941 Ford V8, which he drove on the weekends that it worked. All real men have such a hobby. And as an entrepreneur, he started a band in Evanston called the Jazz Campers, composed exclusively of fellow jurists.
Jack departed this earthly life on July 21, 2009. The cause was multiple my- eloma, a cancer of the bone marrow most likely related to his exposure to Agent Orange in Vietnam. A classmate said of him shortly after his passing, "His early departure left a hole in our lives, and I still miss him." I do too.
— A classmate and friend