COL Stephen J. Kempf USA (Retired)

Cullum: 25769




Class: 1965




Cadet Company: C2




Date of Birth: October 18, 1939




Date of Death: December 19, 2021




Died in: Leavenworth, KS




Interred: Leavenworth National Cemetery, Leavenworth, KS - View or Post a Eulogy



---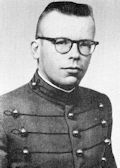 Stephen James "Steve" Kempf loved and dedicated himself to his family, country, and community. The son of Corwin and Margaret Kempf, he was born on October 18, 1939 in Washington, IN. He graduated from Washington High School in 1957. After a couple of years at Purdue University and a couple in the Army as an enlisted man teaching at the Army Ordnance Guided Missile School, he won admission to the U.S. Military Academy Preparatory School and a competitive appointment to West Point.
He pursued a variety of interests in the Rocket, Russian language, and Pistol clubs. He contributed to the Pointer magazine as an artist. He served as Catholic Chapel acolyte for three years. His prior service and studies put him into the role of elder statesman and father figure for other cadets. He counseled classmates on everything from navigating Academy demands to handling relationships with women. When friends grumbled about strictness of rules, Steve found appropriate humor to resolve the angst. His cheerfulness buoyed everyone fortunate enough to share time with him.
Normally the voice of responsibility, he sometimes unleashed his fun-loving spirit. He participated as the senior member of a group of classmates on a clandestine mission. In a rowboat, they made their way undetected to a Navy ship moored in the Hudson and painted "BEAT NAVY" on the stern. Their prank won recognition in the New York Times. He enthusiastically engaged in the famous rally in the Mess Hall prior to the football game with Penn State—celebrating the firing of a cannon inside, helping to stack tables six high, tossing napkins into chandeliers, and leading cheers. Maybe this pandemonium spurred the unlikely Army victory over an undefeated team ranked in the top-10. He told his family he considered graduating with the Class of 1965 ("Strength and Drive") one of his greatest accomplishments.
He completed Airborne and Ranger schools at Fort Benning, GA before serving in the Vietnam War as a second lieutenant. He commanded the 6-52 Air Defense Artillery Battalion in Germany and headed the Concepts Doctrine Directorate at Fort Leavenworth, KS. The Army selected him for the Air Defense Officer Advanced Course, the Department of Defense Information School, the Command and General Staff College, and the War College. Steve's commitment to the military ran so deep that in his free time he participated in war games and created the Dunn Kempf Battle Simulation.
His military awards and decorations include the Legion of Merit with oak leaf cluster; Bronze Star, Meritorious Service Medal with oak leaf cluster, Air Medal, Army Commendation Medal with oak leaf cluster, National Defense Service Medal, 2d award, Army Service Ribbon; Vietnam Service Medal with four campaign stars; Overseas Service Ribbon; 3d award; Vietnam Campaign Medal; Republic of Vietnam Gallantry Cross with Bronze Star, French National Defense Medal Gold Class, Army Staff Identification Badge; Parachute Badge and Ranger Tab.
Following his retirement from the Army as a colonel, he presided over Armed Forces Insurance and the Board of Education, Unified School District 207. He also contributed to the community as a 33rd degree Mason, a member of the Leavenworth Lions Club, and a member of the Old Bastards. Somehow, he found time for a personal hobby, model railroading.
Steve is survived by his wife of 41 years, Barbara; brother Mike (spouse Vivi), stepdaughter Kathy Barnette, granddaughter Katy Williams (spouse Anthony); great-granddaughter Chloe and great-grandson Evan; brother-in-law Jim Hawkins (spouse Carole); Aunt and Uncle Jean and Allen Litten; niece Michelle; nephews Mark and Michael; and five great-nephews, special friends Shannon and Sherri Williams and daughter Susan.
All who knew Steve will miss him and get encouragement from remembering his upbeat approach to life.
— Family and classmates