Anthony Joseph Borrego

Cullum: 25766




Class: 1965




Cadet Company: L1




Date of Birth: March 25, 1942




Date of Death: July 5, 1967 - in Vietnam as are result of hostile action




Age: 25 years, 4 months and 11 days young.




Interred: Holy Sepulcher Catholic Cemetery, Totowa, NJ - View or Post a Eulogy




---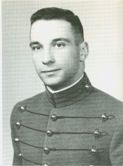 Steeped in rich Italian heritage, Anthony Joseph Borrego died as he lived; a Catholic soldier in the service of others. Only son of Dominic and Maria, Tony fulfilled their dreams as he completed high school and college preparation, entered the Corps of Cadets, and took his oath as a Lieutenant of Infantry.
In rapid succession Tony completed Fort Benning training, was posted to the Panama Canal Zone, joined his comrades in Vietnam a year later, and offered the ultimate sacrifice as he was killed in action while advising a Vietnamese Army unit-- exactly six years from the day of his first pride filled march to Trophy Point.
First Lieutenant Borrego is buried in the Holy Sepulcher Catholic Cemetery near West Patterson, New Jersey where he was born and raised. His parents, dying later, were laid to rest in the same plot. Before his death Dominic Borrego participated in a bitter sweet ceremony naming West Patterson's Borrego Drive in honor of his son.
Tony's life, like his stature, was short and overflowing with capacious pride and joyful warmth. As a cadet his unconcealed pride in his heritage, his country, and West Point was evident in every endeavor from athletics to music. Tony, a good student, freely gave his time to assist others in their academic challenges. Accomplished in judo, he advanced to brown belt degree. He also sung in the Cadet Glee Club and the Catholic Chapel Choirs.
In describing his pervasive enthusiasm for life, a classmate recounted how "Tony's effervescent personality and infatigable sense of humor had made him the most loved runt in the Corps and a friend who would not be easily forgotten". Not forgotten are the enduring snapshots of shared hardships, victories, and accomplishments; of class rings and graduation farewells; of discoveries, new responsibilities, and compressed joy. Above all, not forgotten is a close friend who chose to live and give his life in the service of his country.
"Short days ago we lived, felt dawn, saw sunset glow, loved and were loved ••• " From "In Flanders Fields" by John McCrea