Mr. Donald Gene Kurtz

Cullum: 25764




Class: 1965




Cadet Company: A1




Date of Birth: August 7, 1943




Date of Death: December 1, 2007




Died in Blue Bell, PA




Interred: West Point Cemetery, West Point, NY - View or Post a Eulogy




Location: Sect XXXIV, Row E, Grave 186A



---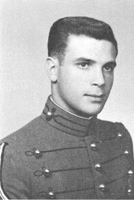 Ask those closest to Donald Gene Kurtz to describe him and they'll tell you about a man who relished life's simple pleasures, cherished his five children, and was always up for another round of cards.
The son of a milkman, Don was born on Aug 7, 1943, in Pittsburgh, PA. He not only excelled in school, graduating in the top four percent of his class, but he also shined in athletics, playing basketball and baseball. On weekends, he and his friends would hang at the local bowling alley. Don loved a little friendly competition.
That competitive streak drove Don. It punctuated his success at West Point, his career as a stockbroker, and, finally, how he faced a diagnosis of Alzheimer's disease as a challenge to overcome.
At Carlisle Barracks, where Don took his USMA physical exam in the spring of 1961, his future classmates immediately noticed his competitiveness when Don finished first in the hop-skip-and-jump.
The primary nominee from his district, Don entered USMA on Jul 5, 1961, with the Class of 1965. He was not from a career military family, but it wasn't long before he learned how to impress (or avoid) the upperclassmen in his cadet company. He wasn't a singer by trade, but he joined the Jewish Chapel Choir and took advantage of its many off-campus club trips.
As an upperclassman, he was known as one of the premier entrepreneurs of the Class of 1965. If it could be made and sold at a profit, he would sell it. His former roommate, Ric Shinseki, recalls how Don became a legend as a First Classman for slipping out of his barracks after TAPS to manage poker games with other cadets. It is rumored that he made enough money playing cards to enable him to purchase his first car with his winnings. When Don noticed his grades slipping, he hit the books and significantly raised his class ranking in less than a year, Shinseki remembers.
After graduation from West Point, Don joined many of his classmates for Ranger and Airborne Schools at Fort Benning, GA. In 1965, Don left for his first assignment in Germany as a battery officer in the 16th Artillery. When his battalion's troop strength in Germany was cut significantly due to Vietnam deployments, he became both a Battery Commander as well as the Battalion Assistant S-3 as a lieutenant. Throughout his assignment in Germany, he continuously impressed his battalion officers and the enlisted men with his leadership abilities.
In 1967 Don deployed to Vietnam as an air observer for the 4th Infantry Division Artillery. He flew 51 missions, spending hundreds of hours in the air identifying targets and directing artillery on enemy positions. For his action against an armed enemy, his dedication to duty, and his heroism, he was awarded two Air Medals and a Bronze Star.
After Vietnam, Don resigned his commission and joined the financial firm of Drexel Burnham Lambert in Philadelphia as an account executive, quickly rising to the position of vice president. He later worked for Morgan Stanley Dean Witter, earning the title of First Senior Vice President.
During that time, Don had five children who became the center of his world: Stacy, Sloane, Chad, Ashley, and Courtney (who preceded him in death). He lived for them and later his four grandchildren: Matthew, Benjamin, Dylan, and Arielle; and his great love, best friend, and caretaker Rosalind (Roz) Ruby. Don loved spending time with his children, tutoring them on new vocabulary words, doing puzzles, and passing along his competitiveness with endless rounds of board games and cards. Always positive, Don could rarely be heard complaining about anything or anyone.
Don stayed closely connected to his West Point classmates, meeting "The Choir Boys Club" for dinners and regularly attending the Class of 1965's annual Army-Navy Game gatherings. Naturally at those reunions, Don dominated the poker games.
Don was always good with words and numbers, so when he struggled playing a Scrabble game with one of his daughters, he consulted a neurologist. Don was diagnosed with early-onset Alzheimer's disease in late 2001. He was 57 years old.
He faced the disease like he did so many things--with optimism, courage, and a bit of rebellion. He often said his diagnosis was just the type of adversity West Point taught him to confront. While his mental capabilities faded, Don worked out nearly every day to maintain his physical strength.
Don became an outspoken advocate for those afflicted with his disease. He volunteered with the Delaware Valley Chapter of the Alzheimer's Association. He testified before the U.S. Senate Appropriations Committee in 2003 to promote awareness and request research funding. Don also spoke at the National Alzheimer's Association Conference in 2003, volunteered countless hours to care for others afflicted with the disease, and actively participated in clinical research trials for new medicines. After his death, the Chapter designated an annual award for a person who typified Don's effort and attitude toward the disease: "The Don Kurtz Champion Award."
On Nov 30, 2007, the Kurtz family was called to the nursing home where Don lived his final months and was told he would not survive the day. It was Roz's birthday. Don, competitive until the very end, held on one more day so Roz would not have to forever associate her birthday with her soulmate's death.
He died on Dec 1, 2007, the same weekend his classmates were gathered for their annual Army-Navy Game reunion, that year in Baltimore. Loved and admired by all who knew him, Don epitomized the motto of the Class of 1965: "Strength and Drive." Well Done, Don, Be Thou at Peace.
-- Classmates, his children, and Rosalind Ruby