Charles Henry Burgardt

Cullum: 25758




Class: 1965




Cadet Company: I2




Date of Birth: September 12, 1942




Date of Death: May 26, 1996




Died in Charlotte, NC




Interred: West Granville Cemetery, Milwaukee,WI - View or Post a Eulogy



---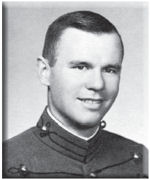 Charles "Chuck" Henry Burgardt was born in Milwaukee, WI. His mind moved quickly, his observations were sharp, and he had a keen sense of humor. A long-time friend wrote, "I don't remember winning many arguments with Charlie." He never procrastinated and was usually two steps ahead of most people. His Plebe year roommate, Bob Axley, illustrates this with his recollection of Chuck always having all things in order and ready the night before they were needed.
Following graduation in 1965, Chuck saw heavy combat in Viet Nam, but it was only later on in life that his son, Carl, discovered what an extremely modest man his father was. Carl remembers how exciting it was having a father who had served in the military, but all Carl ever knew about his father's service was that Chuck resigned with the rank of captain and had served a tour in the Viet Nam War. Chuck's protectiveness never gave away any grim details or hardships of the war. Chuck had been assigned to 8th Artillery, 25th Infantry Division, during 1965-66 and was wounded twice. In 1967, he was assigned to the 3rd Special Forces Group, and from 1968-69, was with the 5th Special Forces Group in Viet Nam, before being assigned in 1970 to the 82d Airborne Division. It was only once Carl discovered Chuck's military trunk that he found all of his citations and medals. Chuck was decorated with several Bronze Stars (one for Valor), several Air Medals, and a Commendation Medal. Carl marveled at his father almost like he was a superhero... with Carl having just uncovered his secret identity. After resigning from the Army in 1970, Chuck attended law school and received a degree from the University of North Carolina-Chapel Hill. He primarily practiced real estate law and spent most of his post-military years in North Carolina, despite living briefly in California, Utah, and Texas. Chuck loved sports. Even though a knee injury limited his sports participation at West Point and threatened to preclude his commission, his love for sports continued throughout his life. A letter to his family from Viet Nam reflected his delight at a surprise visit by Stan Musial, Harmon Kelebrew, and Hank Aaron. Carl remembers, "When I was young, Dad would never hesitate in introducing me to every sport he had ever laid his hands on. Even to this day, I have countless pictures of Dad and me with a football or a bat or a basketball. The thing that every one of those photographs has in common is my father standing over my shoulder and me grinning like an idiot who had just won the World Series. His pride in me never betrayed the fact that I was pretty bad at baseball. After all, how could I possibly know that since I had just won the World Series?" Chuck's West Point connection was important to him. In January 1965 he wrote, "As the time for graduation comes closer, I get the feeling I will really miss this place. I know that I didn't feel that way a few months ago." During the final months of Chuck's illness, he was determined to replace his class ring, which had been lost. He succeeded in doing this before his death. Although family and friends might have on occasion been exasperated by his absolute refusal to accept limitations, they were also the beneficiaries of this same expansiveness. Chuck was extravagantly generous. Plentitude was his policy. He loved to cook, and when he did, quantity was the keynote, a groaning board his gift. Carl remembers most that his father was always smiling: "He had this great, wide, and wonderful smile that made a small child always feel loved and welcome in this world. Even despite the pain that he suffered through some of his life, his smile left me ignorant of anything ever being wrong. He was stronger and more loving than I would ever give him credit for. Dad was a good man. I will always miss my father...and his wonderful smile." At Chuck's funeral, his friend, Jesse Clark, paid him high tribute, saying, "He changed my life. Everything I have I owe to Chuck." He is buried on land settled by his German ancestors.
---
His mind moved quickly, his observations were sharp, and he had a keen sense of humor...
he was usually two steps ahead of most people.