LTC Donald J. Parrish USA (Retired)

Cullum: 25750




Class: 1965




Cadet Company: E2




Date of Birth: January 21, 1943




Date of Death: January 14, 2021




Died in: Winter Park, FL




Interred: TBD - View or Post a Eulogy



---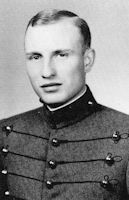 Donald James "Don" Parrish Jr. was born in San Francisco, CA. He was the son of Donald James Parrish Sr. and Mary Ruth Parrish and the oldest of four siblings. Don excelled in sports and math during high school. He lettered in track, basketball, cross country, and wrestling. Don was active in student government all four years, serving as student council vice president. He was in the National Honor Society. He was elected secretary of state at Cornhusker Boys State. He graduated from Omaha North High School in Omaha, NE in 1961. Don received congressional appointments to both West Point and the U.S. Air Force Academy but aspired to continuing his education at the United States Military Academy.
Don entered West Point in the summer of 1961 with the Class of 1965 and graduated four years later with a Bachelor of Science degree. He was commissioned a second lieutenant in the Field Artillery. After Airborne and Ranger schools, Don was assigned to Germany. He was soon recalled home to command a basic combat training company for the Vietnam buildup. He was later assigned to command a field artillery battery and deployed with his battery to Vietnam. For his service in Vietnam, he was awarded the Bronze Star and the Vietnam Cross of Gallantry. Don then attended the advanced course at the U.S. Army Artillery School at Fort Sill, OK. Next, the Army selected him to attend the U.S. Naval Post Graduate School in Monterey, CA, where he received a master's degree in operations research and systems analysis. He was later assigned as a field coordinator supporting atomic energy research. For this assignment, Don was awarded the Joint Service Commendation Medal.
The highlight of Don's military career was when Don volunteered to serve as a military observer with the UN Truce Supervision Office in Jerusalem following the Arab-Israeli War. After serving as a forward observer in the Sinai Desert, he was selected as a special assistant to the UN commanding general to implement a portion of the Sinai Peace Agreement. This assignment gave him unlimited access throughout the Middle East and his duties took him to Syria, Lebanon, Jordan, and Egypt.
In 1979 Don was appointed as Professor of Mathematics at West Point, where he taught analytic geometry and calculus. He developed discipline, character and command attributes in cadets and served as an academic counselor. His excellent physical condition and stamina in running and skiing was recognized. He became deeply involved with snow skiing and became a qualified ski instructor.
Don served 21 years in the Army and retired as a lieutenant colonel. His other awards included the Meritorious Service Medal with oak leaf cluster, National Defense Service Medal, Republic of Vietnam Medal, United Nations Medal, Ranger and Parachute Badges, and Army Advisor Badge.
Don was selected for promotion to colonel but opted to retire and join the aerospace company Lockheed Martin in Orlando, FL. He worked as a senior systems analyst for 21 years in defense related technologies for both Lockheed Martin and later Meads International. Don eventually worked for the Defense Nuclear Agency, where he designed, led, and authored a work that involved techniques to disable a nuclear weapon so that it could not be re-armed. With his background in operations research and mathematics, he specialized in leading the analysis of the effectiveness of potential new weapon systems. He briefed leaders of industry and government on weapon effectiveness, wrote computer simulations to understand battlefield complexities and dynamics, and was a pioneer in spreadsheet simulations.
In 2013, Don was honored by his high school alma mater, Omaha North High Magnet School, with a Viking of Distinction Award and Commemorative Medal to recognize his 21 years of service in the military. His portrait is displayed in the "Hall of Distinction" at the school for outstanding achievement both professionally and personally.
Don was an accomplished runner, golfer, and skier. He taught all his grandchildren how to ski. In his retirement he was a member of the Senior Military Active Retired Travelers Organization and treasurer of both the Gold Coast Chapter and Buccaneer Chapter of International Travelers. He also served as a board member of the Waterbridge Community Association, Winter Park, FL. Lastly, Don was honored by being named a Paul Harris fellow by the Rotary Foundation of Rotary International. This gift provides a living memorial through the foundation's programs to further international understanding and friendly relations among people of the world.
Don was a world traveler who loved traveling via RV, visiting every state and national park in the United States, as well as the Canadian Maritime Provinces, Italy, Germany, and Spain. With his wife, he returned to Egypt, Jordan, and Petra, locations he loved when assigned to the Middle East.
Don commented that his biggest achievement in life was being a member of the USMA Class of 1965. He lived a full life and enjoyed every minute of serving his country. God bless this gentleman, soldier, family man, friend, and high achiever. He is survived by his wife, Sharon; son, Mark (wife Julie); stepdaughter, Christin Stanton; six grandchildren; and brothers Dana and David.
— Sharon Parrish