Mr. Nathan Kantor

Cullum: 25749




Class: 1965




Cadet Company: M1




Date of Birth: August 22, 1942




Date of Death: February 23, 2011




Died in Norwalk, CT




Interred: New Montefiore Cemetery, Long Island, NY - View or Post a Eulogy



---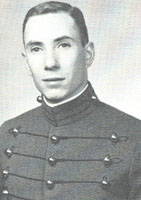 Nathan Kantor known to his friends as "Nate", came to West Point in 1961 from Brooklyn, NY. His outgoing personality won him many friends, especially when his parents, Bertha and Harry Kantor, delighted Nate and his friends with culinary treats every time they visited and introduced many plebes to the New York bagel. They made it a holiday feast for plebes who normally lost several pounds their first year at West Point.
Early into his plebe year on November 18th, the cadets had a football game in New York, and Nate asked a friend to get him a date for the evening. That is when he met his girlfriend, Etta. It was the beginning of a romantic four-year relationship. After that day, Nate joined every club he could to be able to travel off campus and see her. He even joined the Portuguese Club (but never learned to speak Portuguese)!
Nate did well in academics at West Point and usually managed to stay out of trouble, except for the time he had to walk the area and stand in the center. When the upper classmen asked what he was doing he had to respond, "Sir, I am growing."
Nate was one of the most highly admired and respected members of his Class of 1965. As a top student, he often served as a tutor for others who were struggling with the challenges of their academic workload. He had a special warmth and way of guiding others through the crisis of the moment. Beyond that, he had a wonderful sense of humor that he employed frequently to lighten the spirits of friends feeling the pressures of daily cadet life. With a smile on his face, and a twinkle in his eye, he would counsel troubled friends by saying, "It's really not that bad." Life at West Point gave him many experiences and stories which he loved to tell, over and over again.
A few days after graduation on Jun 13, 1965, Nate and Etta got married in Brooklyn. That was the beginning of a 45-year marriage. Being in the top of the second third of his graduating class, Nate was able to transfer from Army to the Air Force and was then stationed at Patrick Air Force Base, FL. They lived there four years and during that time Nate got his masters degree in business from Florida State.
After their four-year service in the Air Force, Nate and Etta moved to Long Island, NY, where Nate had a job with the Sperry Rand Company until an opportunity came along in 1972 with an unknown company called MCI. With only 200 people in a company that was competing with AT&T for long distance service, Nate and Etta moved to the DC area with their three children, Kenneth, Karen and Jennifer. Nate applied his business acumen and "people sense" and managed to help MCI reach their goal as second-largest long distance carrier. During his 18 years with MCI, Nate headed two of the company's largest divisions. He served as President of MCI's Northeast division, where he grew the unit's revenues from $150 million to $1.5 billion. Prior to that, Nate was the president and chief operating officer of MCI International, which he founded. This unit became the first U.S. rival to AT&T in the international long distance market. As president of these MCI divisions, Nate oversaw marketing, sales, operations and customer service, as well as development and implementation of MCI's international business strategy.
After he left MCI, Nate was the founder, president and CEO of the ITC Group, Inc., a firm that specialized in the development and/or restructuring of competitive telecommunications service providers and enterprise clients. As part of the ITC Group, Nate transitioned the original team that built Winstar Communications into the fixed wireless broadband industry, and later became the president and chief operating officer as well as a member of the board of directors.
In his semi-retirement years Nate mentored executives and kept in close contact with all his business friends and associates. Hundreds have expressed gratitude for having the opportunity to benefit from his wisdom and business advice, and he remains an icon in the telecommunications industry. As a graduate of West Point, he was among the most generous financial supporters of his alma mater. One of his most generous contributions supported the construction of the Kimsey Athletic Center, resulting in the naming of a special section of this structure in honor of his parents, Harry and Bertha Kantor.
But, to his grandchildren, Andrew, Rachel, Holly, Ruby, and Emma, he was the grandpa who made quarters come out of their ears and cooked them great barbeques. He laughed at their jokes and was always available to play catch, go to a football game, or just hang out at the pool.
We lost Nate to lung cancer in February, 2011. He will be missed by all, but is always in our memories and thoughts and forever loved.