Daniel Edgar Speilman

Cullum: 25748




Class: 1965




Cadet Company: E2




Date of Birth: November 3, 1943




Date of Death: July 9, 2019




Died in: Lewisburg, WV




Interred: Arlington National Cemetery, Arlington, VA - View or Post a Eulogy



---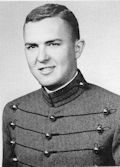 Daniel Edgar "Dan" Speilman was born to Daniel and Faye Speilman in Beckley, WV, a coal-mining town in Appalachia. A boy from humble beginnings, Dan had big dreams and a determination to achieve them all. He passed away at his home in Lewisburg, WV from the lingering effects of exposure to Agent Orange in Vietnam.
Dan attended Woodrow Wilson High School in Beckley. He was active in school leadership and athletics and was voted "Outstanding Boy" in his class, having been a member of the student senate and National Honor Society. Dan played on teams with two classmates who were to become West Point classmates, Joe Barkley in football and Joe Hindsley in wrestling. Dan, a quarterback, said that Joe hit him so often in practice that it gave him character. After graduating in 1961, Dan joined the Class of 1965.
At West Point, Dan was a member of companies K-2 and E-2, where he made lifelong friends. He was active in the Public Relations Council, Portuguese Club, Rocket Club, Sunday School Teachers, SCUSA and Debate Council and Forum. And Dan was proud to have quarterbacked the Brigade Intramural Football Champions.
He had fond memories of cadet life, one of which was being taunted in Plebe Boxing by coach Joe Pallone, who challenged Dan to swing at him. He did and knocked Joe down. Dan had some coaching and thought he could defend himself but, when Joe got up, Dan realized that he couldn't.
During cow leave, Dan traveled to Brazil with fellow Portuguese scholar Mike Applin, where they enjoyed memorable adventures from Recife to Rio.
During firstie leave in Germany, Dan, Mike, and Steve Sperry traveled from London to Copenhagen to Majorca, stopping for bullfights in Madrid. Dan took advantage of every opportunity.
Dan chose the Armor branch and, following Airborne and Ranger schools, married Nancy Ehle, a Navy junior and the love of his life, on November 20, 1965. He then reported to the 25th Division in Hawaii, where he was assigned to the 3rd Squadron, 4th Cavalry Regiment, Troop B.
Soon after his arrival, the division deployed to Vietnam and established a base in the Iron Triangle, where Dan's platoon was heavily engaged. A fellow squadron member, classmate, and friend Oleh Koropey described Dan as a hard charger and fine leader whose platoon was known for aggressiveness under fire.
Classmate John C. Thompson, who succeeded Dan as platoon leader, related that the day after Dan departed the unit was assigned an air assault mission to rescue a downed helicopter crew. This was an unusual use of an armored cavalry unit, but, due to Dan's prior leadership, it accomplished the mission.
Dan was then assigned as a troop commander, Troop E, 2D SQDN in the 6th Armored Cavalry Regiment (ACR), Fort Meade, MD (1967-68). During this tour the regiment was committed to suppress the D.C. Riots of 1968 following the assassination of Dr. Martin Luther King Jr. As Dan's convoy entered the city he was confronted by armed rioters. In three days, the city returned to relative calm.
While at Fort Meade, Dan was selected for duty at USMA in the Department of ES&GS. In preparation he attended the University of Texas, Austin for a master's degree in Latin American studies. Upon completion of graduate studies in 1971, Dan went on to be an Assistant Professor, Department of ES&GS at USMA (1971-73).
Then, while at USMA, the Army initiated a program offering medical school to serving officers. Classmate Fred Grates was the action officer, and he guided Dan through the process. Dan returned to the University of Texas-San Antonio for medical school, earning his M.D. degree in 1977.
Dan was assigned to WRAH for his internship and residencies and became a board-certified surgeon in both head and neck microsurgery, as well as plastic and reconstructive Surgery. He completed two surgical fellowships in hand surgery and burns. His surgical skills saved and enhanced many lives, and he would eventually serve as assistant chief of ENT and chief of plastic and reconstructive surgery at Walter Reid Army Hospital and DeWitt Army Hospital at Fort Belvoir.
Dan was a superb soldier and leader in war and peace, receiving the Bronze Star Medal with OLC and "V" device, the Army Commendation Medal with OLC and "V" device and RVN Gallantry Cross with Palm for actions in Vietnam and the Legion of Merit upon his retirement from the Medical Corps in 1989.
During the 1990s, Dan headed surgical teams for Operation Smile in both Vietnam and China, specializing in cleft palate and cleft lip surgeries for children.
He then operated successful private medical practices in both Northern Virginia and Lewisburg, WV.
Finally, Dan's love for horses can be seen through the development of a historic farm in Alleghany County, VA that he converted into an equestrian center that specialized in dressage. Cherished memories during his long illness were of weekends spent at the farm and horse shows with his family and grandchildren. His beloved F350 dually truck had a sticker that read, "My Horse Was a Tank in Cu Chi."
Dan is survived by his wife, Nancy; son Daniel E. III, daughters Trina, Angie and Molly, and grandchildren Steven, Katie, Madison, Makenzie, Lilly and Alexa. His life was truly well lived, and his light will continue to shine on those he met and loved. He was proud to be a West Point graduate and remained committed to the principles of Duty, Honor, Country. Well Done, Dan.
Be Thou at Peace.
— Angeline Speilman, COL Frank M. Applin and COL Oleh Borys Koropey