Mr. John T. Anderson

Cullum: 25747




Class: 1965




Cadet Company: K2




Date of Birth: March 7, 1943




Date of Death: February 26, 2014




Died in Temple, TX




Interred: Ashes interred on ranch in Alpine, TX - View or Post a Eulogy



---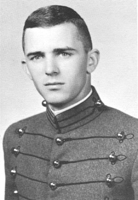 John Thomas Anderson was born on March 7, 1943 in Baltimore, MD. John's father was an officer in the Corps of Engineers, and so John's early life was one of movement associated with his father's postings to various locations, including Japan, Washington, DC; Newfoundland and Virginia. John attended high school at the Cranbrook School in Michigan, from which he followed in his father's footsteps to West Point.
John found his niche at West Point in the humanities. He excelled in English, literature and writing, foretelling a post military career practicing law. He participated in the Student Conference United States Affairs during his cow and firstie years, revealing his affinity for intellectual interaction and debate. Athletic, John was a member of the nationally recognized wrestling team for three years. As John would admit in his own words, he and his closest friends were not model cadets, but the group certainly was in the top five percent in the social sector, having great times dating at West Point and taking weekends away whenever the possibility came.
Upon graduation and commissioning in the Infantry, John attended Airborne and Ranger schools at Fort Benning, GA and the Jungle Warfare School in Panama. His first assignment was in Germany with the 509th Airborne Infantry, serving as a platoon leader and company executive officer. While with the 509th, John made 26 military parachute jumps. John's tour in Germany was cut short by a levy on 7th Army, in which thousands received orders for deployment to Vietnam. In Vietnam, John served as a platoon leader, battalion intelligence officer and company commander with the 25th Infantry Division. He received severe abdominal wounds, necessitating a four-month recovery period in Japan. These wounds included the loss of his spleen and parts of his pancreas and liver, injuries which would contribute to his eventual death. John served a second tour in Vietnam in 1970 as an Operations Officer with the General Staff and was wounded again, though less seriously.
John left the military in 1970 to pursue a career in law. He graduated from the University of Texas School of Law in 1974, J.D. with honors. John tried many cases to verdict or judgment in court and was certified as a Specialist in Civil Trial Law by the Texas Board of Legal Specialization. John handled many appeals of both civil and criminal matters, some of which brought about significant changes or clarifications in Texas law. John had extensive experience in construction contract litigation. He was the author of the chapter addressing "miscellaneous claims" in Architect and Engineer Liability: Claims against Design Professionals. He was an article editor of the Texas Law Review and a research editor for the American Journal of Criminal Law. John benefited from having a brother, Steve, who was also a trial lawyer. Steve provided John with a great sounding board in discussions related to one or another of John's legal cases.
John most enjoyed his later career in law. He was able to do that which most appealed to him in the practice of law -- representing those who are disadvantaged and have little or no hope. John was guided by two of the Beatitudes: "Blessed are the merciful, for they will receive mercy," and "Blessed are the peacemakers for they shall be called the children of God." Applying these Beatitudes in his life, John was a true warrior for the poor, the unlucky, the persecuted, the hapless immigrant and many more. This service for the disadvantaged was an outgrowth of John's faith. He was for many years an active member of Saint David's Episcopal Church in Austin, TX, where he served as a lay reader, usher and Sunday School teacher. He continued his church service as a member of Saint James Episcopal Church in Alpine, TX, where he served as a Bishop's Committee member and Lay Worship Leader.
Throughout his life, John maintained his interest in literature, poetry and music. Together with Steve, he was co-host of the Literary Hour on KRTS radio in Marfa, TX, a weekly show emphasizing book reviews and poetry. John passed his love of literature on to his children. Berit, the oldest of three children, holds a master's degree in creative writing from Columbia University and is a professor and writer in New York City. Chris, his oldest son, credits his father's interesting library of books and music with getting him interested in reading works by Gödel, Escher, Bach and the like. Chris currently works as a software developer in Portland, OR. Cyrus, the youngest of John's three children, resides in Austin. He works in the medical device area, his principal customer being the hospital community. In addition to his children, John is survived by three grandchildren.
John had a life well lived. He contributed to the defense of the Nation, shedding blood for it. He contributed broadly to the practice of law in Texas as a key player in the modification of statutes for the better. He assisted the weak and downtrodden, enabling positive turning points in so many lives. In the words of his daughter Berit: "He was a good father in that he was slow to anger and almost never raised his voice. He believed in encouraging his children's interests and ignoring their shortcomings. He was a good listener and had a kind heart."