COL Gene Roger Farmelo USA (Retired)

Cullum: 25735




Class: 1965




Cadet Company: I2




Date of Birth: August 1, 1942




Date of Death: December 27, 2012




Died in Sperryville, VA




Interred: Creamated. Ashes scattered on his farm, Sperryville, VA - View or Post a Eulogy



---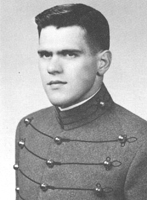 Gene Roger Farmelo was born in Elkland, PA, the son of Alexander and Pauline Farmelo. His father had emigrated from Italy as a young boy and eventually settled in Elkland working in a tannery. Gene was the youngest of eight boys, five half-brothers and two brothers. Gene excelled in high school and athletics. He was blessed with strong character, athletic ability, immense likeability, keen intelligence (particularly in mathematics), and an independent mind.
Gene attended Penn State for one year before arriving in Central Area in July 1961. Gene's motivation was to immerse himself in his education and to enjoy playing collegiate soccer. Gene was funny, "cool," unflappable, and a magnet for upperclassmen. To the delight of his classmates, Gene's special poop was to recite "Boom! Boom! I am an Army Soccer Player!" A teammate wrote, "I remember a quiet grin and a smile in the eyes which he would flash on the soccer field or quickly in the area." Gene was also charismatic, widely known among and popular with his classmates. For a cadet who would ultimately distinguish himself as a Signal Corps colonel, he was nonchalant about activities necessary to achieve cadet rank. As one classmate said admiringly, "Gene was not a Grey hog."
In December of plebe year, classmate Jim Smith introduced Gene to the love of his life, Beverly Gage. The next three years, Gene was to spend as many weekends as possible with Beverly, many of them at the Gage family home in nearby Connecticut.
To his roommates who were in continual need of academic tutoring, Gene was their academic lifeline to graduation. He would patiently coach them through the next day's recitations. Gene cared deeply for every classmate with whom he developed a relationship.
By First Class year, Gene was the first team soccer fullback. He was agile, fast, fierce, and physical and he could kick like a government mule. Army had a tremendous year capping it with an appearance in the NCAA Final Four.
On Jun 9, 1965, Gene stepped off with a full 30 inch step into a lifetime of service in which he would excel as a leader, as a staff officer, and as an exceptionally effective, ORSA-trained, senior colonel on the Army staff. More important to Gene, he would become a deeply loved husband and father.
Gene went immediately to Airborne and Ranger School. Gene and Beverly married in Greenwich, CT, in February 1966 and moved to Fort Bragg. By November Gene was in Vietnam where he served first as ADC to the MACV Signal Officer then as a battalion signal officer in the 1st Cavalry Division. Returning home, Gene reported to the Naval Postgraduate School and graduated in 1970 with an MS in ORSA.
The shaping events of Gene's life were the births of his four children. Kimberley arrived in August 1967; Jeffrey in March 1969; Kara in June 1972; and Jon in December 1974. Family became everything to Gene.
Gene went directly back to RVN where he served with the 5th Mechanized Infantry Division. Returning to CONUS in 1971, Gene and the family decamped for Fort Monmouth for his first ORSA tour. The family moved briefly to Fort Gordon in 1973. The following year, Gene assembled with many classmates at CGSC Fort Leavenworth where he also completed the MMAS program.
Following CGSC, the family headed to HQDA for Gene's next ORSA assignment. In 1979, the family was off to Germany. Gene served first as XO of the 141st Signal Battalion. Subsequently, he was reassigned to the Berlin Brigade as AC/S CE. In 1982, Gene assumed command of the 127th Signal Battalion at Fort Ord. Gene attended the Army War College in 1984-85.
Finishing Carlisle, Gene returned to HQDA. He was selected as the Executive Officer in OTEA, and later in DISC4. His three star reporting senior described Gene as "smart, competent, articulate, ethical, courageous, good sense of humor, religious, and above all selfless . . . my best and brightest colonel."
In 1989, Gene was selected for brigade command in Japan. After careful reflection, Gene decided to retire. He did not want his family scattered all over the globe.
Following retirement in 1992, Gene joined Teledyne Brown. He ensured that Teledyne Brown delivered the best services possible to the Army. In 1995, Gene and Beverly answered a calling to become pastoral counselors. They completed their master's degrees at Loyola University and counseled actively in the years following.
In 2003, Gene and Beverly purchased a small farm on a hilltop near Sperryville, VA. They spent weekends refurbishing the house, working the farm, and being the grandparents to Max, Theo, Molly Devon, Gage, Zoe, Teah, Grace, Anna, Jonathan, Anthony, Brandon, and Lola, the pride and joy of their lives.
Adversity arrived in December 2005. Gene fell ill with Parkinson's disease. In 2007, he contracted Guillain-Barre syndrome. He recovered from the latter, but was not able to get free from the progressive grip of Parkinson's. As Gene's health continued to decline, his will power and tenacity became only stronger, and his love of his family more pronounced. Beverly and the children provided steadfast and loving care throughout Gene's long struggle with Parkinson's. His quiet grin, and smile in his eyes, ever present.
Gene died at home in the arms of his family on Dec 27, 2012. A Memorial Service attended by many classmates, one had only to listen to the poignant, funny, heartbreaking, and inspiring remembrances spoken by Kimberley, Jeffrey, Kara, and Jon to understand how completely Gene had been the best father possible for his children and a wonderful husband to Bev. Gene was a great man with a beautiful spirit that lives on with his family and friends.
-- Family & Classmates