Mr. Peter B. Lounsbury

Cullum: 25732




Class: 1965




Cadet Company: D1




Date of Birth: November 25, 1943




Date of Death: April 5, 2019




Died in: Roosevelt, UT




Interred: TBD - View or Post a Eulogy



---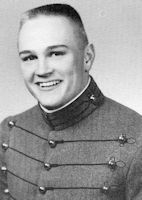 Peter Bruere Lounsbury was born in New York, NY on November 25, 1943 to Richard Cook and Alice Bruere Lounsbury. He grew up on a dairy and horse farm in Brewster, NY. Peter adjusted well to life at West Point. He was a standout in athletics, playing plebe football and competing all four years in track and field, for which his strengths were throwing the shot put and the hammer. He also enjoyed lifting weights, jogging, and playing squash. His classmates remember him as being the epitome of "Strength and Drive." He had a brilliant mind and near perfect recall, which led to him being a master of French linguistics.
Peter married the love of his life, Heidemarie Eva Taupmann, on June 26, 1965. They were married for two months shy of 54 years and had five children. His family meant everything to him as he was a wonderful husband and father.
Upon graduation, Peter became an Infantry officer serving as a Green Beret and serving in the 19th Special Forces Division. While in Vietnam he was assigned to the 1st Special Forces Group as he was Airborne Ranger. He received his master's in business administration from the University of Rochester. While on active duty he was stationed in Germany, North Carolina, Georgia, and Massachusetts. He separated from the military to be with his family and began his civilian career working for Eastman Kodak as a quality assurance engineer executive. He helped to develop the personal photo printing machines that were common in most grocery stores. Peter retired from Eastman Kodak after 31 years.
After retiring from Eastman Kodak, Peter and Heidi moved to Southern California for seven years before moving on to Roosevelt, UT. There they worked hard to buy a lovely house and enjoyed being close to family members.
Peter was a devout member of the Church of Jesus Christ of Latter-Day Saints as he and Heidemarie were sealed in the Washington, DC Temple of the Church of Jesus Christ of Latter-Day Saints on June 26, 1979. Peter was also deeply involved in Boy Scouts and was awarded the Silver Beaver, the highest honor in Scouting. Some of his greatest achievements were mentoring many Scouts to receive the rank of Eagle.
Friendships were very important to Peter. He was an incomparable friend to many classmates. One of his roommates recollects that Peter had convinced him to use his talents to become a two miler. Even among all of the great athletes, Peter stood out. When spring training came, Peter was always in the center of the action, and he stepped up and picked up the hammer, spun around, and seemed always to execute a perfect throw!
Even as his career developed, his friends remained close. Everyone was welcome in their home and prayers were always said at dinner. One special memory involved Peter and a longtime friend trying to defy the aging process by climbing Mount Whiteface in the Adirondacks. They were jubilant when they reached the summit, but getting down and back to the car was another story. The darkening woods below became a daunting challenge as both men finally emerged weary but convinced that for one brief moment at the summit, they were still young.
Peter died on April 5, 2019. He had a funeral in Roosevelt, UT and then his body was transported east for another funeral at the Old Cadet Chapel on May 9, 2019, and he was buried at the West Point Cemetery.
He is survived by his wife, Heidi, and his children: Todd and wife Kristen Lounsbury, Craig Lounsbury, Derek and wife Ana Lounsbury, and Heather Lounsbury. He was blessed to have nine grandchildren and two sisters, Nancy (who died in March 2022) and Susan, as well as several nieces and nephews. He was preceded in death by his daughter Holly Adrienne and his parents.