LTC Eugene D. O'Neill USA(Retired)

Cullum: 25720




Class: '65




Cadet Company: H1




Date of Birth: June 27, 1943




Date of Death: August 11, 2013




Died in Fredericksburg, VA




Interred: Christ Episcopal Church, Spotsylvania, VA - View or Post a Eulogy



---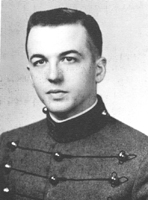 Eugene Darwin 'Gene' O'Neill was born in Hackensack, NJ on June 27, 1943, the son of William and Bette O'Neill. He was a graduate of Saddle Brook High School, where his academic excellence, drive and determination allowed him to receive a congressional appointment to West Point from Senator Harrison William in 1961 as a member of the "Strength and Drive" Class of 1965.
Like most of his classmates, he experienced the culture shock of Beast Barracks, but his enthusiasm and good preparedness got him through and into Company A-1 of the First Regiment. Gene's drive on the wrestling mat made an impression on the upperclassmen as he wound his way through plebe year. He was a ferocious competitor and loved the challenges of competing in intramurals.
His pursuit of academic excellence stood him in good stead throughout his cadet days, and he was always willing and available to assist his classmates through their many academic challenges. Gene spent many an evening helping out his companymates, patiently and thoroughly explaining concepts and theorems to those who were having a battle grasping the material.
His final two years as a cadet were spent with the eclectic group of Company H-1 in the lovely Old South barracks. His steadiness in academics, intramurals and in the barracks was most appreciated by all. He was a stalwart member of the H-1 intramural wrestling team for those two years. As far as extracurricular activities, Gene was a man of varied interests, ranging from bowling, Spanish Language Club and the Skeet and Trap Club. Everything he participated in was another challenge to meet and fun to be had.
Gene was commissioned in the Signal Corps, where he spent his entire 27 year career, retiring as colonel in 1992. His first assignment was with the 122nd Signal Battalion in Korea, an area to which he returned for two additional tours during his career. He was an instructor at the Signal Corps School from 1967 to 1968, went to the 82nd Signal Battalion from 1968 to 1969 and then on to Military Assistance Command, Vietnam from 1969 to 1970. He served two additional tours in Korea, as well as various staff assignments during his career.
Gene attended the University of Illinois in 1971 to 1972 and earned his Master of Science degree in Electrical Engineering. While he was at UIL, fellow classmates Cindric, Selkis, Hawker, Kennedy, Kenny and Holmes were also in attendance for their advance degrees.
One of Gene's assignments was as Director of the Army Space Institute at Fort Leavenworth, KS, an assignment that was challenging and rewarding, both professionally and personally.
During Gene's long and illustrious career, he was awarded two Bronze Stars, the Army Commendation Medal with First Oak Leaf Cluster, Defense Meritorious Service Medal with First Oak Leaf Cluster, National Defense Service Medal, Vietnam Service Medal with Third Oak Leaf Cluster and Meritorious Service Medal with Second Oak Leaf Cluster.
Gene's devotion to and interest in spiritual matters was enhanced during his cadet days. His religion was deeply personal and something he shared with his wife, Judi, and their three children: Thomas, Sean and Heather, as they raised a strong, believing family. He was an active member of Christ Episcopal Church and the spiritual bedrock of that congregation. Throughout his life, Gene's faith was a strong guiding force as he lived his life seeking the fruits of the Spirit of love, joy, peace, kindness, goodness, faithfulness, gentleness and self-control. Gene was a professional soldier and a gentle man.
His grandchildren's fond memories of their grandfather will be passed on to future generations as well as his deep commitment to his Lord. Truly, Gene was a man of strength, selflessness, kindness, truthfulness, generosity and a wonderful sense of humor. He touched many lives and hearts and is missed by his family and many friends. His legacy lives on through his children and seven grandchildren: Shaun, Cullen, Madalyn, Chiara, Edith, Cayden and Fay.
Colonel Gene O'Neill (Retired) joined the heavenly assemblage of West Pointers on August 11, 2013 following a courageous and lengthy battle with Alzheimer's disease. His wife Judi, his brother William and his brother-in-law Stephen Peidl all mourn the passing of a faithful husband and brother. A man of great faith, he was married to Judi for 46 years and she cared for him with a warm, loving hand until his passing.
It has been said that life is what is lived between the dashes of our time here on earth. Gene's life between the dashes was remarkable, fulfilling, spiritual, exciting, rewarding and joyful. May he rest in eternal peace.
— Jerry Merges & John Harrington, classmates and friends