COL Hugh F. Scruggs USA (Retired)

Cullum: 25707




Class: 1965




Cadet Company: D1




Date of Birth: March 13, 1944




Date of Death: November 29, 2016




Died in: Columbus, GA




Interred: Ashes scattered at Mountain Ranger Camp - View or Post a Eulogy



---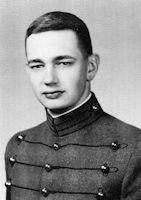 Hugh Frederick "Fred" Scruggs was the middle son of William and Mary Ellen Scruggs. When Fred was two, his family moved from Knoxville, TN to the small coal town of Highsplint, KY, near the top of a ridge in the eastern Kentucky mountains. His mother taught school and his father was an accountant at the mine. He attended high school in nearby Harlan, KY, where he played basketball and baseball while excelling in academics. Because of his voracious reading habits and subject matter knowledge, Fred was often called upon to teach certain classes.
After graduating from high school in 1961, and barely 17 years old, Fred left the mountains of Kentucky for the Plain at West Point, where he joined the Class of 1965, bringing with him a clear sense of self, a humble and quiet disposition, a steel trap mind and an unmistakable eastern Kentucky accent. His thoughtful and considered appraisal of any subject equaled his mastery of understatement, which was so keenly crafted and pointed that it often concluded any further exchange of ideas, leaving others nodding in agreement and without response.
Fred effortlessly cruised through Beast Barracks by keeping the upper classmen entertained with his unflappable disposition as they quizzed him with arcane trivia. The West Point environment seemed to merely burnish Fred's already principled nature as he continued his confident quest to become an officer.
During his last academic semester, Fred was assigned to the 1st Battalion, 35th Infantry, 25th Infantry Division stationed in Hawaii. It was during this time that the depth of America's engagement in Vietnam began to grow. By the time he graduated and finished both Airborne and Ranger schools, what had seemed a quiet first duty station in paradise changed to an assignment where he would be engaged in combat as an infantry platoon leader in the Pleiku Highlands. The 25th Division had already began deployment when Fred arrived in Hawaii. He met his platoon only days before embarking with them to Vietnam, and he was running patrols and ambushes with his new platoon their first week in country.
Returning from Vietnam in 1967, Fred was assigned to Camp Merrill, the Mountain Ranger Camp in Dahlonega, GA. After a year in the mountains of North Georgia, Fred was sent back to Vietnam with the 1/18th Infantry, 1st Infantry Division as a company commander. Fred was involved in several intense firefights during both Vietnam tours and was wounded in the leg near the end of his second tour. For his service in Vietnam, Fred was awarded four Bronze Star medals for valor, a Purple Heart medal, three Bronze Star medals for service and numerous other medals recognizing his service during that conflict. Fred recovered quickly from his wound and was assigned to the ROTC detachment at the University of Minnesota, providing his first respite from war and the grueling Camp Merrill schedule.
After two years in Minnesota, Fred was sent to Fort Benning, GA to attend the Infantry Officer Advanced Course, where he won the hand and the heart of a charming and lovely young lifeguard whom he met at the officers' club pool. Fred and Sandee Lucas were married the same year. They had two children, Jennifer in 1975 and Rick two years later. After completion of the advanced course, Fred's military career took a turn from the conventional army to the Special Operations army. He volunteered to attend Special Forces School and was assigned to 3/7th Special Forces Group in Panama, where he served as company XO, battalion adjutant and operations officer. Special Forces, with its highly trained specialists working in small units and its emphasis on personal initiative, appealed to Fred's temperament, and he flourished in his new environment. He left Special Operations in 1979 to do short stints at OTEA, CGSC, and DLI. He then returned to Panama to become the commander of the 3/7th, followed by J-3 for Special Operations CINC SOUTH and ultimately commander of 7th SF Group in 1989. Fred was widely known and highly respected throughout the Special Forces community. The men of 7th SF Group consistently described him as the best officer with whom they had served. He cared deeply for his men and never belittled any failed action. Rather than an acerbic admonishment of junior officers on whom the error had been placed, Fred concentrated on teaching the errant officer the consequences of his action and how to repair it. Often beginning the conversation with, "I wish that you had not done that," in the same soft brogue and unflappable manner he learned in Kentucky as a child.
Fred continued to enhance his Special Operations experience and reputation by being appointed head of Special Operations Command South, where he directed all Special Operations in Central and South America. He retired as head of U.S. Military Group in Venezuela. In addition to the many service and commendation medals Fred received during his career, he also received two Legion of Merit awards and the Defense Superior Service Medal.
At Fred's Memorial Service, the commander of 7th SF Group remarked, "Many people in Central and South America are alive and free because of Fred Scruggs actions, he was a special soldier."
Fred Scruggs was the best friend that any person could have. He was the best leader that any soldier could follow. He was a wonderful, caring and responsible husband and father. He will be missed by all.
Well Done; Be Thou at Peace.
— Sonny Ray, family, and friends