Richard Edward Pullen

Cullum: 25702




Class: 1965




Cadet Company: F2




Date of Birth: September 9, 1942




Date of Death: April 2, 1996




Died in Rancho Palos Verdes, CA




Interred: Pinelawn National Cemetery, Long Island, NY - View or Post a Eulogy



---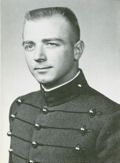 Richard Edward "Rusty" Pullen, the son of a plumber from Brooklyn, NY, became a West Point graduate and physician by dint of his own efforts and abilities. He was a diligent student and had a keen intellect. Rusty died from melanoma skin cancer at the age of 53. As a physician, he understood the gravity of his condition and died with the courage and dignity of a soldier. West Point helped to make Rusty the man he was, for which all those associated with the Academy may take justifiable pride.
Rusty was born to Charles and Mary Pullen in the New York City borough of Manhattan. He married Hope Anne Harbison on 26 Nov 1966, and their unity birthed three daughters: Annemarie Wargin, Tracey Murphy, and Kathleen Pullen.
Rusty grew up in Brooklyn, NY, where he graduated from Wingate High School. As a youth, he was a Boy Scout, a good athlete, and an outstanding swimmer and baseball player. High school friend Ed Schwal remembers good times spent with Rusty at local beaches and attributes Rusty's excellent character to the influence of a modest but loving, fine family. As an example of Rusty's early kindness and consideration, Ed recalls that Rusty lived next door to a Jewish synagogue. On Friday evenings, when Sabbath restrictions prevented the congregation from flipping light switches and doing similar tasks, Rusty, a Gentile, volunteered to do it for them. A West Point classmate, longtime friend, fellow doctor, and Brooklynite Karl Plotkin said of Rusty, "He never lost touch with his roots." Rusty spent a year at the Polytechnic Institute of Brooklyn after graduating from high school and before attending West Point.
His sister, Kathleen Mazur, remembers that Rusty first became interested in West Point, like many of us during that era, while watching the television series The West Point Story. His interest became a dream. Rusty followed that dream, as he did so often, to a practical, successful conclusion. While at West Point, he was in companies E-2 and F-2. With his red hair, the basis for his nickname, and Brooklyn accent, Rusty was a colorful presence at West Point and a vivid introduction to Brooklyn for his roommates from less fabled places. He loved to swim and enjoyed water polo while at the Academy.
Julio DeSantis, another West Point classmate and friend who remained close to Rusty until his death, remembers him as being extraordinarily patient, persistent, and calm--even in the face of great stress and danger. Rusty maintained his close ties to the Academy following graduation, regularly visiting West Point and attending Army-Navy football games and other events. All those close to him say that he truly loved West Point and fully embodied its motto "Duty, Honor, Country."
On Graduation Day, Rusty was commissioned in the Air Force. He completed navigator training at Tinker Air Force Base, OK, and then became squadron commander at Whiteman Air Force Base, MO. He underwent missile training at Chanute Air Force Base, IL, and then served as a missile staff officer at Vandenberg Air Force Base, CA, and Malstrom Air Force Base, MO.
In 1969, he resigned his commission as a captain and pursued medical training at the State University of New York Medical Center in Brooklyn. He was awarded his medical doctorate in 1973. Rusty completed medical internships and residency requirements: pediatric internship at Nassau County Medical Center, East Meadow, NY, in 1974; general surgery residency at Cincinnati University Medical Center, Cincinnati, OH, in 1975; and returned to Nassau County Medical Center for orthopedic surgery residency in 1978. He was a board certified orthopedic surgeon and practiced his medical specialty in Torrance, CA. Karl Plotkin said of Rusty's medical vocation, "He was not in it for the money, but to help others."
Rusty's daughter Kathleen, who Rusty called "The Kid," remembers her father having a dry and unusual sense of humor. His favorite response to an untoward event was "that's the way the grapefruit squirts." When a boy rang the doorbell to pick up Kathleen for a date, Rusty opened the door and responded to the boy's question, "Is Kathleen in?" by saying, "Yes." But it was common for Rusty to respond, then shut the door smiling and waiting for the boy to recover his composure, ring the doorbell again, and ask if he might come in. He was a devoted father and actively involved in the lives of those in his family, but Kathleen remembers that he had an aloof, dispassionate manner. When returning home from college for a weekend visit, she decided to confront him about that trait and to tell him of her need for expressions of love from him. That was timely. Rusty had news of his own for Kathleen -- he just learned he had the cancer that would ultimately kill him. They took a walk and spoke their minds. Thereafter, until his death, Rusty demonstrated the affection his family had always known he had felt but rarely displayed.
Rusty Pullen lived only 53 years, but in that time he developed a character that was generous, courageous, and dutiful. He achieved many personal, professional, and academic triumphs and was a devoted and supportive son, brother, husband, father, and friend. He gave much of himself to others through professional practice and personal involvement. West Point helped him become the man he was. He repaid that debt through loyalty to the Academy and commitment to its ideals. In the words of Alma Mater, "Now that his life is run, his work on earth is done, may it be said, 'Well done. Be thou at peace.' "