COL John Francis Concannon, III (Retired)

Cullum: 25699




Class: 1965




Cadet Company: K2




Date of Birth: 6/22/1942




Date of Death: 3/18/2015




Died in: Gainsville, VA




Interred: West Point Cemetery, West Point, NY - View or Post a Eulogy




Location: Sect VII, Row B, Grave 088



---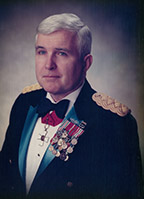 Born in Boston, MA, John Francis 'Jack' Concannon III grew up celebrating his Irish heritage and cultivating his beautiful singing voice, both of which would serve him well throughout his extraordinary career as an exemplary leader, outstanding MI officer, and quintessential soldier-diplomat.
John graduated from Boston Latin School in 1959 and spent two years at Northeastern University on a Navy Manpower Program scholarship. John arrived at West Point in 1961, well prepared academically. He validated 12 engineering courses, which allowed John to focus on foreign languages and history.
John was known for his friendly manner and clever wit. He excelled in a number of endeavors: perfecting his writing skills for the Howitzer, being a valuable member of the Ring & Crest committee, playing varsity soccer, and honing his debating skills within the Dialectic Society. John was already on his way towards demonstrating an amazing self-confidence that would be a hallmark of his 50-year career.
Being in the first class able to select Military Intelligence (MI), John determined that MI would provide him with the opportunity to use his propensity for languages and fulfill his desire to see the world during his military career. As a plebe, he met and began courting the love of his life, Linda, who would become his lifelong partner and international co-traveler. They were married shortly after graduation, on June 12, at West Point.
Commissioned a second lieutenant in MI and detailed for two years in Infantry, John graduated from Ranger School and was assigned to CO A 2/12, 4th ID. He was highly respected by his soldiers, whom he trained and with whom he deployed to Vietnam. Following an aide-de-camp assignment in Turkey and while commanding the 2nd MI Detachment, 2nd ID in Korea, John and Linda were blessed with their first daughter, Megan Patricia.
In the mid-70s, John was selected for the Army's challenging Foreign Area Officer Program and enthusiastically threw himself into two years of study at the U.S. Army Russian Institute in Germany. Always happiest while in school, he loved expanding his knowledge of everything Russian. While in Europe, John and Linda were blessed with a second daughter, Kathryn Elizabeth.
John earned an MA in Russian studies from Georgetown in 1977 and returned to West Point as an assistant professor of Russian in the Department of Foreign Languages. He loved teaching the cadets to speak Russian and to appreciate the Russian soul: the people, their culture, and their history.
John graduated from the Armed Forces Staff College in 1981 and began his major contribution to both the military and the nation, spending an unprecedented three tours in military attache assignments. He initially monitored and reported on the last chapters of the Cold War from Helsinki as A/ARMA. As an Army attache in Moscow, John worked aggressively under very challenging conditions to help America's leadership correctly understand the final days of the Soviet Union. Following his graduation from the Army War College in 1989, John was assigned to Budapest as a defense attache, playing a key role in solidifying the post-revolutionary gains throughout East Europe. He was a tireless partner and champion of the Hungarian military's post-Warsaw Pact reorganization and subsequent entry into NATO.
Considered by peers to be a one-of-a-kind expert on a multitude of military and national security issues, John provided valuable insights and much needed clarity for national security decision makers at the highest level of government. His perceptive inputs played a major role in helping shape U.S. policy during the critical post-Soviet period in history. He was inducted into the Defense Attache Hall of Fame in 1995 and the MI Corps Hall of Fame in 1999. This extraordinary double honor was a fitting tribute and reflection of John's military career as an outstanding officer and diplomat.
John retired from active duty in 1995. He continued to contribute, first as the SECDEF rep at the OSCE talks in Vienna, then as a defense contractor for the DOD Partnership for Peace Program, supporting and traveling to all the new countries of the former Soviet Union. Despite this grueling schedule, John found time to earn a second master's degree, this time in Irish studies, which included a semester in Dublin as an intern in the Irish Parliament.
Returning to government service as a GS-15 in the Department of Energy, he reorganized, managed, and led teams assessing counterintelligence threats to the nuclear weapons supply chain and America's critical national laboratories.
John was working at DOE the day his body failed him in the spring of 2015. An Irishman to the end, he fittingly waited until the day after St. Patrick's Day to cross over so that all of us could remember and celebrate him on March 17th in the years to come.
John was a gifted and energetic storyteller with a great sense of humor and zest for life. He constantly reinforced the importance of family, responsibility, education, and plain old fun. His droll humor, honesty, integrity, genuine decency, wisdom, and unparalleled people skills made him one of a kind. Always an exceptional West Pointer, John was a unique blend of colleague, mentor, leader, and lifelong friend.
Survived by his loving wife, Linda; daughters, Megan and Kathryn; and three wonderful grandchildren, the Irish white-haired sage, with his kind and generous personality, will be remembered by all who met him—for a twinkle in his eye, a smile on his lips, and a song in his heart.
-- Andy Wielkoszewski '69, Classmates and Family