Bernard Francis Kistler

Cullum: 25690




Class: 1965




Cadet Company: C1




Date of Birth: October 16, 1939




Date of Death: November 8, 1966 - in Vietnam in Hostile action




Age: 27 years, 1 month and 23 days young. - View or Post a Eulogy




Interred: West Point Cemetery, West Point, NY




Location: Sect XXXIV, Row D, Grave 156




---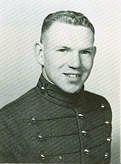 "If I Get killed, I'll know why. Two or three others will understand, but almost everyone will cry and get sentimental about their loss. They'll build me up to be a hero and forget that I'm me . . . Bernie."
Bernard Francis Kistler was born in Franklin, Pennsylvania on 16 October 1939, the son of Andrew E. and Christine W. Kistler. He attended Valley Grove High School where he played trumpet in the band and ran on the cross country team. He spent three semesters at Grove City College and then joined the Army in 1959 where he became an explosive ordnance demolitions specialist. After attending the USMA Prep School at Fort Belvoir, Virginia, he entered West Point in July 1961 as a member of the Class of 1965.
Lieutenant Bernard Kistler was killed in action at daybreak 8 November 1966 as his unit successfully repelled repeated human wave assaults on their position northeast of Tay Ninh City in War Zone C. Bernie's platoon (B Co, 1/28 Infantry, Big Red One) was engaged in Operation ATTLEBORO, a surprise encounter with the Viet Cong 9th Division, which ultimately became one of the largest battles of the early days of the Vietnam War. For "unwavering dedication to mission and fearless conduct under fire," he was awarded the Silver Star Medal (Posthumously).
We remember Bernie for his love of his family, his friends and his country. He was one of the oldest among us that July day on the Plain when we began our adventure. This fact and his prior service cast him inevitably in the role of advisor on matters as large as global strategy and as small as techniques in polishing shoes. But most of all, we remember him for his ideals and aspirations.
Bernie's inspiration for the military life came from his brother Andy, who was a platoon leader and became a double amputee from actions in the Korean War. Bernie idolized Andy and it was this relationship that fueled Bernie's desire to be a successful military officer, for in that role he felt he really could stop war and the terrible things it can do to human beings.
Bernie's most cherished worldly possession was a small wooden statuette of Don Quixote, given to him by a close friend who knew Richard Kiley, star of "Man of LaMancha." His infatuation with this little image went far beyond the object of art, for Bernie was truly a romantic. He believed to the depth of his soul that he could make the difference – right the world's wrongs, uplift the downtrodden and make straight the crooked paths of those he touched. We who were close to him recall vividly the numerous "philosophy sessions" – many all-nighters – where he would lead us in deep discussions of who we were and why we were. Bernie made no apology for life as it was and regretted nothing about the full life he had led.
During the two-month break following graduation in 1965, Bernie fell in love with Rory who had lost her first husband tragically in a Vietnam advisory action months earlier. Their whirlwind courtship was culminated in marriage on the 4th of August 1965, just a year prior to Bernie's shipping out to Vietnam. Following Airborne and Ranger schools, their quarters at Fort Bragg became the shelter where undernourished lieutenants were rescued from starvation. Bernie would be proud to know that his twenty year old son, born the day after he was killed in action, is a senior at the University of Geogia.
While we who knew and loved him carry on in his memory, Bernie, in a reflective moment, left for us his guidepost for the future. He quoted a little Japanese haiku which expressed some of his optimism: "Small bird, forgive me. I'll hear the end of your song in some other world." Bernie's unwritten memorial is graven not on stone, but in the hearts of men.
Classmates: Dennis Lewis, Clair Gill, Ron Floto