Mr. Robert D. Thompson USA

Cullum: 25688




Class: 1965




Cadet Company: G1




Date of Birth: March 21, 1943




Date of Death: June 9, 2006




Died in Mullica Hills, NJ




Interred: Ashes scattered in Ka'anapali, Maui, HI - View or Post a Eulogy



---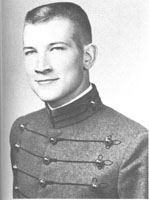 Robert David Thompson was a husband, father, soldier, businessman, and lawyer extraordinaire. One can honestly say that never was a negative comment spoken about Bob from anyone associated with him in any of these capacities. He was a true professional and gentleman in every sense of the word—totally devoted to family, work, country, and Army Football (even in the toughest times).
It would be impossible to provide any summary of Bob's life without acknowledging that we are talking about two people—he and Jeanne, his life partner since a school dance at Pitman High School in January 1958. They were simply inseparable. When Bob entered West Point in 1961, Jeanne spent every weekend there. She logged more weekends at West Point than today's plebes. (It's worth noting that the Class of '65 was the final one to remain at West Point for all of the first eleven months, including Christmas.) They were married in 1965, ten days after graduation and nearly eight years after that dance.
Bob's time as a cadet was described perfectly by one of his roommates: "Bob was the ideal roommate (and room orderly), not only because he was exceptionally neat, conscientious, and reliable, but also because he was bright and unselfishly gave of his time to whoever needed academic help. It didn't hurt that he also had a great sense of humor that enabled those around him to survive some stressful moments. His consistency and commitment emerged every weekend too, when Jeanne would visit, an event he always anticipated. They became something of a legend in that Bob would later insist that she made the pilgrimage from New Jersey, without fail, every weekend. During second semester cow year in Old South area, Bob served as an assistant squad leader, which meant plebes would come to the room 'on calls.' Early on Bob demonstrated his leadership, attention to detail, human understanding and high expectations. He was firm, clear, direct and demanding; yet, he provided guidance and support as needed, in preparing his young charges to become upperclassmen. His fair, rigorous and organized manner of questioning them presaged his subsequent courtroom skills as a successful lawyer."
Bob chose the Armor branch and went to the 11th Armored Cavalry Regiment following Airborne and Ranger schools. Bob was seen as one of the finest junior officers in the regiment as they trained for our nation's deployment to Vietnam. He rose quickly from platoon leader to C Troop's executive officer. While in Vietnam, the squadron needed an S-4 (supply officer). In an unusual move, Bob was given that huge job, in combat, as a lieutenant. In Vietnam, although separated from Jeanne, they were still "connected." One day while Bob was the troop's executive officer, the squadron was involved in a huge ambush and battle. To put it into perspective, ninety-nine enemy dead were confirmed. That was also the day on which Bob was to have left for seven days of R&R in Hawaii. Needless to say, our squadron commander had many higher priorities. Jeanne was already on her way to Hawaii. Somehow, during all of that turmoil and danger, through Bob's insistence, the colonel agreed, and Bob flew out that night by helicopter to Saigon. He then flew to Jeanne on time. Inseparable? I guess so.
After serving a second tour in Vietnam with the 82nd Airborne, Bob chose to leave the service and joined Procter & Gamble at a plant in Pennsylvania. He was immediately successful. In fact, he was so good that although he was a new hire, he was chosen to join the team starting up a new plant in Modesto, CA. Following that successful start up, advancing through several roles, Bob and Jeanne and their two daughters returned to the East Coast. After another year at the Pennsylvania plant, Bob chose to leave Procter & Gamble and pursue a law degree at Rutgers University in Camden, NJ.
He graduated in 1979 and began practicing law with Philadelphia firm Harvey, Pennington, Herting and Renneissen. He established the firm's New Jersey branch. In 2000, Bob established his own firm, Thompson, Becker & Bothwell, LLC. He enjoyed the same high level of success in law that he had found in military service. Bob achieved a Peer Review Rating of "AV" for ethical standards and legal ability through Martindale-Hubbell Ratings. This is a significant rating accomplishment, a testament to the fact that a lawyer's peers rank him or her at the highest level of professional excellence. Bob's competitors and adversaries privately rated him and awarded him the highest mark in his field. Additionally, in 2005, New Jersey Monthly Magazine named Bob a "New Jersey Super Lawyer."
Bob remained loyal to his rock-bound highland home at West Point and its football efforts to the end. Although quite ill at our fortieth reunion, Bob and Jeanne came and attended every event. Once, they were at Michie Stadium to watch an away game via a live feed. The game was totally out of hand, and Army was being soundly beaten; yet, Bob was there, cheering every play and urging on his "Army Team." Loyalty was everything to Bob: first to his God (his was a quiet but profound faith), then to Jeanne and his two daughters, Tawdra and Robyn, and to his six grandchildren, and then to West Point, the Army, Procter & Gamble and his law firm. He was a loyal, driven gentleman who made every loved one and colleague proud.
Jeanne, totally healthy at the time of Bob's death on Jun 9, 2006, passed away less than one year later. Coincidence? Destiny? Unconditional love? We may not know in this world, but of this we are certain—they are together again, this time forever.