COL Bernard J. Mogan USA (Retired)

Cullum: 25685




Class: 1965




Cadet Company: F1




Date of Birth: January 17, 1943




Date of Death: July 5, 2012




Died in Anthem, AZ




Interred: National Memorial Cemetery of Arizona, Phoeniz, AZ - View or Post a Eulogy



---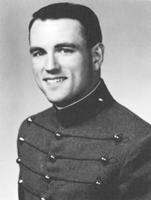 The world is diminished because he is gone, but it is still a better place because he was here" —Author unknown
Bernard John "BJ" Mogan joined the "Strength and Drive" Class of 1965 on Jul 5, 1961. The firstborn of five children from Bernard and Clara Mogan, John graduated from Father Ryan High School in his hometown of Nashville, TN. A handsome southern gentleman with an endearing personality and quick wit, John excelled as a scholar and athlete. He was well prepared for the challenges of West Point.
Following commissioning in the Field Artillery, John completed Ranger and Airborne schools, reporting for duty with the 101st Airborne Division. He served in a variety of key command and staff positions including overseas assignments in Vietnam (101st Abn Div, 1967-68 Battery Commander), Germany (8th Inf Div 1977-79 Battalion XO), and Korea (2nd Inf Div 1981-82 Battalion Commander 1/15th Artillery). Other postings included tours with the 82nd Abn Div Artillery, Assistant Professor ESGS Department USMA, and several Pentagon assignments, culminating with his last assignment as Senior Army Advisor to the 125th ARCOM before his retirement in 1993.
John was a graduate of the Advanced Field Artillery Officer's Course, the Army Command & General Staff College, and held a master's degree in industrial engineering from Arizona State University. His principal awards and decorations include the Legion of Merit, the Bronze Star Medal with "V" Device and OLC, the Meritorious Service Medal with 2 OLCs, the Air Medal with "V" Device and Numeral 5, the Army Commendation Medal with "V" Device and 2 OLCs, and the Vietnam Cross of Gallantry Medal with Star.
After 28 years of military service, John transitioned to the civil sector. In 1993, he became the Director of the Tennessee State Fire Codes and Enforcement Academy. In 2001, he served as Tennessee's Deputy Director of Homeland Security and Commissioner of Veterans Affairs, from which he retired in 2003.
John's first marriage produced three children. Sadly, Tamara lived only 54 days after her birth. Sean, born in 1967, was tragically taken after a bicycle accident in 1973. They are laid to rest in the West Point Cemetery. Tara, born in 1970, lives in Arizona.
In 1997, John met Dyanne Rice, the love of his life. They were married in 2000 and lived in Nashville until moving to Arizona in 2006. John adopted Dyanne's daughters, Jennifer and Sarah. His stepson, Mark, served two combat tours as a member of the Tennessee National Guard.
Excerpts from John's Memorial Service, delivered by daughter Tara, poignantly capture the essence of her father:
"This is a Celebration of my father's life. I'm going to share some of the things…he cherished the most…God…his Country, his family and his friends.
…My dad spent many hours teaching me how to ride a bike, play basketball, plant a garden, use tools, and get through high school algebra. He was always there to pick me up, to cheer me on and to give me a good kick in the tail when I needed it.
My dad also taught me to do the right thing, not just the easy thing; to admit when you're wrong and apologize; to make time to help people; and to be the kind of friend that you want to have… My father was a humble, kind-hearted human being, and a wonderful role model. Even his greatest struggles were my greatest lessons.
But I think one of his greatest gifts was the laughter that he brought to all of us. In fact he was still cracking jokes, right up until the day before he crossed over to heaven.
…But in all seriousness, my father loved being a soldier and saw his 28 years of military service as a privilege and an honor. He loved his fellow soldiers and West Point classmates as his own brothers, and I saw that love returned many times…especially during the last few days of his life when several of his brothers sat loyally by his side, comforting him with their voices and prayers. Thank you for that.
I want to thank Dyanne, because I couldn't have asked for a more devoted wife and best friend for my father…she allowed him to live and die with dignity. My father told me many times how deeply he loved Dyanne and how blessed he was to have her in his life.
John Mogan cherished his family, his country and his friends. He loved being a soldier… It has been my privilege and honor to be his daughter."
On Jul 5, 2012, 51 years to the day John entered West Point, he passed from this life. You may have left, but your life touched us all. You are not forgotten. WELL DONE, John. Be Thou at Peace.
— Jose Sanchez '65, Karl Savatiel '65, & Tara Mogan, daughter