Mr. Peter M. Howard

Cullum: 25679




Class: 1965




Cadet Company: L2




Date of Birth: January 13, 1942




Date of Death: September 5, 2004




Died in Middleburg, VA




Interred: Emmanuel Cemetery, Middleburg, VA - View or Post a Eulogy



---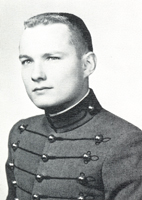 In 1952, a young boy set out his life's ambitions in his fourth-grade newsletter. He would become "…a cowboy and get a $100 reward" or "…an Army man and be a five star general…yes!" Choosing the latter, the world lost a great cowboy, and Peter Mason Howard set in motion events that would carry him to West Point, the battlefields of Vietnam, and the green hills of Northern Virginia.
Peter Mason Howard was born on Jan 13, 1942, in Oak Park, IL, one of five children of Eleanor and Gordon Howard, a Chicago-area dentist. Peter both drew from and gave back to their kind and loving home, as when he and his four siblings undertook to plan a 50th wedding anniversary celebration for their parents. Many vaporous ideas were floated with few specifics. That evening, Peter sketched out on a restaurant napkin the plan for a family nostalgia tour: 30 destinations would be accomplished in one day. And thus was born Peter's signature phrase, "Let's go!" But I am getting ahead of the story.
Let's go back to West Point on Jul 5, 1961, as 839 earnest young men anxiously passed through assorted sally ports to find the "Man in the Red Sash." Thus began plebe year for Peter and the Class of 1965, the long adventure that would bind us as closely as brothers. Classmate Roger Wolf recalls sharing many weekend adventures with his destined-to-be lifelong friend "Pete." Peter was the kind of friend that everyone should be blessed with: allowing Roger to use his prized blue GTO when visiting Pete after graduation; always, throughout the years, calling and taking the time to visit whenever he came through town; and once, while at the Academy, actually allowing Roger to date his sister who had dropped in to visit Pete.
Peter thrived at West Point, which complemented his serious, purposeful character well. During Army Orientation Training in the summer of 1963, Peter and classmates Ray Woodruff and Bob Gates toured Europe. Peter's love of learning served him well when he organized visits to the Louvre in Paris and the Rijksmuseum in Amsterdam, cultural experiences that might have required all his persuasive skills and a stout "Let's go!"
June of 1965 brought cars, graduation…and the Vietnam War, which so profoundly shaped us as individuals and as a Class. Peter's sister Martha recalls his visit home in July 1966 just prior to deploying to Vietnam. He wanted to say goodbye to his grandmother, who lived in a small Illinois town about 30 miles away. So Peter rounded up his brother and sisters for the drive in his new blue GTO. With the top down and the radio blaring Beatles music, Peter secured forever the title of world's coolest older brother. Whether his grandmother shared that view remains unclear.
In Vietnam, Peter served with the 1st Cavalry Division (Airmobile), Company D, 5th Battalion, 7th Cavalry. He soon gained a reputation for a different kind of cool, that rare ability to remain unflappable under combat conditions. Classmate, Jim Harmon, speaks appreciatively of Peter's reconnaissance platoon screening his company as they returned from a helicopter rescue mission in the gathering darkness. His fellow soldiers remembered him as "…a superb soldier and officer."
Peter's Vietnam tour ended when he was wounded in action in October of 1966. After recovering in Japan and in the States, he sought to return to the 7th Cavalry, but the Army in its wisdom chose Korea instead. Peter was assigned to the 2nd Infantry Division, responsible for patrolling a hostile and dangerous DMZ. Returning for a brief tour as Ranger School cadre at Ft. Benning, he resigned his commission in 1970 and turned to a new chapter in life.
Peter entered Northwestern University's Law School, graduating with a J.D. in 1972. Upon graduation he joined the legal team at the Atchison, Topeka, and Santa Fe Railroad, a thoroughly fitting choice. Peter had been a model train enthusiast since 1950, when his dad gave him a Lionel steam locomotive with a Pennsylvania Railroad logo. In 1983, he moved on to become Chief Counsel for Mobil Alternative Energy in Northern Virginia. Their location at the head of the Shenandoah Valley offered Peter the perfect venue for his Civil War interests, again aligning vocation and avocation.
Most importantly, though, Peter fell in love with more than the Virginia countryside, and in 1988 he married Susan Seaton. After retiring from Exxon-Mobil in 2000, Peter and Susan built a lovely retirement home on a scenic Virginia hilltop. Visitors to their home were treated to driving tours down narrow country lanes to the spot where Lincoln relieved McClellan of command, or where Mosby camped with his rangers. On such outings, Peter would always be the first to notice a distant train whistle…and usually know where the train was heading and what it was likely to be carrying. For those who experienced such joys, every train whistle brings a memory of Peter. "Let's go!"
Peter and Susan's capacious basement could house his entire model train collection—over 1,000 cars with 100 engines. But the dream was never fully realized because Peter was diagnosed with cancer in 1989. With the help of family and friends, a replica of the famous Horseshoe Curve in Altoona, PA, was completed and wired. Peter proudly guided a freight train around the curve shortly before his death on Sep 5, 2004.
Classmate, Ray Woodruff, has perhaps said it best: "Peter was a rare friend. He was truly an Officer and a Gentleman. I am certain all who were privileged to know Peter are better off for having him as a friend."
To which I can only add, Amen. Rest in peace, my friend.
–Classmates and family