Mr. James L. Smith

Cullum: 25678




Class: '65




Cadet Company: C2




Date of Birth: April 15, 1943




Date of Death: September 10, 2000




Died in Boise, ID




Interred: Ashes spread in back country of Sawtooth Mountains, ID - View or Post a Eulogy



---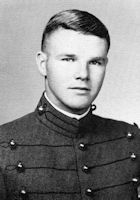 James Lenhart 'Jim' Smith was a dear friend, taken from us far too soon. He was born in Michigan on April 15, 1943 to Kenneth and Martha Knox Smith. Jim attended high school in Nyack, NY, where he received his appointment to the United States Military Academy.
At West Point, Jim was a gifted athlete and scholar. He was a member of the Academy Tennis Team and did extremely well in academics, seemingly without trying. His greatest gifts were a concern for others and a refreshing sense of humor. One classmate commented that as he was suffering the effects of a concussion received in the boxing ring, Jim rescued him from the showers, got him dressed and endured the harassment of upperclass cadets as he helped maneuver the classmate to the hospital. Another classmate shared how Jim allowed him a dance with Jim's date at a Camp Buckner hop. The lady with whom he danced became his wife upon graduation, and Jim served as the couple's best man. All the members of his cadet company remember Jim as having a smile on his face, a humorous story to tell and an uplifting spirit that always seemed to dispel the much gloom of cadet life.
Jim selected Armor branch during his First Class year and Germany as a first assignment. In its wisdom, the Department of the Army decided that Airborne and Ranger schooling would benefit '65 grads better than routine branch training. So, Jim spent his initial Army service learning how to jump from perfectly fine aircraft and how to survive the absence of all human comforts. Jim, like most of the class, learned to appreciate the depth of his resilience and his ability to endure hardship.
Following these Army schools, Jim deployed to Germany, where he joined the 2nd Squadron, 4th Cavalry in 1966-67. The Vietnam build-up was in full progress, requiring the deployment of available personnel to that theater. Yet, the threat of formidable Soviet forces across the German border required a creditable U.S. force to ensure peace. Jim employed his unique talents to train his Soldiers into effective fighting units, despite losing many experienced non-commissioned officers to reassignment. Nevertheless, he still found time to visit classmates during slack periods and once again brought his humor and optimistic outlook to bolster friends.
Jim deployed to Vietnam and served there from 1967 to 1968. As always, he served with distinction, earning praise for his leadership ability and concern for the welfare of his subordinates. Lieutenant General Dan Christman, former Superintendent of West Point, a classmate and close friend of Jim's, said of him: "Jim's military record speaks for itself. He was an extremely able military man and was very proud of the time he spent serving his country in Germany and Vietnam." Jim resigned honorably from the Army in 1970.
Jim's next challenge was to prepare for achievement in the business world. He enrolled in the MBA program at Stanford University, completing his master's degree in 1970. He later joined Regis McKenna, Inc., where he served as partner in the marketing consulting group and later as Vice President and Director of Operations of the Technology Marketing Group. Regis McKenna said of him: "Jim helped us develop marketing and strategic relations, and he was part of everyone's team. He was smart and always had a very optimistic view of life—he was the kind of person we all benefited being around."
Jim opened the West Coast office of the NASDAQ Stock Market in 1990 and grew it from a small office in downtown Palo Alto, CA into its current status as a key NASDAQoperation alongside the venture capital community in San Francisco. He was responsible for the establishment and development of NASDAQ's ongoing relationship with the hi-tech community. "Jim was a large part of NASDAQ's early success in courting companies in Silicon Valley," said Joseph R. Hardiman, former president and CEO of NASDAQ. "He worked diligently in those early years for us, and was an important influence in positioning NASDAQas the financial market for technology companies." Speaking of Jim's death, Hardiman added, "It's not just a loss for NASDAQ, but for many of us—Jim was a dear friend."
Jim met Amy Blue while working in San Francisco. They married and had two children, Lindsey and Jason. Jim was devastated by Amy's death from cancer. His optimistic attitude toward life sustained him through this period of grief and turmoil. His perseverance was rewarded as Elizabeth Rood entered his life and restored the joy of close human bonds. They married and cultivated a common interest in horseback riding. Beginning in 1996, Jim and Elizabeth began dividing their time between Palo Alto and the ranch they acquired in Bellevue, ID. It was obvious that Jim was at his happiest in the ranch environment, where he was able to pursue his passions for fly fishing, skiing, horseback riding, ranching and being a part of the great outdoors. He was his most "complete self" when he was living in Idaho's beautiful countryside.
Jim died from injuries sustained in an unfortunate ranching accident in 2000. His death occurred in an environment he loved and pursuing activities that stirred his heart. We all miss his smiling presence and warm, caring touch in our lives. We are thankful for the years we had with him and pray there may be more on the other side.
-- Jim McEliece, classmate and friend