Wayne Watson Marsh

Cullum: 25662




Class: 1965




Cadet Company: K2




Date of Birth: February 3, 1943




Date of Death: January 30, 2022




Died in: St. Louis, MO




Interred: Jefferson Barracks National Cemetery, St. Louis, MO - View or Post a Eulogy



---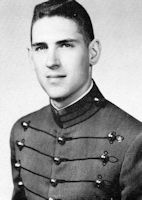 "Whatever you do, work at it with all your heart as though you were working for the Lord and not for men" (Colossians 3:23). This Bible verse guided most of the choices in the life of Wayne Watson Marsh.
Wayne was the middle child and only son born to Denzil and Nadine Marsh. His mother was a nurse at Barnes Hospital in St. Louis, MO, where Wayne was born on February 3, 1943.
Wayne attended elementary school in the Normandy School District of St. Louis. His father worked for the International Shoe Company and was moved to Sullivan, MO for temporary training. After several years in Sullivan, the family returned to Normandy, where Wayne attended his freshman year at Normandy Junior High School. He was chosen as the captain of the basketball team and became acquainted with Susan Bayer, who attended all games as a cheerleader.
Throughout high school, Wayne excelled in leadership, scholarship, and athletics. At the end of his senior year, Wayne received a nomination from Senator William Stuart Symington to attend the United States Military Academy at West Point.
At West Point, Wayne continued to excel on the athletic field and in academics. He is described in the '65 Howitzer as "a willing worker, efficient leader, and likable guy." Wayne often quoted Schofield's Definition of Discipline and emphasized the portion of the definition that says, "He who feels the respect which is due to others cannot fail to inspire in them regard for himself."
After airborne and Ranger training, Wayne was assigned to the Army base at Fort Campbell, KY. He served there in the Signal Corps as a second lieutenant in the United States Army. Almost every weekend Wayne drove to St. Louis, which was barely within the boundaries of travel set by the Army. Susan Bayer was teaching kindergarten in St. Louis, and Wayne visited her. He often said, "The drive was killing me, so we had to get married." Driving back to the base in Kentucky to lead PT early each Monday morning was very challenging. Wayne and Susan were married on August 13, 1966.
Six months after Wayne and Susan were married, Wayne was given orders to serve in Vietnam. The day he left to serve overseas his mother prayed for his safety and included the request that he would be doing constructive work and not destructive work. His family knew the prayer was answered when Wayne wrote a letter home saying that he was assigned to an engineer battalion and chosen as the payroll officer. The engineers were building roads, bridges, and orphanages. Wayne reached the rank of captain through his excellent service and received a Bronze Star Medal for his service.
After Wayne returned from his duty in Vietnam, he was assigned to Fort Carson in Colorado Springs, CO. During the three-year assignment there, David Wayne Marsh was born on November 19, 1969 at the Air Force Academy Hospital.
After deep prayer and soul searching, Wayne and Susan made the decision to return to civilian life. The training and relationships made through West Point and the service in the Army shaped Wayne's life and work ethic throughout his lifetime.
Wayne was chosen by Southwestern Bell Telephone Company to be on a fast-track leadership program. Many moves were made in a very short span of years. The first position was in Kansas City, MO; from there came a move to Perryville, MO and then to Joplin, MO. Daniel Carl Marsh was born in Joplin in 1972. The next move was to Lenexa, KS and then to Basking Ridge, NJ to work with AT&T. After three years in New Jersey, Wayne was moved to Missouri and retired from Southwestern Bell Telephone Company in St. Louis in 1998.
During his retirement, Wayne became an avid bicycle rider and helped form St. Louis Recreational Cyclists, which had more than 200 members. He served in his church using the organizational and leadership skills learned at West Point.
The word "faithfulness" describes Wayne Watson Marsh. He was a faithful son, brother, husband, father, and grandfather. He was a blessing to his wife, two sons and their wives, 11 grandchildren, two sisters, and numerous relatives and friends. Most of all he was a faithful servant of His Lord and Savior Jesus Christ.
Wayne's prayer would be that all who read this article will choose eternal life through belief in Jesus Christ as personal Savior and Lord.
— Susan Jane Marsh