Wayne Watson Marsh

Cullum: 25662




Class: 1965




Cadet Company: K2




Date of Birth: February 3, 1943




Date of Death: January 30, 2022




Died in: St. Louis, MO




Interred: Jefferson Barracks National Cemetery, St. Louis, MO - View or Post a Eulogy



---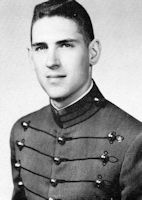 Wayne was born in Saint Louis February 3, 1943. He is survived by Susan, his beloved wife of 55 years, and his cherished progeny, sons David and Daniel, and eleven grandchildren he loved to talk about. He attended Garfield Elementary School in Normandy, MO, and then lived in Sullivan, MO. before returning to Normandy Junior High in 1957, where Susan and he first met.
Wayne received a Congressional appointment to and graduated from the United States Military Academy at West Point. After graduation Wayne and Susan were married. His years of service to his country consisted of several foreign posts, including a tour of duty in Viet Nam at the height of the war. Wayne was deservedly proud of having completed the arduous training to become part of the elite Army Ranger Corps. In 1970, he was employed at Southwestern Bell and served in management there for twenty-seven years.
Wayne's life has a constant theme of devoted, extraordinary service; to his family, his country, his church, and his community that our members are lucky to have been a part of. Wayne was a founder of STLRC. Before that, Tom Reichard says Wayne was an "animal" among the "turtles" and "turbos" in AYH group rides. Our club was formed in 2012 by Wayne, Claudia Spener, Larry Essman and our first president and webmaster, David Brown, who lauds Wayne as a "dominant force" in the club's origination.
Wayne was secretary extraordinaire. He was very helpful to David in setting up the cue sheet library, providing more than one hundred cue sheets to stock the collection. Wayne utilized his penchant for meticulous adherence to administrative tasks, from minutes to memberships, from tabulating fiscal spreadsheets to collating ridership attendance with route preferences—an amusing, highly popular committee report at annual meetings.
Wayne's attention to detail in planning rides and scouting routes facilitated our stress-free adventures into the countryside. He led Tuesday and Thursday rides, as well as others, with rigorous regularity and precision. He perfected the cue sheet into an art form. He even supplied several alternate routes to every ride in case of unforeseen road grading or inclement weather. We have missed this gold standard of role model leadership these past two years. But Wayne's successors have stepped up. It's clear his lessons are not lost on those who emulate him, given the continuity of care and competence they provide our members in furtherance of his gifts to us.
Wayne's kind-hearted coaching was especially valued by riders new to serious cycling. Patti Brumleve and Ann Halenkamp recall how Wayne taught them the basics of pace-line technique: pulling in a straight line at a steady pace, calling out hazards, finding the windward slipstream angled behind leaders. They exemplify novices under Wayne's deft tutelage who became strong, highly skilled competitors. Wayne encouraged Ann to compete as a triathlete; she reached podiums as a two-time national champion and was once ranked fourth in the world. He rode with her on many Five Star centuries, cracking goofy jokes to distract her from fading, being patient with her insistence on stopping to help turtles off the road.
Beyond cycling, like the rest of us, Patti and her family regarded Wayne as a true gentleman of sterling character. They became close friends and found Wayne and Susan could be relied on for consolation and spiritual sustenance during trying times.
Patrick Courtney notes that Wayne was not fond of hilly courses, but deferred to "you hill climbers," by including hills in his route choices. Over time he became a strong climber; however, his forte was blasting ahead down steep curvy sections with high confidence. In the Defiance/Augusta range, he displayed his prowess at near 60 m.p.h. on an infamous downhill stretch. (His electric blue Z 28 should have been our clue to his speed predilections.)
Wayne's overarching aim for our club was conveyed with a near reverential tone. He hoped our rides would be a special break from the banal urban scape, unpolluted by polemics, which he expressly discouraged. Mostly, he tolerated, if not enjoyed, our purple language, comic crudities, and scofflaw traffic maneuvers. If a reprimand was necessary, you would want it to come from Wayne's affable blend of firm but tender tact and sensitivity.
Wayne simply wanted our rides to be savored for what they really were, or should be: joyful gulps (or gasps!) of speed-infused country air, verdant scenery, and sheer muscle-powered fun. He loved to gun it, testing our stamina, goosed sky high by the endorphin-fueled camaraderie of like-minded miscreants bonding into kindred spirits.