Dr. William Bryant Bachman, Jr.

Cullum: 25653




Class: 1965




Cadet Company: G2




Date of Birth: June 16, 1941




Date of Death: September 14, 2008 - View or Post a Eulogy




Interred: Cremated. West Point Cemetery, West Point, NY




Location: Sect XXXIV, Row C, Grave 178B



---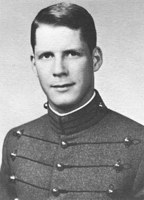 William Bryant Bachman, Jr. was born on Jun 15, 1941 in Kansas City, MO, and arrived at his home in Sewickley, PA, with his new parents, Helen and William Bryant Bachman, soon thereafter. During his early teen years his family moved to St Croix, USVI, where he attended 10 th grade and became a skillful swimmer and fisherman.
Following a year of school on St Croix, he attended Kemper Military Academy for two years, participated in swimming and tennis, and completed his first semester of college. He entered Vanderbilt University in January 1959 and remained for two semesters. During his summers, he returned to the Virgin Islands to work various jobs, including at the Cruzan Rum Factory on St Croix and construction jobs on the local islands. While at Vanderbilt, he sold bibles door to door in Kentucky. Bryant lived an adventurous, independent life that would serve him well in the future.
After his freshman year at Vanderbilt he joined the Army, and, while assigned to Ft. Bliss, TX, was selected for attendance at USMA Prep, entering West Point in July 1961. Bryant was assigned to Company E-2 for his Plebe and Yearling years and Company G-2 for his cow and firstie years, where he made a number of dedicated friends. His maturity, character, willingness to help his classmates, and competence in most aspects of cadet life earned him great respect. He did, however, have a rebellious streak and the occasional battle with the Tactical Department, resulting in membership in the Century Club and most likely the loss of cadet leadership positions. It was at West Point that Bryant developed his deep and long lasting interest in English literature, influenced by courses with COL Alspach, head of the English Department.
Following graduation, Bryant married Ann Rosenau in the Virgin Islands prior to attendance at Airborne and Ranger Schools and his first assignment with an artillery unit in Germany. He soon was reassigned to a training unit at Ft. Lewis for a year prior to language school and an assignment with a Vietnamese artillery unit in the Delta. During his Vietnam tour, he became interested in the local cuisine, which stimulated his interest in gourmet cooking. He also developed an understanding and interest in the Vietnamese people, which helped him in his efforts to assist Vietnamese refugees migrating to the United States.
During a short assignment at Ft. Sill, he was selected for graduate school at Syracuse University prior to an assignment in the English Department at West Point in 1972. While teaching, he completed his course requirements for a Ph.D. in Medieval British Literature in 1975 and resigned from the Army.
He taught at Ladycliff College while doing post-doctoral work at Columbia in Medieval Languages. This led to a position at the University of Southwestern Louisiana, Lafayette. In 1987 he received an USL Foundation Distinguished Professor award, and he became a full professor in 1988. While at USL he published six books of translations of Icelandic sagas and wrote numerous articles in his chosen specialty.
His faculty life was rich, teaching upper-division and graduate courses as well as undergraduate courses. He made the early Middle Ages come alive for his students by chanting passages from Beowulf and other Anglo Saxon poems accompanied by a replica of the British Museum's Sutton Hoo lyre that he constructed. He made many dedicated friends, both students and faculty members, some of whom traveled to West Point for his funeral. Bryant was active in community service at Southern Louisiana, serving on the Advisory Board of Catholic Charities for ten years and as commander of the local VFW Chapter. He restored a fixer-upper house that then was added to the Carenco list of historical homes. For many years, Bryant vacationed in Maine, where he would purchase his farm and retire.
Bryant and Ann had two children, Will and Jessie, before divorcing in 1983. Will followed in his father's footsteps, serving with the 101st Airborne Division in Operation Desert Storm. Two subsequent marriages to Ingrid Preuss and Sarah Hughes also ended in divorce.
In 1998 Bryant met and then married BJ, the love of his life, and in 1999 retired and moved to Bucksport, ME, where he restored two old houses and a historic 200-year-old post and beam barn. He was a man of many talents: a gourmet cook; aspiring novelist; amateur astronomer; stained glass artist; and a master carpenter; to name a few. Bryant was a loving father to Will and Jessie. Bryant was also very close to Mike Soteres, BJ's son, and especially to her grandson Taylor, encouraging his preparation for West Point. In 2006 Bryant learned that he had cancer and was given six months to live. He beat the estimates by over two years and maintained the courage and dignity in adversity his classmates would expect of him. During his last years, he received a number of visits from classmates and friends, which gave him great pleasure. Jack Barwis and Chuck Boohar were with him hours before he died.
Bryant's memorials were as fascinating as his life. Some of his ashes were spread in the Penobscot River in Maine, in the Caribbean, at the University of Louisiana and in the West Point Cemetery. A Viking ceremony was celebrated by family, friends and fellow professors, devotees of Nordic saga, at the West Point boat dock. His ashes were placed in a replica of a Viking longship and set afi re before being pushed into the river. The last memorial, a family ceremony, was his final request. Some of his ashes were spread over his Maine farm, his last great masterpiece.
Throughout his life he remained committed to the principles of Duty, Honor, Country and was very proud of his alma mater. Well done, Bryant. Be thou at peace.