COL Steven C. Harman Jr USA (Retired)

Cullum: 25651




Class: 1965




Cadet Company: M1




Date of Birth: November 22, 1941




Date of Death: January 16, 2022




Died in: Kingston, NC




Interred: West Point Cemetery, West Point, NY - View or Post a Eulogy




---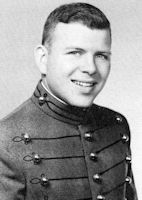 Steven Clark "Steve" Harman Jr. was born on November 22, 1941 in St. Louis, MO to Helen and Steven Clark Harman. He had two younger siblings, Mary Kay and Tom. From early on, Steve had a passion and a talent for baseball. Growing up, he played at all levels, often on teams coached by his dad. He and his brother, Tom, often assisted their dad, a professional tradesman, in helping friends and neighbors build or make repairs to their homes. During the summer, Steve worked for the St. Louis County Roads Department, which helped keep him in shape for athletics.
Steve, called Clark by his family and friends in St. Louis, attended the Christian Brothers College Military High School in St. Louis, graduating in 1959. He was the school's starting varsity catcher all four years and caught for several pitchers who went on to play professional ball at varying levels. In a preview of things to come, Steve excelled in academics and leadership. In his senior year, he was selected to have the top leadership position of regimental commander and was the only cadet given the rank of colonel.
Steve, lovingly referred to, sometimes, as "height challenged," had hoped to be appointed to West Point right out of high school, but he had to wage a fight to overcome the height requirements. In the two years before obtaining an appointment to West Point, Steve attended Washington University in St. Louis and was an active member of the Beta Theta Pi fraternity. He also was a cadet in ROTC, continuing to hone his military and leadership skills.
Steve entered West Point in July 1961 as a member of the Class of 1965. Throughout his four years as a cadet, Steve made many friends, became a recognized leader, and was known for being well organized, a trait he learned from his mother. Again, he was an accomplished varsity baseball player. He would recall often that one of his most cherished memories of his cadet days was meeting Mickey Mantle when the NY Yankees played an exhibition game at West Point. Steve was a member of the "catholic squad" and was active in the Cardinal Newman club. He was involved with the cadet radio station, KDET, the Mathematics Forum, and the Class Committee from sophomore to senior years. He was a member of the Howitzer staff, serving as circulation manager. Also, he was a member of the staff of Bugle Notes, the annual plebe guidebook.
Upon graduation in 1965, Steve was commissioned in the Signal Corps and, three days later, on Jun 12, 1965, was married to the love of his life, Anne. Steve and Anne had spent many Sunday afternoons during the second semester of First Class year developing Anne's ability to drive a standard transmission. This skill came in handy on their honeymoon as Steve was recovering from a broken ankle and Anne had to do all the driving! Over the next 56-plus years, they became the proud parents of seven children, four sons and three daughters, and doting grandparents to 13.
Steve's first assignment was to Germany with the 24th Signal Battalion. His next tour of duty was in Vietnam, where he served as a company commander in the 52nd Signal Battalion. After completing the Signal Officer Advanced Course, Steve attended Rensselaer Polytechnic Institute in Troy, NY, earning an M.S. in mathematics. Then, it was off to West Point for three years to teach math. After graduating from Command and General Staff College in 1975, Steve was assigned to Korea, then the HQ, Defense Communications Command and, later, HQ, Milpercen. During the latter tour, Steve earned an M.S. in telecommunications from George Washington University. The next four years were spent in assignments in Germany, including command of the 43rd Signal Battalion. After that came tours in the DC area, including one at the Industrial College of the Armed Forces in 1986. His final assignment was to the Information Systems Command at Fort Huachuca, AZ. Steve's military awards included the Legion of Merit, Defense Meritorious Service Medal, the Bronze Star Medal, the Meritorious Service Medal, and the Army Commendation Medal.
Following retirement from the Army in 1991, Steve embarked on a succession of responsible positions with General Electric, Lockheed Martin, and Northrup Grumman. Steve worked for NG in Eatontown, NJ and retired from there in 2001. They moved to New Bern, NC and settled in to enjoy family and friends. Steve was active in several community organizations and events, including the Knights of Columbus, for which he served in a variety of positions, including Grand Knight. He also took great delight in keeping up with the many activities of his grandchildren. Of course, he continued his passion for golf and enjoyed the frequent opportunities to join with his West Point classmates on the links.
Steve lived a life of service: to family, community, country, and God. One of his West Point classmates described Steve as: "The sweetest guy I ever knew. He was gentle, kind, and caring. I don't know if [he] could be cross, because I never saw him in such a state." He will be remembered for his kind manner, strength of character, and love of family and of country. For all those who knew him, he will remain a role model for a life well lived.