Mr. Donald Arthur Phillpotts

Cullum: 25641




Class: 1965




Cadet Company: M1




Date of Birth: November 4, 1941




Date of Death: April 27, 2000




Died in Orem, UT




Interred: Utah State Veterans Memorial Park, Camp Williams, Bluffdale, UT - View or Post a Eulogy



---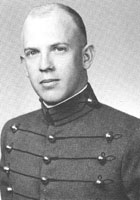 Donald Arthur Phillpotts was born on Nov 4, 1941, in Ft. Monroe, VA. His formative years as a member of an Army family had a major impact on the way he would live out his life of travel, selfless-sacrifice, and dedication to country.
Don started school in September 1946 in El Paso, TX, and attended 21 schools in the United States, Europe, and Asia. While in seventh grade near Ft. Wadsworth, NY, Don became acquainted with the Civil Air Patrol and was allowed to fly with them. That inspired him to go to West Point and become an Army pilot. He took the competitive examination for a presidential appointment to West Point and barely missed an appointment. He graduated and enlisted in the Army on Jul 16, 1959. As he was completing Basic Training, he received an offer from the Department of the Army to compete for a newly established one-year exchange position at the Philippine Military Academy. Don won that competition and negotiated an assignment to the U.S. Military Academy Prep School prior to his Philippine assignment. Returning from the Philippines in the spring of 1961, two positive events impacted Don's life: he met his future wife Sharon, and he was accepted to West Point.
He entered West Point with the Class of 1965. Don's days as a cadet were marked by academic excellence, a willingness to help others, and a keen ability to navigate through four years in his own quiet way. Classmate John Malpass recalls: "Don was my roommate in Beast Barracks, and his prior Army experience taught me and my other two roommates how to get our uniforms ready. Speaking of uniforms, one afternoon Don was taking a nap. The supper bell rang and Don asked what the uniform was. I said 'khakis.' Not knowing the difference between khakis and fatigues, we three dressed up in those 'green things.' Don started to get into his khakis, but when he saw us dressed in fatigues he had to make a quick change. It wasn't funny at the time, but we did get a good laugh out of it—and yes, Don made it to formation on time!"
Another classmate, Jim Webb, remembers a story from '65's First Class year: "It seems that during the fall of 1964 there was a policy that required the barracks doors to be locked and that entry was only allowed for cadets and officers assigned to the staff and faculty. One Saturday morning after parade, the father of one of our plebes visited the barracks. Don was on duty that day to ensure security was maintained, and he refused entry to the parent because he was not on the faculty. After some negotiation and the parent offering to show his active duty ID card, Don allowed him entry. It turns out that the father in question was Harold K. Johnson, Chief of Staff of the Army. We can all rest assured that Don knew exactly who he was speaking to, but that he always played by the rules."
Don was commissioned as an Armor Officer. His first assignment was with the 2ID in Korea on the DMZ. Don and Sharon had begun to reconnect during his First Class year and they were married in Seoul, Jun 24, 1966. Upon their return to the U.S., they would report to Tehran, Iran, where Don was an aide-de-camp. Don's next assignment was as a Troop Commander at Ft. Meade, MD. He deployed to Vietnam in 1969 and was assigned to the 11th ACR. Unfortunately, he had his share of Agent Orange and that would have a major impact later in life. Upon his return from Vietnam, Don changed branches to Military Intelligence and was assigned as a Company Commander in the 163 MI Battalion at Ft. Hood, TX. Don and Sharon were blessed when their daughter Tara was born just before their fifth wedding anniversary. During this period Don attended the MI Advanced Officer Course at Ft. Huachuca, AZ, and shortly thereafter he received orders for an unaccompanied tour in Korea. Sharon and Tara joined him there. Their next stop was Okinawa where their son Wade was born. Upon return to CONUS Don was assigned the 1st ROTC Region, Ft. Bragg, from 1978-80. During this very busy period of his life Don completed the Army Command and General Staff College and earned a master's in public administration. After almost 40 years of the military, Don chose to separate and retired in 1980.
After teaching JROTC in Naples, FL, the family moved to Laramie, WY, in 1984. He then spent two years on a peacekeeping mission in Sinai and upon his return took a position with a company that conducted background investigations. During this period Don had a heart attack but recovered in time to attend Tara's high school graduation. Don continued travelling with assignments in Caracas, Moscow, Djibouti, Hong Kong, and Bangkok. He came back to Laramie but suffered a second heart attack. After a year in Laramie, Don and Sharon moved to Utah to be closer to their son and his family. Shortly after, Don was diagnosed with lung cancer. He had his right lung removed, but the cancer had spread to his lymph system.
Throughout all of his challenges Don remained faithful to his work in the Mormon Church. One family member wrote that Don was the epitome of tenacity, toughness, and courage. He was an upstanding soldier to the very end. He lost his battle on Apr 27, 2000.
— Sharon Phillpotts & Steve Harman