Mr. Robert D. Timbrook

Cullum: 25632




Class: 1965




Cadet Company: D2




Date of Birth: October 16, 1942




Date of Death: May 26, 2010




Died in Knoxville, TN




Interred: Riverside Cemetery, Painesville, OH - View or Post a Eulogy



---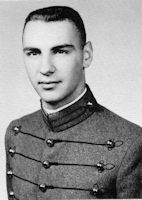 Robert Douglas 'Bob' Timbrook was born in Painesville, OH, the eldest child of Rose Mary Yanko and Robert N. Timbrook. Bob learned valuable lessons about assuming responsibility for others at a young age. He was only 12 when his parents divorced, and he became the "man of the house," caring for his brother, Ray (six), and sister, Suzi (five), while their mother worked evenings. As a result, Ray and Suzi looked up to their older brother as a male role model upon whom they could count for guidance, support and companionship. Known by his high school classmates as 'Tim,' Bob demonstrated academic and athletic prowess at Riverside High School, where he quarterbacked the football team and starred in basketball and track. After graduating from Riverside in 1960, he attended the University of Kentucky for a year before earning an appointment to West Point from Congressman Robert E. Cook, 11th District of Ohio.
During plebe year at West Point, with a year of college under his belt, Bob became the "go-to-guy" for classmates who needed extra instruction on the rigors of plebe math and other subjects. His love for the military and devotion to his country grew considerably during his four years at the Academy, while his leadership and athletic ability were demonstrated in intramural sports, sparking his company to a regimental football championship. He was proud to have been chosen to serve on the Cadet Honor Guard for the funeral ceremonies of President John F. Kennedy and General Douglas MacArthur (USMA 1903). His experiences with the Outdoor Sportsmen Club spawned a lifelong interest in hunting, fishing, sailing, boating and related sports.
After completing Ranger and Airborne Schools in late 1965, Bob joined the 5th Battalion (Airborne), 81st Field Artillery, in Wiesbaden/Biebrich, Germany. This was a dual capable, airborne/mechanized battalion in direct support of the 1st Brigade, 8th Infantry Division (Mechanized). Although this should have been a three-year tour of duty, Bob and most of his USMA classmates in Germany were curtailed in the summer of 1966 and reassigned to establish training centers in the States, where they conducted basic combat training for draftees bound for the war in Vietnam. Bob served as a company training officer and company commander at the Army Training Center at Fort Campbell, KY before receiving orders to Vietnam, where he commanded a battery and served as assistant S-3 in the 1st Battalion, 92nd Field Artillery. Bob's command and operational assignments were his forté and preference; however, his proven tactical abilities, combat experiences and analytical insights were instrumental in his final assignment in Vietnam with I Field Force Artillery. For this assignment, he organized and led an experimental ammunition analysis section whose methods and results became a model for increasing the effectiveness of U.S. field artillery fires throughout Vietnam, a unique achievement for which he was awarded the Bronze Star Medal. After Vietnam, Bob was assigned to the Combat Support Branch of the Armor School at Fort Knox, KY. Though his love for West Point and the Army never waned, Captain Bob Timbrook made a tough decision to resign his commission in February 1970, thereafter applying his military experiences and leadership skills to the civilian sector.
As classmates and others who knew him well would expect, Bob was highly successful in a series of challenging managerial positions with Rockwell International Corporation in Sulfur Springs, TX and Raleigh, NC (1970-80) and as a Division President of Varco International in Orange, CA (1980-84). He enjoyed his most notable success in the corporate world after joining Circuit City in 1985, serving as a Division Vice President and rising to Corporate Vice President for Distribution before retiring in 1993. Jerry Lawson, a former Circuit City Division President, who was Bob's boss, had the utmost respect and admiration for Bob, describing him as exemplifying three key values: commitment--a tireless effort to complete every job in the best and most efficient manner possible; courage--the temerity to state his views clearly and challenge positions that others had taken; and character--a man of absolute integrity whose word was his bond.
Always devoted to his family, Bob and Suzi were devastated by the unsolved homicide of their brother, Ray, on March 13, 1992. About a year later Bob retired from Circuit City and relocated to Florida to be near Suzi and her husband, Dick. He devoted the remainder of his life to supporting his family, friends and the "Ray of Hope Fund," established in 1997 in memory of his brother to provide surviving family members of homicide victims with financial assistance. In 2007 Bob found what he described as his "dream home" atop a mountain overlooking Norris Lake in New Tazewell, TN. He encouraged friends and relatives to visit him in his well-furnished, three-story log cabin, with its majestic view of the lake and its surrounding scenic hills and valleys. Due to a heart condition, Bob had to curtail his sports activities and travel in his later years, and he passed away on May 26, 2010 at the University Medical Center in Knoxville, TN, donating his organs to benefit others.
Bob Timbrook cherished his family, his friends, his alma mater and his country. He was appropriately characterized by Suzi as "my generous giant." Without fanfare or recognition, Bob would willingly, generously, and/or anonymously contribute to those in need. Bob's name brings a smile to the faces of those of us who knew him, and he is truly missed, but not forgotten, by all of us. Well Done, Bob. Be Thou at Peace!
-- Sister and D-2 classmates
"The test of a man comes with adversity, and Bob could be counted on when the chips were down."--1965 Howitzer