Robert List Lee

Cullum: 25623




Class: 1965




Cadet Company: M1




Date of Birth: November 1, 1943




Date of Death: November 23, 1967 - in Vietnam from hostile action




Age: 24 years, 1 month and 22 days young. - View or Post a Eulogy




Interred: West Point Cemetery, West Point, NY




Location: Sect XXXIV, Row D, Grave 155






---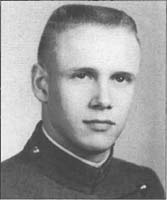 Robert List Lee, Jr., born in Anderson, SC, the only son of Robert L., Sr., and Susie D. Lee. Bob's dad was an Imperial Airlines pilot and from him came Bob's love of flying and, in a skill honed at West Point, a love of parachuting. Bob's mom was a high school teacher who nurtured Bob's curiosity and desire to learn and expand his horizons. Bob's sister Margaret was the recipient of many of Bob's brotherly pranks, most of which involved snakes! His sense of humor also was revealed in a swim meet when he donned a woman's suit, entered the competition as Penelope Lee, and after outdistancing the competition, removed his swimming cap and woman's swimsuit to the shock and cheers of his teammates and the crowd.
Bob entered USMA as a member of the Class of '65s record setting and first undefeated swim team, one that became a powerhouse in the Eastern Athletic Conference and at the national level. Bob's contributions to the plebe and varsity team were many, and he was a vital cog in the success enjoyed by the swimmers during the early '60s. Bob's dad remarked, "Bob swam his way to West Point."
Bob's high school career was marked by the academic excellence and variety of interests that also characterized his days at the Academy. Besides being an All-City and All-State swimmer at Miami's Southwest High School, Bob played the French horn in the marching band, was an avid H.O. model railroader, an active member of his church youth group, a ham radio aficionado, and a member of the National Honor Society. High school classmate Ray Dimbath remembers Bob as a well-rounded student-athlete and a quiet leader who was very excited to receive his appointment to West Point. Bart Rice, another classmate, recalled that Bob was the first from his high school to receive an appointment to USMA and, sadly, the only Southwest classmate to die in Viet Nam.
One of his teachers, Alma Jane McCauley, remembers Bob as "a quiet, handsome young man who was focused, neat, and serious in his many pursuits." Bob's academic prowess continued at West Point, earning him Dean's List recognition and graduation in the top quarter of the class.
As a cadet, Bob brought his intensity and curiosity to every facet of cadet life. His many interests include the Rally Band, Radio Club, Sky Diving Club, and working on the USMA cyclotron project. His legendary battles with the French Department validated the axiom that "southern boys' accents don't exactly translate into French." His ham radio station, built in his cadet desk and never discovered by the Tactical Department, was a masterpiece of ingenuity and a challenge he thoroughly enjoyed during his cadet days.
Classmates remember Bob as a dependable friend and one who could be counted on to keep his word and fulfill his many commitments. Bob was "a man of honor." Whether it was the demanding swim workouts, excelling in academics, or doing his cadet duties with precision and passion, Bob truly exemplified a man in relentless pursuit of high standards and excellence.
Bob was a natural when computers came on stream in the early '60s. He truly was a man ahead of his time in the technical areas and anything to do with electronics and the dreaded juice courses. His technical skill and the ability to assist and coach others in a calm, helpful manner was exceptional. He was able to cheer and encourage classmates and underclassmen alike as many of us struggled with subjects that he had mastered.
Classmates and companymates remember Bob as a neat and well-ordered cadet. He was very particular about his appearance and exceeding the standards that had been established for us. He was a positive classmate, one who found a good word to speak about all and was generous in his praise of others.
As a member of the very successful swim team, Bob was a fierce competitor and diligent worker who thoroughly enjoyed sinking the "middies" three in a row. His excellence, versatility, and sheer determination made him a valuable points scorer, and his "never quit" attitude inspired teammates to reach inside for all they had to give.
Bob became a fervent skydiver while at West Point, logging more than 250 jumps. Duncan Brown recalled an exciting (and terrifying) jump during graduation leave from 7,000 feet onto a grassy runway surrounded by a swamp one pitch-black evening. Once was enough! Bob also became an avid pilot. He moved quickly from instrument to commercial licenses by mastering the skills at full throttle.
At graduation, Bob chose the Signal Corps and headed to Ranger School where, unfortunately, a broken leg prevented him from completing the course. Undaunted, he went to the 82d Airborne, where he utilized his airborne skills with the division, progressing through various command positions.
At his untimely death, Bob was engaged and had extended his tour in Viet Nam in expectation of receiving a company command with the 101st Airborne Division. Tragically, his life ended in RVN long before his time. For his efforts in Viet Nam, he was awarded the Bronze Star posthumously.
Bob lived his life at 100 mph--enthusiastically and optimistically. He was a dogged competitor, a caring classmate, a loyal teammate, and a fine gentleman and soldier. He loved his family, his God, and his country, and had a humble pride in being part of the Long Gray Line.
We remember Bob as a man of great strength of character and an honorable, professional soldier. The years have not dimmed our memories nor the friendships we shared. Our lives are richer for having shared our cadet years together and we are privileged to honor his memory.
Bob was laid to rest with a moving ceremony in the West Point Cemetery with a reading of the Cadet Prayer and the singing of the Alma Mater. "Well done, thy good and faithful servant. Be thou at peace."