Mr. Leighton C. Atteberry

Cullum: 25620




Class: 1965




Cadet Company: F2




Date of Birth: August 18, 1942




Date of Death: June 18, 2012




Died in Houston, TX




Interred: West Point Cemetery, West Point, NY - View or Post a Eulogy




Location: Sect V, Row E, Grave 228



---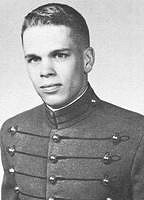 Leighton Chapman 'Lee' Atteberry's love for travel began most auspiciously. He was born in Portland, OR, because that was the closest his mother, Priscilla Ropes Atteberry, could get to his father, Roy Leighton Atteberry '41, serving with the U.S. Army in the Aleutians early in World War II. When his father was transferred to the European theater in 1944, his mother drove little Leighton and his new infant sister across the continent to her parents' home in Meredith, NH, where they lived until the war ended and the family moved to Heidelberg. That beautiful NH home, Leighton's beloved "Windover," was the most permanent home he and his three sisters--Gail, Trois, and Carol--knew through the frequent moves of his father's long military career.
Leighton returned to NH for high school and graduated from St. Paul's School in Concord. He then attended the USMA Prep School and entered West Point with the Class of 1965. He thoroughly enjoyed his cadet years, making many great memories and good friends whom he cherished all his life, despite the years and distances between them. He considered himself a proud member of Strength and Drive and the Long Gray Line.
Most importantly, according to Leighton, during his plebe year he met his OAO Janet, whom he married in the Catholic Chapel after graduation. After he earned his Airborne wings and treasured Ranger tab, Leighton and Janet began their travel adventures together. In 1967 while they were stationed in Friedberg, Germany, with the 2/27th FA, their son Christopher was born. A tour in Vietnam followed, then two years at the Artillery School at Fort Sill, OK, where their daughter Tamera was born in 1970. That same year Leighton left active duty, although he continued to serve his country proudly for another twelve years in the Army Reserves, rising to the rank of major.
When considering job offers, Leighton's interest in travel prevailed. He joined Esso (now ExxonMobil) Research and Engineering Company, based in NJ, with operations both in the United States and abroad. In his 30-year career with them he held positions in Colombia, Singapore, San Francisco, New Orleans, London, Canada, and finally Houston. Leighton loved maps and planning trips and made their frequent company transfers and family vacations exciting experiences for his family.
When he retired from ExxonMobil in 2000, Leighton and Janet settled permanently in Houston, TX. He successfully established himself as a consultant to the energy industry, which allowed him flexibility in choosing projects and locations and left plenty of time for new and longtime interests. He also converted to Catholicism--the culmination of a lifetime of searching and study--and became very active in his local parish, St. Clare of Assisi.
Leighton had numerous intellectual and athletic passions. He was an omnivorous reader of good literature, and he especially liked military history. By education and profession Leighton was an engineer, but by inclination a liberal arts generalist. His most memorable class at West Point was an advanced literature class taught by William Faulkner, and by graduation his English credits might have earned him an English degree at a different school. During his years in New Orleans he helped briefly with author Stephen Ambrose's efforts to record the oral histories of surviving WWII veterans at the Eisenhower Center. He also took numerous courses in art history, which inspired several trips to Italy. He always enjoyed a wide range of music genres, from the classics to modern jazz, and became a serious student of opera in the last two years of his life, prompting him to begin studying Italian.
Outdoor pursuits were a huge part of his life, and for many years he took two annual ski trips to Taos Ski Valley, NM. In earlier days he was a competitive runner and squash player, and later a backpacker and hiker. Above all else he loved cycling, beginning with his boyhood 30-mile explorations through the farmlands of northern Virginia. He always had a good bike, and he always rode. At age 69 he accepted a challenge from his cardiologist and fellow cyclist: ride 20 miles in one afternoon. Leighton did just that, one month before his fatal illness struck.
As years passed, he and Janet spent many happy hours bird-watching around the country, particularly along the Texas Gulf Coast. More than any other interest, birding gave him the greatest pleasure and peace, even in his last months.
On Jan 1, 2012, Leighton was diagnosed with a rare form of non-Hodgkins lymphoma. He and Janet were overwhelmed by the extraordinary encouragement and immediate support they received from numerous classmates, and he tried to correspond with some who were struggling with their own trials. Leighton's great tenacity in conquering challenges was apparent to all. He fought his own final "battle" fiercely and with great courage, never complaining about the hand he had been dealt. On Jun 18, 2012, without ever consciously admitting defeat to an ignoble enemy, Leighton Atteberry died peacefully in his own home surrounded by his loving family. He had indeed "fought the good fight, finished the race, and kept the faith." 2 Timothy 4:7.
At a reception following Leighton's burial at West Point, his son, Colonel Christopher L. Atteberry, USAF (Retired), ended a toast thus:
"Dad, we are going to miss you, but we know that you have embarked on an amazing adventure, one that the rest of us cannot even begin to imagine. So, until we see you again, we will keep you in our minds and in our hearts." Be Thou at Peace Leighton.
-- Family, friends & classmates