COL Arthur C. Hester USA (Retired)

Cullum: 25603




Class: 1965




Cadet Company: K1




Date of Birth: March 5, 1942




Date of Death: February 27, 2022




Died in: Overland Park, KS




Interred: Memorial Garden at the Church of the Resurrection, Leawood, KS - View or Post a Eulogy



---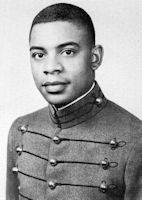 Arthur Cleveland "Art" Hester's early years were spent living with his grandparents, who were sharecroppers in Mississippi. He later moved to West Chicago with his mother, who was in retail, and his father, who was a janitorial supervisor. He graduated from Marshall High School in 1960, which he described as 80 percent black, 10 percent white, and 10 percent Hispanic. Although Art did well at Marshall, he had no funds to attend college. His first year out of high school he worked the night shift at the local post office in West Chicago. During that year, Art's congressman encouraged him to apply to West Point and, on July 4, 1961, Art flew to New York, his first time away from Chicago.
Art was one of six African Americans to join the Class of 1965. By Christmas 1961, four remained, the same four who would eventually graduate. Art survived plebe year, but not without some struggles—enough for him to call his dad in November 1961 and announce that he was ready to quit. When his dad asked calmly, "Where are you going to go?" Art realized coming home was not an option. "Dad's question was what I needed," Art explained. "He knew quitting was not what was best for me. From then on, I was committed to surviving plebe year—and eventually making it all the way through."
Following graduation, Art chose the Armor branch and was assigned to the 101st Airborne Division, where he spent a few months before heading to Fort Benning, GA for airborne and Ranger training. After gaining his wings and Ranger Tab, Art spent three more months with the 101st at Fort Campbell, KY. In the summer of 1966, Art was off to Vietnam and assigned to D Company of the 16th Armor Regiment in the 173rd Airborne Brigade, where he served 11 months as a platoon leader and a month as company executive officer. For his service, he was awarded a Silver Star, a Bronze Star, and a Purple Heart.
After his year in Vietnam, Art a spent a brief year in Germany as a company commander in a tank battalion before being called to Fort Knox, KY to complete the Armor Officer Advanced Course. Like Art, most of those in the advanced course were headed back to Vietnam. However, just before graduating, Art received a call from the Military Personnel Department asking whether he would take a job at West Point. Although Art was inclined to take the position, it required an advanced degree, which had to be completed in three semesters or five quarters. Art heard that Stanford University was on a quarters system and, after earning a master's in industrial engineering at Stanford, Art headed to West Point.
At first, Art was assigned as the admissions officer for the states of Ohio, New Jersey, Delaware, Wisconsin, and Indiana. He eventually became the equal admissions opportunity officer (EAOO), a relatively new position within the department. Art brought innovation to the job and established policies and procedures that led to a steady growth in minority cadets. His combination of passion and professionalism gave credibility to his voice and helped establish a respect for the Academy's initiatives to attract quality minority students. Today, West Point is a leader in minority admissions with close to a third of the Corps comprising African American, Native American, and Hispanic cadets.
During his tour as EAOO, Art was elected to the Board of the West Point Association of Graduates (AOG), serving as its youngest member. He was on the board when President Nixon proposed a statue on Trophy Point honoring graduates who fought for the Confederacy during the Civil War. Although Art voted against the proposal, it was approved by the board, and there was even an initiative to begin raising funds for the project. Art worked with others behind the scenes to scuttle the project, which steadily lost support and thankfully died a quiet death.
Art spent his remaining eight Army years in Germany, at the Air Command and Staff College, and as a battalion XO at Fort Bragg, NC. He served the next 21 years in the Army Reserve and retired as a colonel in 2002.
Upon leaving active duty in 1981, Art pursued a career with General Motors, beginning at the GM plant in Kansas City, KS. His reputation for effective leadership took him to GM plants in New York, Texas, and Detroit. He retired from GM in 1998 and became a founding partner in CHB, an engineering firm, and later as a contractor with the Process Development Corporation.
The last 20 years of Art's life were dedicated to his family, church, and community. He was a devoted husband to his wife, Cinda; a loving father to his daughters Zina, Karen, and Lisa and his son Arthur; and a doting grandfather to seven grandsons and three granddaughters. He also retained his connection with West Point, counseling prospective cadets, serving on the Academy Nominations Panel, and helping to establish the C. Robert Arvin Foundation.
As much as the Academy gave to Art, so much more did he give to his country in general and West Point in particular: noble service in Vietnam; an enduring impact on the Academy's admissions process; a clear, strong voice during his time on the AOG Board; faithful service as an officer on active and Reserve duty; and continuing commitment to the admissions process through counseling and encouraging potential cadets. We have lost a true gentleman who brought integrity, courage, and commitment to every phase of his life. He made better every environment he was part of. So too were we made better for knowing Arthur Hester as our classmate and friend. Go in peace, Art. You are sorely missed.
— Fredric Laughlin '65