COL John D. Knowles (Retd)

Cullum: 25599




Class: 1965




Cadet Company: D2




Date of Birth: June 20, 1943




Date of Death: January 26, 2009




Died in Venice, FL




Interred: Sarasota National Cemetery, FL - View or Post a Eulogy



---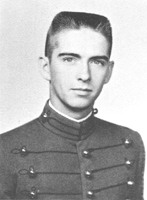 John Daniel Knowles was a quiet person with a wicked dry sense of humor. He never compromised his principles and was very proud to be a West Point graduate. From his evaluation reports, it's clear that John earned the respect and gratitude of his superiors with a job always well done. An intelligent, well-trained engineer, he always had a positive attitude and a warm smile.
John was born in Portland, ME, the only son of John and Ada Knowles. He and his two sisters (Sandra and Susan) moved with the family to Wallingford, CT, where John attended local schools and was a 1961 graduate of Lyman Hall H.S. He was a member of the National Honor Society, Engineers Club, Key Club, Editor of the Chronicle yearbook, and a pole vaulter on the track & field team.
John received a Congressional Appointment to West Point from Connecticut U.S. Representative, Robert Giaimo. He came from a long line of seamen, so it was a surprise that he chose the life of an Army Engineer. At West Point John enjoyed being an announcer for the Academy's radio station, KDET. He was also a member of the Handball Club and Treasurer of the Dialectic Society (a theater group).
After Ranger and Airborne schools, his first duty was in Kitzingen, Germany serving with the 10th Engr Bn as an engineer platoon leader; he was promoted to captain in November 1967. While visiting his family in Connecticut before his next assignment, John met Carol, his future wife of 40 wonderful years. They were married in 1969 after his tour in Vietnam.
In Vietnam, he served as CO of the 15th Engineering Company in Dak To. During that assignment, he was awarded the Army Commendation Medal with "V" device for Heroism. He also served with the 630th Engineer Company in Pleiku. John then served as aide-de-camp for Major General David S. Parker '40, who was the Chief Engineer of the U.S. Army forces in Vietnam.
John and Carol's first assignment together was at Ft. Belvoir, VA, for USAES. In 1970 they moved to Northern California where John attended Stanford University, receiving his master's degree in civil engineering.
John was then assigned to the Baltimore District, first to assist the Engineer in charge of building the Raystown dam in Huntingdon, PA, and then to Ft. Meade, MD, as a project engineer supervising and managing the construction program of the NSA. He also served as Area Engineer during disaster recovery operations in Harrisburg, PA, following Hurricane Agnes in 1972, one month after the birth of his first son, John V. After three years with the Baltimore District, John was chosen to participate in the Army/Air Force Exchange program at Andrews AFB for a year.
John, Carol, and young John went on to C&GS, Ft. Leavenworth, KS. ("The Best Year of Your Life!") John was promoted to major during his studies there in October 1975. Then the family traveled halfway around the world to Taegu, South Korea for an exciting two-year tour. It was there that their second son, Michael, was born. John was assigned to the HHC 19th Support Command as Command Engineer. Both John and Carol were active in the community's People to People Club and met many professional Korean couples in the Taegu community. John enjoyed perfecting his golf game, as the golf course was built around the post housing!
Back to the States to Ft. Bragg, NC, with the 20th Engineer Brigade (combat ready) where John found himself parachuting again after thirteen years--Airborne! He was assigned as Engineer Plans officer and promoted to lieutenant colonel in 1981.
John and family were then off to Naples, Italy, for three years with the Allied Forces Southern Europe in support of NATO. He was assigned to the Geographical Section, and though he oversaw many projects, he always managed to find time for family. They traveled together throughout Europe, and John found time to coach both Michael's youth soccer team and young John's co-ed softball team.
In 1984 John proudly became the Deputy Director Department of Engineering & Housing (DEH) at West Point for three years. The family loved being there, and John enjoyed showing his two sons where and how he started his military career. John also served as the Chairman for the Class of '65 20th Reunion.
In 1987, John was assigned to Ft. Dix, NJ, where he was the Director of DEH for two years and promoted to colonel. His last duty was at Rock Island Arsenal, IL, in 1989 as CO of the U.S. Army Materiel Command Installations and Services Activity.
John decided to retire in 1992 and move the family to sunny Florida, land of golf and beaches! But he did not rest just yet; he worked for the Sarasota County Utilities Department as Planning Manager in Sarasota, FL, for thirteen years before officially retiring in August 2005. He enjoyed spending time with his three young grandchildren, golfing, and tinkering in his garage workroom, where he continued to use his engineering skills (albeit on smaller scale projects).
John was a very private person, so it was a surprise to most when he died of lung cancer in 2009 at age 65. John's remains were interred at the newly completed Sarasota National Cemetery in Sarasota, FL, with full military honors. He is survived by his loving wife Carol, two sons and three beautiful granddaughters. He is truly missed by family and friends. Well Done, John. Be Thou at Peace.
-- Carol Knowles