COL Thomas R. White USA (Retired)

Cullum: 25597




Class: 1965




Cadet Company: H2




Date of Birth: November 28, 1942




Date of Death: February 13, 2009




Died in Severna Park, MD




Interred: Woods Memorial Presbyterian Church Columbarium, Severna Park, MD - View or Post a Eulogy



---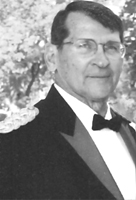 Tom ('Tommy' as I knew him then) was the first person I met at West Point the day before the Class of 1965 entered the Military Academy. We met at the Thayer Hotel, waiting in line to eat our "last meal." Afterwards, we lay on the grass on the hill outside of the hotel debating the best time to report to "Beast Barracks." We did not pick the best time; no one ever does.
Thomas Ross 'Tom' White was born in Texas and raised by his mother alone in Albuquerque, NM during the long wait for the WWII husbands and fathers to return home. Tom's dad was in the Air Force.
Tom's brother Lee notes that the family "hails from the red clay soil of Texas … a humble background that has simple values, traditional beliefs, deep patriotism and a hard work ethic." That was Tommy White.
He was a good high school athlete, an "unglamorous interior lineman" who often came home with a broken nose, innumerable scrapes, bruises and cracked teeth. All of this just made him physically tough. At West Point, all through football season and spring practice, Tom seemed to always have a cut on his nose and something bandaged.
Tom actually had two plebe years. He spent one year in ROTC at Texas A&M University and then went to West Pont.
Successful in every measure at West Pont, he mastered plebe and yearling math well enough to be invited back to teach and play football all four years. Although one of the smallest defensive linemen, he was one of the toughest. Mike O'Grady describes Tom as "the Rudy of West Point."
Tom's military career is best described as distinguished, successful and remarkable. Tom started off in the 2nd Battalion, 5th Artillery in Babenhausen, FRG and, like many of us, went from Germany to Vietnam. In Vietnam he commanded an artillery battery in the 199th Infantry Brigade through the Tet offensive of 1968.
He earned a master's degree in math and taught in the Mathematics Department at West Point for three years. Raising rapidly through officer ranks, Tom rotated through Korea twice; Fort Sill, OK three times; the U.S. Army War College; Fort Drum, NY, where he made colonel in 1985; Fort Meade, MD, where he took care of soldiers; Gulf War I and finally the Office of the Chief of Staff of the Army.
The years of dedicated service, rotations and short tours too often take a toll on the Army families, and that was true for Tom and his wife Miki, whom he married shortly after graduation. Unfortunately they divorced in 1995.
Lee White describes his brother as "ambitious, honest, dedicated and patriotic, and he loved the Army." A posting on the class eulogy page from Lieutenant Colonel (Retired) Jack Crofton summarizes and exemplifies Tom's career and his impact on those around him. Jack writes: "Tom White was my battalion commander at Fort Sill in the 80s, and he was the finest leader I ever worked for. He was tough as nails but as loyal and compassionate as they come. It is primarily his influence that convinced a young captain to make the Army a career. I was shocked that he died so young and so soon after retirement from government service. I will always remember him as the consummate professional officer who served for all the right reasons. He always did the right thing and never let a self-serving thought enter his mind. I thank him for all that he did for me and the soldiers under my command."
Tom continued his service after retirement, working for MPRI teaching other countries how to do war game simulation. According to Jack Hook, "Tom was one of the early stalwarts at MPRI after his retirement and remembered fondly by this old Soldier and many others as a truly great American, husband, father and Soldier!"
Other than the Army, Tom focused his attention and affection on his children, Elizabeth and Spencer. They are wonderful people, and Tom was immensely proud of them. It is no surprise that they are independent, self-sufficient and unpretentious. Their big focus is on their families. Happily, the older they became, the closer they grew to their father.
Tom's son, Spencer, described his dad as a quiet, consummate professional, and smart, very smart.
In 1996 Tom married his wife Ingrid. Tom was happy and relaxed when he was with her, but he became seriously ill with cancer during his assignment with MPRI overseas. He needed serious TLC those years. Ingrid and her daughters, Jenny and Briana, were a blessing to him. They were unexpected gifts in his life, and he enjoyed watching them mature into young women. Tom managed to "squeeze" into his dress blues to celebrate Jenny and Chris' wedding in the Naval Academy Chapel. He was so pleased that day!
Tom Abraham, a classmate and a fellow football player, sums up how many feel about Tom White: "Tom was a good friend, teammate and classmate. I often wondered what happened to him and how he was doing. We lost touch after graduation. I remember him as a gentle giant, a tough competitor always with a little blood on his nose and forehead during football, but gentle and quiet off the field. He was a good man."
Open the cover of the Howitzer for the Class of 1965 and on the inside page is the name of the graduate--in this case Thomas Ross White--and the cutout showing one word from the next page, as a title of honor--"SOLDIER." That is the best description of Tom White.
-- Joseph R. Barkley '65 and Lee White, brother