COL Malcolm S. Gilchrist USA (Retired)

Cullum: 25583




Class: 1965




Cadet Company: E2




Date of Birth: September 3, 1942




Date of Death: February 9, 2015




Died in Sevierville, TN




Interred: Arlington National Cemetery, Arlington, VA




Location: Section 55, Grave 1299 - View or Post a Eulogy



---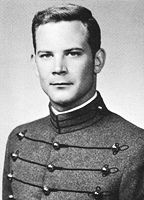 Malcolm Stanton 'Gil' Gilchrist was a ramrod-straight cadet. The usual look on his face was a stony, professional, no-nonsense look that suggested, "I am on a mission." That is what I thought when I found I had been assigned as Gil's roommate. I had never met him. I had only seen him around the Area. So it was with some apprehension that I approached the second floor of the 10th Division in Central Area.
Gil turned from the task of arranging his locker, looked at me with that professional look and said, "Well, I guess this is it." He broke into that broad, Tennessee, southern gentleman smile and said, "Welcome to Easy Deuce." And we instantly became brothers.
An outstanding cadet in every way, Gil's proudest accomplishment, besides his grades, was being selected for the Regimental Color Guard in both his cow and firstie years and marching in President Johnson's Inaugural Parade. It was a point of some amusement between us that I helped Gil get ready for the parades. Gil would hang on the alcove rail with his legs out straight, and I would pull trousers on over his legs so that there were no wrinkles. Gil hated wrinkles. That was a clear demonstration of "roommate love."
Gil started his military career at Columbia Military Academy. He excelled in tactics and other military subjects and was a member of the color guard.
We were Ranger buddies. Our mutual birthday fell at the end of the Benning Phase. That Saturday we went to the infamous steak house at the intersection of Victory Drive and Fort Benning Boulevard and consumed two "Ranger Specials" (32-ounce porterhouse steaks). Then we went to a nearby bakery, bought a chocolate cake, had them decorate it with "Happy Birthday Gil and Joe" and consumed the entire cake while sitting on the hood of Gil's car.
From Fort Benning, GA, Gil went to the 11th Armored Cavalry Regiment, deploying with them to Vietnam. After the career course at Fort Knox, KY and time on the faculty, he returned to Vietnam and the 11th ACR as a troop commander and squadron operations officer. In combat, he was tireless and heroic, yet he never mentioned his heroic deeds. Members of his family did not learn of these until after he died, and they found his citations, including the Silver Star. He was always a modest man.
From Vietnam he went back to Knox on the staff and then to Rice University for a master's degree in history. After a tour at Fort Leavenworth, KS, he taught history at West Point, thoroughly enjoying contact with the cadets.
His daughter Ann remembers the family's time at West Point, especially the July 4th celebrations with the cannons and fireworks. It was among her favorite times in her youth.
Following West Point, Gil went to Germany and the 3/12th Cavalry in the 3rd Infantry Division. It was there, while he was the squadron S3 and XO, that he met the love of his life, Martha. Martha says that when she first met Gil in 1977, they immediately disagreed, disliked one another, and butted heads. Yet, she respected Gil. Then they fell in love and married in 1979. Martha describes it as a beautiful love story, saying, "He was the very best husband."
With the 1st Cavalry Division at Fort Hood, TX, Gil was squadron CO of the 1/9th Cavalry and then division G1. They then moved to Washington, DC, where Gil had positions in the Office of the Chief of Staff of the Army and on the Army Staff. Martha took on several important roles in Army DCSPER. She was involved in forming many of the family-oriented programs that continue to support Army family members today.
After retiring from the Army, Gil spent 16 years with the National Rifle Association as division director involved in supervising the Annual National Rifle Matches held at Camp Perry, OH.
Gil and Martha's love was tested, in a positive way, on 9/11. Martha was in a Pentagon conference room near the point of impact at 9:37am that day. Had she been at her desk, she would have perished, as did a number of her friends and co-workers. Led by one of her co-workers, she crawled to relative safety. Gil saw the disaster on TV. His heart told him to go to the Pentagon, but his head told him to go home and wait. At about 3:30pm Martha arrived safely home. Gil told his friends, "Never did Martha look so good."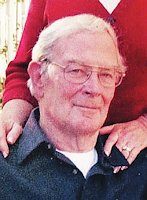 Gil was so proud of his children and grandchildren and told them so. His son Tom says, "It was important to know that my father was proud of me. I think every son wants that." Gil's greatest gift to daughter Ann was telling her, just before he died, that "he was always proud of her."
His brother Mike, a retired Air Force officer, wrote a tribute to Gil in the Columbia Military Academy newsletter: "An American soldier has died. He was a husband, father, grandfather, great-grandfather, and uncle. He was the consummate military professional and a soldier's soldier. He was a charismatic, decorated leader and a top military historian who fought for the rights of others and those oppressed."
The day before he died, Gil told Martha, "Don't forget my Ranger tab and my Airborne wings." In the end, he was always the professional soldier.
The words in the "Alma Mater" ring so true of Gil: "May it be said, 'Well Done; Be Thou at Peace.'"
-- Joseph R. Barkley, Classmate