LTC Lowry A. West USA (Retired)

Cullum: 25576




Class: 1965




Cadet Company: C2




Date of Birth: September 23, 1943




Date of Death: May 28, 2022




Died in: Lawton, OK




Interred: TBD - View or Post a Eulogy



---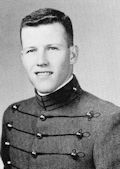 Lowry Arthur West III was born in New York, NY on September 23, 1943 to Lowry Arthur West Jr. and Mary Beatrice (Clayton) West. He was the oldest of four children. In infancy his mother moved the family to California to support his dad, who was in the Navy.
In 1961, Lowry graduated from Sequoia High School in Redwood City, CA, where he excelled in academics and athletics, most notably boxing. Following his high school graduation, he accepted an appointment to West Point, joining the Class of 1965. Successfully conquering New Cadet Training (Beast Barracks), Lowry joined Cadet Company M-2 to start the academic year. M-2 classmates remember an assembly formation after the Army-Navy game plebe year. Lowry had lost his hat. A tactical officer determined that Lowry had made too much merry, so he was "awarded" several months in his room and many hours on the Area to practice close order drill.
The summer of 1963, Lowry was a squad leader during New Cadet Training. In August 1963, he joined Company C-2. The summer of 1964 before his senior year, Lowry trained as a "third lieutenant" with a U.S. Army unit in West Germany. A former roommate in C-2 remembers Lowry as an intensely competitive and scrupulously honest individual, which he greatly respected.
During his four years at West Point, Lowry found his way through academics with comparative ease, and he always found time to help his classmates. With an easy grin he faced and survived all the trials of the Tactical Department. He served on the First, Second, and Third Class Committees and participated in the Rocket Club, Russian Language Club, and the Bridge Club. The last two would serve him well in later years.
Lowry graduated on June 9, 1965 with a Bachelor of Science degree and was commissioned a second lieutenant in the Army's Infantry branch. At Fort Benning, GA, he successfully completed the Army's Jump School and Ranger School, earning a Parachutist Badge and the coveted Ranger Tab.
After Benning, Lowry was stationed with the 3rd Armored Division at Kitzingen, West Germany, where he successfully commanded a mechanized infantry company and welcomed his first child, a son.
In 1967, Lowry was assigned to the Military Assistance Command, Vietnam (MACV) as an advisor to a Republic of Vietnam Army (ARVN) Ranger battalion. On one of his unit's missions, the Vietnamese leaders suffered heavy casualties. Captain West realized the seriousness of the situation and persuaded the senior ARVN officer to take command. To advise his new counterpart, Lowry repeatedly and deliberately exposed himself to hostile fire, helping the battalion remain a fighting unit and defeat the enemy force. For his actions, Lowry was awarded the Silver Star and the Vietnamese Cross of Gallantry with Silver Star.
After Vietnam, Lowry was an ROTC instructor at the University of Connecticut, providing valuable lessons learned to future Army officers. The ROTC assignment was followed by a short tour to Thailand as chief of the services branch in the Office of Logistics Support, U.S. Army Support, Thailand. Back stateside, he served as a battalion operations officer in the 82nd Airborne Division at Fort Bragg, NC.
He then attended the Defense Language Institute and the Russian Language Institute in West Germany. As a trained Russian linguist, he served in a very important role as the senior liaison officer to the Group of Soviet Forces, East Germany in Potsdam, just outside of what was then East Berlin.
Lowry's last assignment was at Fort Sill, OK as the deputy director of the Tactics and Combined Arms Department (TCAD) at the U.S. Army Field Artillery School. Before retiring, he became director, TCAD, a high honor for a non-Field Artillery officer.
In June 1985, Lowry retired from the Army to work in Lawton, OK as a systems analyst at LB&M Associates, Inc., a defense contracting company. During this time he met Susan Price, whom he married on July 11, 1987. While in Lawton, Lowry and Susan enjoyed social gatherings with West Point classmates and other Army and family friends. In 1990, Lowry's job took them to Fort Wayne, IN to Command Systems, Inc. Again, Lowry proved himself a superb and valuable systems analyst.
Lowry retired from the defense contracting business in 1995. He and Susan moved to Hot Springs Village, AR to enjoy the activities in a well-known retirement community. After 10 years they returned to Lawton to enjoy life in a military community. An avid bridge player from his cadet days, Lowry taught bridge, directed bridge, was the club manager of the Lawton Bridge Club, and achieved the rank of "Gold Life Master" in bridge! He and Susan loved to go on cruises and travel abroad and in the U.S., especially to the state of Washington to visit family. Lowry enjoyed gardening and sharing the fruits of his labors with friends and neighbors. He also loved riding his Harley Davidson.
He is survived by his wife of nearly 35 years, Susan, and two children: his son, Lowry E. West (and his wife, Melissa), and his daughter, Beth A. West-Davis. He also leaves behind four grandchildren: Aydan Davis, Thayer Davis, Maya West, and Tessa Derry, as well as two brothers, Joseph and Paul, and a sister, Mary Lyssand.
Lowry was laid to rest with full military honors on June 1, 2022 in the Walters Cemetery of Oklahoma. Known by all for his intellect and dry sense of humor, he is greatly missed by those who knew and loved him. Job "Well Done," Lowry! Rest in Peace!
— Jim Ferguson, classmate and friend