Mr. C. William Zadel

Cullum: 25571




Class: 1965




Cadet Company: K1




Date of Birth: May 22, 1943




Date of Death: September 8, 2011




Died in Osterville, MA




Interred: West Point Cemetery, West Point, NY - View or Post a Eulogy




Location: Sect XXXIV, Row F, Grave 236A



---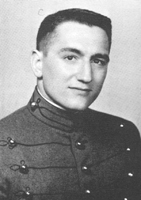 Charles William "Bill" Zadel was born in Chicago, IL, on May 22, 1943, the oldest son of Charles Sr. and Mary. His brother Mike followed a few years later. After the family moved to the suburbs, Bill attended Prospect High School, where he excelled as a student and an athlete being named All-League as a football and basketball player.
Bill entered West Point in the summer of 1961, ready for the challenges ahead. On the football practice field it was easy to find the 6'5" lineman. By the second day of full contact practice Bill had a cut on his nose that would not heal properly for over three years. Fellow players would look at Bill, blood dripping from his nose and think, "I'm glad he is on my team." Bill was an exceptional player. He was honored as a second team All-American, an NFL National Scholar Athlete, and Coach Paul Dietzel called him the finest lineman he ever coached in his entire career.
Bill took every challenge West Point could muster and not only managed but excelled. Bill was elected as the vice president of the Class of 1965, and he was a Cadet Company Commander. In the classroom he might not have had blood dripping down his nose but the scar across its bridge let you know he was a fighter, the gold stars on his collar let you know he was an achiever, and the chevrons on his sleeve let you know he was a leader.
Of all his accomplishments on the gridiron, beating Navy in 1964 was the highlight. Army had lost the previous five games and, with Roger Staubach as quarterback, Navy was a heavy favorite in 1964. With the Army team depleted by injuries Bill played every minute of the game on offense, defense, and special teams. He referred to that victory as the sweetest of his football career. He would tell his son years later that this accomplishment was so special because it taught him the lifelong lesson that with hard work and strong desire you can do anything and that doing it as part of a team was the best.
During his yearling year Bill met a young lady named Betty Nickla at West Point. She had a brother who was a cadet and her visits turned into a romance that spanned Bill's cadet years and culminated in their wedding on Jun 12, 1965. Forty-eight years of marriage included raising three children—Bart, Elizabeth, and David—and welcoming six grandchildren. In retirement Bill and Betty split their time between Osterville, MA, and Vero Beach, FL. Bill joined the Marines and in May 1967 he was sent to Vietnam assigned to MAVC as an assistant battalion advisor to the 39th Vietnamese Ranger battalion out of Danang (I Corps). Constantly in the field, the battalion served as the I Corps reaction force for the Vietnamese Army, undertaking several combat operations. During his service in Vietnam, Bill received two Bronze Star Medals, one with the Combat V, the Purple Heart, and the Vietnamese Cross of Gallantry with Silver Star.
After resigning his commission as captain, USMC, Bill embarked on a career in business. He earned his Master of Business Administration degree from the University of Chicago in 1974. Bill served in senior management positions at several Fortune 500 companies. Bill became the CEO of Millipore Industries and then CEO of Mykrolis Technologies before retiring in 2005. Bill oversaw the creation of Mykrolis, which included ringing the opening bell on the New York Stock Exchange the first day Mykrolis stock traded on the exchange. Bill achieved great success in his career and traveled the world over many times.
Bill always enjoyed gatherings of the Class of 1965 and was an enthusiastic alumnus. A long-time season ticket holder for Army football, Bill was not afraid to show his pride. Classmates will tell you that Bill loved West Point. You realized that simply from his attire. He had every conceivable piece of West Point paraphernalia; from sports jacket to track suit to golf bag, and, of course, he wore his West Point ring on all occasions.
For a man of significant accomplishments and talents, Bill may be best remembered for his capacity to enjoy life. He was a big man with a big laugh. Bill loved to celebrate and was always the life of the party. He had a confident ease that allowed him to connect with people across all areas of his life, whether he was intimidating his daughter's high school boyfriends, assembling puzzles with his grandkids, or lobbying a Congressman.
Bill is now at rest, interred on the grounds of the place he held so dear. The words that best describe the man are his own: "My West Point experience was the greatest developmental experience of my life. It is hard to sum up the reasons this is true, but West Point has taught me the value of, and the application of, discipline, persistence, honor, truthfulness, education, leadership, and humility. It would be difficult to imagine what my life would have been like and the experiences I would have encountered if I had gone to a different school. But, I am confident that if I could imagine that life, I would never trade it for the life I have led."
— Family & Classmates