LTC Edgardo Q. Abesamis Philippine Army (Retired)

Cullum: 25568




Class: 1965




Cadet Company: F2




Date of Birth: January 3, 1943




Date of Death: March 17, 2016




Died in: Quezon City, Philippines




Interred: Loyola Memorial Park, Metro Manila, PH - View or Post a Eulogy



---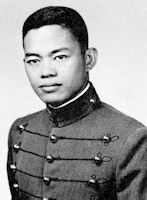 Edgardo Querijero "Ed" Abesamis joined USMA as the sole cadet representative from the Philippines in the Class of 1965. His West Point credentials paved the way for achievements in the Philippine military and government services, as well as a successful 30-plus year career in business following his retirement from the military.
West Point was a turning point in his life, a "golden ticket" that elevated his prospects from his humble hometown of Peñaranda, Nueva Ecija, Philippines to the realms of international business. He is the fourth of nine children in a family that struggled to support everyone's education. His fortune changed after he answered a newspaper advertisement to take national qualifying exams to enter West Point and became the chosen scholar that year.
During his first two years at West Point, he was assigned to Company I, Second Regiment. He spent the last two years with Company F-2. He participated in the Spanish Language Club, the Cardinal Newman Club, and the Sailing Club. He also excelled academically and ranked in the top 14 percent of his class at graduation in June 1965. Ed was known for his friendly and steadfast disposition and was well liked. Classmate Denny Coll remembers him as "a quiet, intelligent guy with a 'killer' sense of humor!"
After graduation, Ed was integrated into the Philippine Military Academy-Mulawin, Class of 1965. His first assignment was with the 27th Battalion Combat Team based in Malaybalay, Bukidnon, where he was involved with peacekeeping and support missions. After two years, he was sent to the Infantry School, then to the Special Forces Group (Airborne) of the Philippine Army. Afterwards, he was transferred to the Philippine Military Academy to teach mathematics, military history and social science subjects from 1969 to 1973. Ed also enrolled at the University of the Philippines from 1969 to 1971 to complete his master's degree in economics.
During Philippine Martial Law (early '70s), military officers were involved in broader roles in government, and so, in 1973, Ed was assigned to the Development and Management Staff under the Office of the Executive Secretary (later renamed Presidential Management Staff). He stayed there until 1975, before moving to his last government position as executive director of the Philippine Overseas Construction Board.
In 1981, after 16 years of active military service, Ed retired as a lieutenant colonel.
A 30-year career in port operations followed when Ed first joined Razon International Stevedoring Corporation (RISCO) in 1981 as its deputy project manager in Saudi Arabia. He became president of RISCO from 1986 to 1988, leading the overall stevedoring operations of the company in the U.S. Naval Base in Subic, Philippines and in Jeddah. In 1987, Ed joined the founding group of the International Container Terminal Services, Inc. (ICTSI) as senior vice president for operations. He led the team that secured the company's first successful bid, the privatization of the Manila International Container Terminal and continued to take the lead in transforming it into the country's largest and most modern port. Thereafter, he led the project team that started ICTSI's overseas expansion, beginning with two terminals in South America. As executive vice president from 1995 to his retirement in August 2012, Ed was responsible for developing and starting up new investments, particularly in Asia. Today, ICTSI operates 34 terminals in 20 countries.
More than the business success and accolades, the people of ICTSI remember "EQA" (as they fondly called him) the person as a teacher, mentor, father-figure, role-model, and "an officer and a gentleman." He was well loved and respected by everyone in all levels of organization. They have personal stories of when Ed's kindness, patience, and guidance has helped them during difficult times, set them on the right path, or inspired them to be better.
Ed was a model husband, father, and grandfather. In 1967, he married his childhood sweetheart, Susan; it is no secret how much he loved and adored his wife. They had four children: Kay (1969), Oscar (1972), Rene (1976) and Tina (1980), for whom he was always present as father and role-model. Despite his busy schedule, he always had time and patience to help with schoolwork or give career/work advice. He inculcated in his children the virtues that he lived by: honesty, integrity, humility, simplicity, and care for others. He was a loving grandfather to Enzo (2001), Jaron (2005), Yumi (2007), Skye (2010), Maya (2011), and Karl and Elise (2011). His in-law and fellow West Pointer, Gus Palomar, recalls: "Ed would go to (my home in) Antipolo from his office after a hard day's work just to be able to carry (our granddaughter) Yumi on his shoulders."
Ed also devoted time to community. He was an active member of the West Point Society of the Philippines, the PMA Class of '65, and the Rotary Club; and he was president of the Peñaranda Civic Foundation that supported community projects in his childhood hometown. He made significant contributions to his community in Quezon City, most notably leading the successful construction of their new church. His parish described him as a "servant leader, one who is other-centered and devoid of self-interest." Many will attest to his generosity: he personally contributed to educational scholarships and was always ready to help someone in need.
He passed away on March 17, 2016 at age 73, to the surprise and sorrow of many. His epitaph reads "Matuwid at simpleng buhay" ("A life of humility and integrity"). He was a man who humbly and generously gave of himself, and in turn, he was loved and respected by many.
Grip Hands! Let it be said Well Done! Be Thou at Peace.
— Kay Abesamis, daughter