Leonard Douglas Davis

Cullum: 25565




Class: 1965




Cadet Company: H1




Date of Birth: September 16, 1943




Date of Death: August 2, 1966 -- Killed in action 2 August 1966 in South Vietnam




Age: 22 years, 11 months and 16 days young.




Interred: Evergreen Cemetery, Bisbee, Arizona - View or Post a Eulogy




---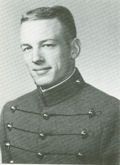 No man is an Island, entire of itself; Every man is a piece of the Continent, a part of the Main. If a clod be washed away by the Sea, Europe is the less, as well as if a Promontory were, as well as if a Manor of thy friends or of thine own were. Any man's death diminishes me, because I am involved in Mankind; and therefore never send to know for whom the bell tolls; it tolls for thee.
LEONARD DOUGLAS DAVIS was such a man. Donne's words are particularly poignant because Doug was so involved with mankind, so very much a wonderful part of the superb creation in which he lived—in which we all live. The more poignant because to all who knew Doug Davis, his untimely death diminishes their own lives. The most poignant to those of us who loved him because we know what the loss of this joyous, gladsome, delightful, brilliant young man means for all of us. Yet, we will survive as will Mankind, because of the sacrifices of Douglas Davis, and the kindred splendid host of which company he surely is in the Vanguard.
Doug Davis was born in Albuquerque, New Mexico, on 16 September 1943; and returned with his family to Bisbee, Arizona (his mother's family home since Arizona Territorial days) in 1957. He had a continuing, helpful interest in family affairs and the activities and progress of his two brothers.
Here in Bisbee, Doug became an outstanding leader, athlete, and scholar in the local high school. At the time of his graduation in May 1961, with the singular honor of being named the class valedictorian, Doug had made his mark as an active student leader, fine athlete and promising scholar. West Point was his first—his natural choice. A teacher in the Bisbee High School wrote Doug's mother: "Doug was one of the finest of our high school boys . . . . I liked him and admired him more than he probably ever realized, for students seldom know how teachers regard them—I always appreciated his courtesy and his smile ye heard a thousand compliments from other teachers for his fine mind, and the personal qualities which made him so outstanding."
And again, a leading citizen of Bisbee who was highly instrumental in encouraging Doug in his athletic and scholastic endeavors, and who ultimately provided the requisite assistance to help Doug join the Long Gray Line wrote: "I was attracted to Doug by his clean good looks, our mutual interest in track, my respect for his respect for scholarship, and the faithfulness of his Catholic worship."
This same distinguished and dear friend of Doug's goes on to tell us that: "Doug left Bisbee in an Alger-like haze in the summer of 1961 for the Academy. He was big and strong and good-looking and well-mannered, and highly spirited and immensely confident, and the obvious object of the admiration of his classmates. He was in short, a fellow with whom you could always be caught or found and never be anything but flattered."
Three of Doug's classmates in writing after his death recall his first days at West Point: "It was 5 July 1961. As a plebe Doug displayed that quality for which we will most remember him—that of intensiveness. Doug's interest centered around a dedication to all he met—to his classmates and to the military service. After 'Beast Barracks,' Doug was assigned to Company G-1 and was a member of the plebe track team. He was a star hurdler all four years at the Academy and one of the leaders of the track team."
Coach Crowell of the Army Track Team recalls: "I will always deem it a great privilege to have had Doug as a member of my track squads the four years we were together at West Point . . . . Doug was quick to learn the traditions and duty concepts demanded of a career officer. He attacked his academics with the same dogged determination that he attacked the hurdles. He always worked toward perfection and self-improvement. I am sure in his final 'race? he lived up to what he so firmly believed in—Duty, Honor, Country."
I have no trouble as I write this now recalling Doug Davis at West Point. I knew him in the classroom, and I knew him on the track team as the truly competitive athlete he was. I am delighted to be able to say I knew him well those four years. Those years at West Point were years of work, and years of joy, and years of opportunity for Doug Davis. I know. His face told you so. His step told you so. His complete empathy with all that is West Point told you so. He was at home.
One of the highlights of his cadet days was his friendship with an exchange cadet from West Germany—Guenther Wassenberg. Wassenberg wrote to Doug's mother in September 1966 saying so well what all who knew Doug feel: "My heart is so sad and sorrowful about the loss of my friend Douglas, he was such a fine boy, always full of life, so energetic, so enthusiastic, so full of joy, and yet so deep, so earnest in his thoughts and intentions—a boy whom I was proud and glad to have as a friend."
Following graduation from West Point in June 1965, Doug enrolled in the Airborne and Ranger courses at Fort Benning. These he rightly believed would enhance his professional qualifications and make him a more knowledgeable leader. His capacity as a leader and his talent for motivating men had previously been recognized at West Point when he was given command of Company H-i during his First Class Year. The members of the classes of 1967 and 1968 whom Doug had commanded in 11-1 told Doug's mother: "He was a Soldier in the truest sense of the word. His example will inspire us throughout our careers."
It was during these Ranger-Airborne training days that Doug met the lovely Miss Bonnie MacLean to whom he was to be married in September 1966. In Doug's words to his mother: "I have met a fantastic girl." Doug spoke often of Bonnie and of their plans for the future to his classmates and friends in the 25th Division. It was characteristic of Doug that even in the chaos of Vietnam he could keep his eyes on the high ground, and his mind on his future. The love and inspiration and hope which Bonnie provided Doug today sustain her along with the knowledge of his love for her.
Following completion of Ranger and Airborne training, Doug was assigned to the 35th Infantry, 25th Infantry Division and with this organization deployed to Vietnam in January 1966. Doug's classmates tell of his outstanding performance as a platoon leader of C Company, 2d Battalion, 35th Infantry: "As a rifle platoon leader with Charlie Company, Doug quickly distinguished himself by his competence and ability to lead men. He was one of the outstanding platoon leaders in the brigade. He was aggressive, actively looking for action, and almost without fear. He demanded much of his men, but they loved him for it."
During operation "Paul Revere II" in the Ia Drang Valley of the Central Highlands, Doug's Company was sent as a relief force to assist two companies of the 2d Battalion which were heavily engaged with the North Vietnamese Army. As Doug was establishing a platoon perimeter, he was caught under heavy automatic weapons and 81mm mortar fire. Doug's platoon received the mission of recovering bodies of some American soldiers outside his perimeter. Unsuccessful in the initial attempts because of the intense fire, Doug was ordered to pull back. As he was repositioning a machine gun to allow his force to continue its mission, he was killed by an incoming mortar round.
For extraordinary heroism in his actions he was awarded posthumously the Silver Star. The citation reads in part: "Upon learning that the bodies of four members of a reconnaissance platoon were outside the perimeter, Second Lieutenant Davis was directed to recover the bodies. He organized a three-man team and personally led them outside the perimeter. Because of the intensity of hostile fire in the area, the recovery team was forced to return to the perimeter. Although the perimeter was subjected to intense Viet Cong fire, Second Lieutenant Davis, with complete disregard for his safety, moved among his men, encouraged them and issued instructions. During the course of action, three hostile mortar rounds landed in the friendly perimeter, and Second Lieutenant Davis was mortally wounded by the mortar fragments. His extraordinary heroism in close combat against a numerically superior Viet Cong force was in keeping with the highest traditions of the military service . . ."
Doug Davis is at peace. His sacrifice, so very overwhelming to us now as we recall it, was not in vain; as a true, moral sacrifice never is in vain. Doug Davis? life was whole because it had purpose always, it knew beauty regularly, it contemplated the future joyfully, it reflected the work of its Creator brilliantly, and it enriched each and every one of us immeasurably.
—R. E. L.