Randolph K. Guenther

Cullum: 25557




Class: 1965




Cadet Company: I1




Date of Birth: October 20, 1942




Date of Death: May 7, 2013




Died in Rockville, MD




Interred: West Point Cemetery, West Point, New York - View or Post a Eulogy




Location: Sect V, Row F, Grave 278



---
Interred: - View or Post a Eulogy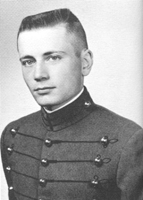 Randolph Kent 'Randy' Guenther was raised on a farm in Neche, ND, and spent his younger years listening to his mother, a teacher, recite tomes of prose and poetry while milking the cows. Like her, Randy was very quick. Even as a child, he had an excellent business sense and remarkable self-control: when at summer camp, Randy waited until the other children had eaten their candy and then made a profit selling his. At the age of five, he also ran a tidy business raising and selling pigs.
Randy, his sister Janis, and his parents, John and Mary, moved to San Francisco in 1956 when he was thirteen. He lived there until his graduation from Balboa High School, where he was a finalist in the National Merit Scholar Program.
Randy enlisted in the Army in 1960 and it soon became apparent that he was officer material. He was stationed at Fort Ord, CA, and Fort Belvoir, VA, and won a Good Conduct Medal. Randy received two appointments to attend West Point: the first from the Army and the second from first alternate Representative Dan L. Short, North Dakota at Large. He turned one down in order to give another man the chance to attend.
Randy sat at the top of his class in most subjects and graduated with academic honors. A member of the Rifle Team for all four years, he earned the President's 100 Tab for superior marksmanship. Randy helped many of his fellow cadets with their schoolwork, as well as with their boxing training. As it turned out, Randy had been gifted with a nose that bled almost instantly when hit. Therefore, he became a favorite partner in boxing class, because once blood was drawn, his opponent had passed.
Whether inside or outside the boxing ring, Randy was a lot of fun. He once bounced simulated "flesh" from the top of Lee Hall to test its buoyancy. Another time he designed an Arctic Circle radar station to look like a giant snowman. Randy's years at the Academy were followed by a three-year tour of duty in Thailand with the Army Engineer Corps as part of the Vietnam Campaign.
During his military career, Randy earned numerous awards, including the parachutist badge and the ranger tab. He also held master's degrees in nuclear engineering and systems management. Randy worked for USAARENBD at Fort Knox, KY, and later for USANCA at Fort Bliss, TX, and Fort Belvoir, VA. In 1979, Randy was stationed in West Germany. While there, he worked as the S-3 and the XO for the 10th Engineer Battalion in Kitzingen and also served in Heidelberg as Branch Chief for the headquarters of USAREUR. Upon his return to the states, Randy worked for the U.S. Department of Energy.
In 1986, Randy retired from the U.S. Army with the rank of lieutenant colonel and settled in Derwood, MD, with his wife, Elizabeth Rielly Guenther (Betty), and their four children. After his military retirement, Randy worked for ANSER, Kaman Sciences, ITT Industries, and as a private consultant. He had an excellent work ethic and enjoyed listening to music ranging from Beethoven to Daft Punk while working.
When asked what might fit on Randy's tombstone someday, Betty jokingly said, "He was a good reader." This was true. He often shared books with his coworkers and through the mail with his mother. His daughter Janet remembers Randy reading to her when she was little, his arm protectively around her shoulders. With his daughter Susan Shields, Randy formed a book club dedicated to reading all the classics.
Randy gave excellent advice and was a friend to many, including his children. His help with college courses was invaluable and his son Dave jokes that his graduation gown should have had room for both of them in it. Randy was kind: his daughter Christy Okie remembers that he ate many bowls of charred brussels sprouts when she was learning to cook, saying, "Excellent! They give me the extra carbon I need." Randy had a wicked sense of humor and could make any activity fun, even balancing salt shakers at two in the morning. He also had certain hilarious and memorable "routines." One involved simultaneously putting on all the clothing purchased for him each birthday and then modeling for pictures. Randy also imitated funny dances or characters that he saw on television until everyone was laughing. He could turn a toothpick completely around inside his mouth and enjoyed making "monkey lips" at his wife when she wanted to kiss him. The fact that she was not amused by this behavior made it even funnier.
At the time of his passing, Randy had ten grandchildren and another on the way. He was proud of them all, helping with their home schooling and always telling funny stories about them. Randy cared for the younger grandchildren while Betty taught music lessons to their older siblings. These little ones met him at the door with stacks of books for him to read.
Randy was a wonderful father, husband, grandfather, and friend and will be missed. The world was more fun because he was in it. As Randy would say, deliberately misquoting Oscar Wilde, "Silliness is the last refuge of the complex."
— Christy Guenther Okie, daughter