Alexander Jeremiah Clark

Cullum: 25556




Class: 1965




Cadet Company: C2




Date of Birth: September 24, 1939




Date of Death: November 24, 1981 - View or Post a Eulogy




Interred: West Point Cemetery, West Point. New York




Location: Sect V, Row C, Grave 143



---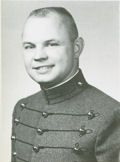 ALEXANDER JEREMIAH CLARK, JR. died of a heart attack on 24 November 1981 while skiing near Catskill, New York. He was 42.
Al's mother died when he was very young, and his grandmother Nan raised him in her stead. Although he never confided the date of his earliest desire to enter West Point, he had made the decision by his sophomore year at Highland Park High School in Dallas. While at Highland, he was active in the Junior ROTC program.
He was not admitted to the Military Academy following graduation from high school, so he attended San Diego State University while continuing to seek admission. His single-minded determination to enter West Point led to his appointment by Representative Hayden of Arizona three years later. As a result of this lengthy effort, he earned the title of "Oldest Living Cadet."
During his four years at West Point, Al sang in the Cadet Choir, acquired a love of skiing that stayed with him for the rest of his life and sailed with the sailing club, on the Hudson. He also studied military history avidly and, from that study and experience as a cadet, selected Armor as his branch following graduation.
His first duty station was with the 2nd Squadron, 1st Cavalry, 2nd Armored Division, Fort Hood, Texas. While at Fort Hood, he married Judy White in the spring of 1966. He completed a tour of duty with Military Assistance Command, Thailand, and attended the Armor Officers Advanced Course at Fort Knox in 1969.
Following graduate school, Al returned to West Point in the Department of Earth, Space and Graphic Sciences in 1976. His last assignment was with a Readiness Group in New York State.
At the time of his death, Al had completed a ski run and was waiting for the other members of his party. He is buried at West Point. It is fitting that he should rest forever in the place he sought to enter for so long.
Al was a good classmate and friend, able officer, husband and father. He is survived by his wife Judy and his twin daughters, Mary and Helen.