COL Oleh B. Koropey USA (Retired)

Cullum: 25546




Class: 1965




Cadet Company: G2




Date of Birth: March 9, 1944




Date of Death: November 6, 2020




Died in: Bowling Green, KY




Interred: West Point Cemetery, West Point, NY - View or Post a Eulogy




Obituary: Oleh B. Koropey



---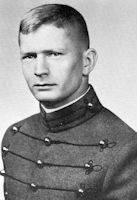 Oleh Borys Koropey, the first child of Doctors Joseph and Olga Koropey, was born March 9, 1944 in Loeben, Austria. Born into the turmoil of World War II Europe, his Ukrainian parents spent the war years attending medical school. The end of the war found the family in a displaced persons camp in Salzburg, Austria, where Oleh spent his early years. On April 14, 1949, the family, now including sister Oksana, left Bremerhaven for Boston, MA on the U.S. Army Transport General Howze to start a new life in America. Speaking only Ukrainian and German upon arrival, Oleh was raised in Pawtucket, RI, where he quickly mastered English and began to exhibit the drive to excel that would mark his strong character throughout his life.
Oleh attended Bordentown Military Institute in New Jersey, where he excelled in just about every area. He played varsity football and track and served as company commander and his class president. Graduating in 1961 as valedictorian, Oleh demonstrated the passion for his Ukrainian heritage with an address entitled: "Ukraine: Land of my Fathers."
Winning an honor school appointment to West Point, Oleh joined the Class of 1965, again showcasing his grit and determination. John Longhouser remembered meeting Oleh as plebes during Beast Barracks, recalling, "We were part of a select group of gymnasts from all parts of the country." While Oleh was not a "born" gymnast, he came to the gym every day with a solid focus on becoming better. Oleh's daily fortitude paid off. "I will remember Oleh as one of the hardest workers in the gym. His untiringly quest to be better each day paid off for him and the Army team," said Longhouser.
Oleh's classmates agree he was not only smart and a competitor, but he was a ready friend and a conversationalist who always flashed a broad smile. As Company A-2 roommate Terry Tutchings recalled, "The big glow comes again with his overall high-spirited approach to life. From gymnastics to cross country, even academics, he was tenacious and inspiring."
Oleh graduated as an Armor officer. After Ranger School, he was assigned to the 25th Infantry Division at Schofield Barracks, HI. Tony Trifilletti ('64) recalled serving together as platoon leaders in A Troop, 3d Squadron 4th Cavalry. When Oleh arrived in Hawaii, Tony asked him if he was going to sign in. Oleh replied, "No, I'm not signing in, I am here to surf!" A short time later Oleh and his platoon were on a ship headed to Vietnam, stopping first in Okinawa to pick up tanks. On arrival at Cu Chi, the first thing Oleh did was install a pull-up bar in the platoon area. According to Tony, "He was the most physically fit guy I ever knew." Oleh's passion for surfing would continue throughout his life.
Oleh's platoon got in several "nasty fire fights" employing tanks and armored personnel carriers in the jungle environment. For his first tour in Vietnam, he received the Bronze Star with "V" device and the Purple Heart. Oleh returned to Vietnam in 1969, this time serving as an advisor, aide-de-camp, and again with 3d Squadron, 4th Cavalry Regiment, this time as B Troop commander. For this tour Oleh received two more Bronze Stars with "V" devices, another Purple Heart, and the Air Medal, among other awards.
After Vietnam, Oleh and his wife Roma started a family. They raised three children together: Lesia, Boris, and Lena. Oleh was a dedicated father and was proud of his children.
After earning a master's degree in mechanical engineering at Stanford, Oleh returned to West Point to teach in the Engineering Department. From there, a series of Armor branch, schooling, and research and development assignments followed: battalion XO with 1-32nd Armor Regiment in Friedburg, Germany; commander of 1-72nd Armor Regiment in South Korea, and later as a fellow at the Hoover Institution. Oleh had several prominent roles in acquisitions, research, and development, spreading his time between Picatinny Arsenal, Redstone Arsenal, and the Pentagon over several assignments.
Oleh later married Janice Esch. After retiring from the Army as a colonel in 1992, Oleh settled in Bowling Green, KY, where he served as director of international transportation for Fruit of the Loom. Upon his retirement in 2013, he was named as a Kentucky Colonel for his service to the community and nation.
Never one to stay still, Oleh continued to demonstrate the same passion and drive that marked his life's journey. He became an avid master class swimmer with the Western Kentucky Green Gators swim team, organizing many swim meets. He studied the Chinese language intensely and obtained a second bachelor's degree from WKU in business and computer science. Oleh also spent more time with his wife, children, and grandchildren.
Oleh was a proud American who was equally proud of his Ukrainian heritage. He put his Ukrainian language skills to work serving as an election observer for the 2019 Ukrainian presidential election. He remained active in his church, playing guitar and singing in the choir, just as he had done at West Point in the Cadet Catholic Choir; and he continued to re-kindle friendships with his classmates and fellow veterans, attending reunions. Denny Coll spoke for the Class of 1965 when he said, "Oleh me boy, we'll miss you! I remember meeting you at a dinner just a few years ago… you were the same guy I fondly remembered from our days on the Hudson. Nothing had changed. Humble, introspective, and just a great pleasure to call you a friend."
Strength and Drive!
— BG Jack James '92, son-in-law