COL Oleh B. Koropey USA (Retired)

Cullum: 25546




Class: 1965




Cadet Company: G2




Date of Birth: March 9, 1944




Date of Death: November 6, 2020




Died in: Bowling Green, KY




Interred: West Point Cemetery, West Point, NY - View or Post a Eulogy



---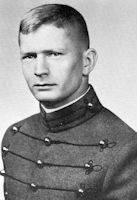 To date no one has volunteered to prepare the Memorial Article for Oleh Koropey. If you have remembrance of Oleh that may be included in his Memorial Article or if you wish to take on the task of memorializing him please contact Chuck McCloskey at ccmccloskey@yahoo.com.
Obituary
Colonel Oleh Borys Koropey, United States Army (Retired) Col. Oleh B. Koropey, 76, of Bowling Green, Kentucky passed away on November 6, 2020. He was the son of the late Doctors Joseph and Olga Koropey. Oleh was born on March 9, 1944 in Austria. Following World War II, Oleh and his family lived in a Displaced Persons Camp in Salzburg, Austria until 1949. On April 14, 1949 the family left Bremerhaven, Germany for Boston on the US Army Transport General Howze to start their new life in America.
Oleh was raised in Pawtucket, Rhode Island and graduated from Bordentown Military Institute in 1961. He received an appointment to the United States Military Academy at West Point, graduating with the renowned Class of 1965 as an Armor officer. At Bordentown and later at West Point, Oleh demonstrated the drive to succeed and good natured competitive spirit that marked his character throughout his life. Always an athlete, Oleh served as a "Corps Squad" varsity gymnast and cross-country runner at West Point.
After graduation and Ranger School, Oleh served two tours in Vietnam with 3d Squadron, 4th Cavalry Regiment: first as a Platoon Leader in 1966 and later as a Troop Commander and Advisor in 1969-70. Oleh received the Bronze Star Medal on six occasions including three times for Valor, two Purple Hearts, and the Air Medal, among many other awards.
Oleh went on to serve a full career in the Army. His subsequent service included teaching mechanical engineering at West Point; as a fellow at the Hoover Institution, Stanford University; and as commander of 3d Battalion, 72nd Armor Regiment in Korea. Oleh had several prominent roles in Army acquisitions, research and development. His later Army tours included Grafenwoehr, Germany, the Pentagon, and several assignments at Picatinny Arsenal in Dover, NJ. In addition to West Point, Oleh held a Master of Mechanical Engineering degree from Stanford University and an MBA from Long Island University.
After retiring from the Army Oleh worked in the private sector, settling in Bowling Green, Kentucky, where he served as Director of Global Logistics for Fruit of the Loom. Upon his final retirement in 2013, Oleh was named as a Kentucky Colonel for his services to the community and nation by the Governor of Kentucky. Oleh became an avid master class swimmer with the Western Kentucky Green Gators swim team, and obtained a second bachelor degree from WKU where he studied Chinese, business and computer science.
Oleh was a proud American who was also proud of his Ukrainian heritage. Known for his humility, kindness, and love of all people, he was active in his church, community, with his West Point class, and fellow veterans.
Oleh is survived by his wife of 33 years, Janice Helene Koropey. He was also the proud father of three children, Lesia (Jack) of Palm Harbor, FL, Boris of Los Angeles, CA, and Lena of New York, NY, from his first marriage to Roma Koropey. He is also survived by a sister, Oksana, two grandchildren, Juliana and Nicholas, two nephews, Andrey and Nick, and several cousins.
Visitation will be held on Tuesday, November 17, 2020 from 10:00 AM - 12:00 PM at Van Emburgh-Sneider-Pernice Funeral Home, 109 Darlington Avenue, Ramsey, New Jersey with interment immediately following at 1:30 PM at the West Point Cemetery, West Point, New York. Due to COVID-19 restrictions the interment will be limited to immediate family members only. A full graveside service with military honors will be rendered at a future date.
In lieu of flowers, please consider making a donation in memory of Colonel Koropey to the Wounded Warrior Project, 4899 Belfort Road, Suite 300, Jacksonville, FL 32256.
To send flowers to the family or plant a tree in memory of Oleh Borys Koropey, please visit our floral store.