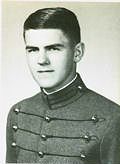 William "Bill" Ralph Griffin was born the son of MSG Ralph Griffin and the former Maxine Ann Birmingham at Ft. Bragg, NC. Dill's dad was later commissioned and retired as a lieutenant colonel. Bill and his younger brother Barry grew up as "Army brats." Bill's mother recalls how proud Bill was when he became an Eagle Scout. Bill graduated from high school at Richmond Academy in Augusta, BA, as class valedictorian and had the highest grade average in Richmond County. In July 1961, he reported to West Point.
Bill's natural intelligence, superb education, and experience with the Army and the world, made him almost intimidating to his fellow plebes. Who can forget his "I've-got-the-world-by-its-proverbials" smile? Because of his easygoing nature, constant quest for fun, and reliability as a helper and a friend, he quickly made many lifelong friends. Bill's diverse interests led him to the French and German Clubs, Skin Diving Club, Outdoor Sportsmen Club, Handball Club, and Public Information Detail, to name a few. His roommate expressed Bill's diversity after they'd wrestle in lieu of studying. "For a guy who could quote Byron and Keats, he sure was a strong wrestler." When Bill would study, we remember a pipe in his mouth and Ray Charles in his ears.
Although given his lack of "hitting the books," Bill's brilliance put him in the top ten percent of our class at graduation that warm, sunny June day in 1965, when we threw our hats in the air and headed to Viet Nam shortly thereafter. Immediately after graduation, Bill and Jean Viola of Nutley, NJ, were married in the Cadet Chapel. Jean recalls, "My first date with Bill at West Point was the Ring Hop. I fell in love with him that weekend. He was strong and tall and smart. I knew life with him would be an adventure. Bill was interested and curious about everything and wanted to be the best at everything he did. The greatest testament I can give him was he was a wonderful father. Even when we were first married and had little money, he would use his whole bonus to send his kids to private school." Bill and Jean had two sons, William Davis in 1968 and Drew Wilson in 1972.
Bill was commissioned in the Corps of Engineers. During five years in the Army, he served two tours in Viet Nam and also was stationed in Italy and Hawaii. His awards include two Bronze Stars and an Army Commendation Medal. In 1970, Bill resigned his commission as a captain; the Army would not send him to graduate school to pursue his desired area of study, and since he'd been born into Army life, it was time for something different.
After receiving his MBA from Stanford University in 1972, Bill worked for Chemed Corporation and its subsidiaries. He was appointed division sales manager in 1977, vice president of the sales division in 1979, and executive vice president in 1981. He became the president and chief executive officer of Roto-Rooter, Inc. in 1984 and retired from Roto-Rooter in 1996.
He spent his last four years semi-retired while operating a start-up plumbing and drain cleaning business in the Midwest. He also was an active member of Mensa, and CEO of the Cincinnati Presidents Organization and Young Presidents Organization.
Bill and Jean divorced in 1990. Bill and Donna Bray were engaged in Christmas of 1994 and married on 23 Mar 1996. Donna recalls, "I wanted to go to Italy for our honeymoon, but Bill saw a travel show about a town in Mexico named San Miguel for our honeymoon and were delighted with the country and its people.
"The following year, we went back to the Institute de Allende to study Spanish so we could travel to South American (never made it there) and other Spanish speaking countries. Bill was determined to become fluent and was almost there. We took a side trip from San Miguel to Ajijic, where we fell in love with the village, the people, and a house which we bought on the spot, after quite a lot of negotiation between Bill and the owner. The deal was not settled by the time we returned to Ohio. Bill had quoted his final price, but he thought this deal would never happen. Much to our surprise, we received a fax with an accepted offer. Bill's first words were 'fix me a drink, book a flight -- we have to go see what the hell we've done now!'
"We divided much of our time between Key Largo, our boat the Dolphin and Mexico. One week before his death, Bill told me we would have a couple more busy weeks with the family for the holidays and then we would be going to 'my boat' and Mexico." These truly were two of Bill's favorite places to spend time.
"Bill and I had a wonderful, loving marriage. He always had a zest for life and took pleasures in the simple things. He loved learning new things, women, great food, wine, hiking, reading good books, our two dogs and cats, his children, family, friends and always helping others in some special kind way."
Bill died in 13 Dec 2000 as a result of injuries received in an automobile accident while driving from his home in Cincinnati, OH, to Lexington, KY, on a business trip.
Any attempt to eulogize Bill here will pale in comparison to the words from his two sons at his memorial service. In poignant tribute, they expressed their love, respect, admiration, and grief for their father in a thoughtful, loving, sometimes humorous, and totally courageous manner. I cannot envision a higher tribute, or greater legacy. Bill, we always will remember your brilliance, generosity, vital presence, and mischievous smile. The joy you found in life's simple pleasures and your devotion to those whom you loved affirm the kind of man you were. You are deeply lived and missed.
Well done, Bill. Be thou at peace.
His roommate and family






"He

always

had

a

zest

for

life

and

took

pleasures

in

simple

things."