Mr. John B. Gailey

Cullum: 25543




Class: 1965




Cadet Company: M1




Date of Birth: November 14, 1943




Date of Death: September 28, 2017




Died in: Everett, WA




Interred: Ashes to be scattered - View or Post a Eulogy



---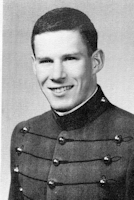 John Bruce Gailey, known throughout his life as "Bruce," was born into an Army family in Washington, DC on November 14, 1943 and lived for most of his childhood in the Washington, DC area and Germany. Always known for his adventurous spirit, sense of humor, and thoughtfulness, he was the second of three brothers, Charles K. (deceased) and Tim, with two younger sisters, Christine and Jennifer. Tim recalls: "As a young child, Bruce was always in the middle of childhood adventures. He was the 'idea man' for the three brothers. Having seen a movie which showed the toughness of paratrooper training, he came up with a very sensible plan for the three boys to imitate the paratrooper trainees by jumping off the garage roof, dropping and rolling onto some fortunately soft ground. Bruce also decided our garden would be a perfect place for foxholes, much to the gardener's dismay!" Some years later, while attending Wakefield High School in Arlington, VA, Bruce was a superb student, earning memberships in the National Honor Society and Mathematics Honor Society and graduating near the top of his Wakefield class. He was also a fine athlete and natural leader, starring on Wakefield's soccer and tennis teams and serving as captain of both. During his junior year at Wakefield, Bruce decided to apply for admission to West Point, following the example of his father, Major General Charles K. Gailey, USMA Class of 1920.
After entering USMA in July 1961 and surviving the challenges of Beast Barracks, Bruce was assigned to Company B-1. During plebe year, he made an impressive start in the classroom, finishing in the top-five percent of the Class of 1965. His consistently high academic standing during all four years at West Point ensured that he would be able to select the Army branch of his choice, the Corps of Engineers. On West Point's corps squad teams, Bruce played on the soccer, squash, and tennis teams plebe year and the "A" Squad tennis team during yearling and cow years. He also sang in the Catholic Chapel Choir and the Glee Club. Among his classmates in B-1 and M-1, he is remembered not only for his academic achievements, athleticism, and physical endurance but also for his easygoing nature. According to his M-1 roommate, John Malpass, Bruce is also remembered for his VW Karmann Ghia, carefully maintained at "a secret location" in Highland Falls during firstie year, always ready for weekend outings.
After graduation from West Point and commissioning in the Corps of Engineers, Bruce attended Airborne and Ranger schools. He then flew to Korea to join the 2nd Infantry Division's 2nd Engineer Battalion, commanding C Company while a lieutenant. After 13 months in the ROK, he was assigned to the Army Training Center at Fort Ord, CA. While stationed there in 1967, Bruce met and became engaged to Sonja Liems. However, before they were able to complete their wedding plans, he received orders to Vietnam and was assigned to the 8th Engineer Battalion, 1st Air Cavalry Division. Near the end of his yearlong tour of duty in Vietnam, Bruce volunteered to extend and transfer to a MACV advisory team. The Army rewarded him with a 30-day leave and round-trip flight to the destination of his choice. In late 1968, Bruce flew to California to marry Sonja before returning to Vietnam to complete his tour with MACV. As he was returning home from Vietnam in August 1969, Sonja gave birth to John B. Gailey Jr., their only child, in Fresno, CA, where she had been staying with her parents while Bruce was overseas. By this time, Bruce had decided to leave the Army the following summer.
After moving his family to Fort Leonard Wood, MO, his final Army assignment, Bruce applied for the Harvard Business School. At Harvard, he was in the same study group with classmate Steve Morrissey, who remembers him having "a calming influence in our sometime raucous discussions and inevitable beer-drinking afterwards."
After receiving his MBA in 1972, Bruce worked for several years in corporate management and banking, but eventually left to follow his inclinations toward entrepreneurship, developing a variety of businesses ranging from importing designer fabrics and marketing decorator products to producing and marketing bonsai trees. He was always coming up with new ideas and innovative products that could be developed into successful small-business solutions. Meanwhile he also enjoyed teaching business skills and economics to the next generation of students at Embry-Riddle University and City University of Seattle while living in Marysville, WA. Bruce always incorporated outdoor activities into his daily life, whether camping in the Southwest, hiking in his favorite mountains outside of Seattle, or kayaking in the waters of Puget Sound and the San Juan Islands.
As his M-1 companymate John Vann has written: "Bruce was a beloved member of our class and especially by the members of Company M-1, where we grew to know him as a brilliant, soft-spoken, caring man with a great sense of humor who devoted countless hours to helping others. He always had a gentle demeanor, and reminded those of us who knew him well of a Bradley rather than a Patton. Many of us wished we had Bruce's sponge-like mind that remembered everything so effortlessly and appreciated his willingness to share his gifts. The Army missed a bet by not elevating him to the highest levels, but we had the honor and privilege to know Bruce in the ways that matter most . . . as a caring, loving man who will always be remembered with a smile. We look forward to joining him one day where he is now. God Bless You, Bruce. We miss you."
— His family and classmates