LTC Camden W. McConnell USA (Retired)

Cullum: 25538




Class: 1965




Cadet Company: G2




Date of Birth: January 1, 1942




Date of Death: March 23, 2019




Died in: Goodlettsville, TN




Interred: West Point Cemetery, West Point, NY - View or Post a Eulogy



---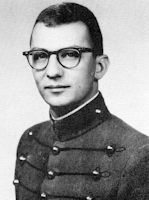 Camden White McConnell was born into the Army on January 1, 1942 at Fort Bliss, TX. His father, then in the Army, soon thereafter went to North Africa with Headquarters, II Corps, while his mother and his younger brother Joe lived out the war in Clearwater Beach, FL.
Following his father's return, Cam lived in a succession of Army locations (Fort Leavenworth, KS; Fort Knox, KY; Fort Sill, OK; Fort Ord, CA) as his father finished his Army career. Their last assignment was to Portugal, where Cam became fluent in Portuguese. From his early years, Cam wanted to go to West Point but believed he couldn't get in because of the vision requirements. Later the requirements changed, and Cam joined the Army as an enlisted man so he could secure an Academy appointment through the Army. He attended the U.S. Military Academy Prep School at Fort Belvoir, VA, and, through his study, determination, and excellent performance, secured an Army appointment to the Academy. He joined the West Point Class of 1965 in July 1961.
At West Point, Cam was an active, intelligent, and helpful cadet. He excelled at academics and was regularly a Star Man, meaning he was in the top five percent of his class. But he was more than willing to share his knowledge and coached many thankful fellow cadets in diverse subjects. He was a storehouse of information about the Army and regaled his comrades with stories of Army history and what the Army would be like upon graduation. His major extracurricular activities at West Point were the Portuguese Language Club, where he was president in his First Class Year, and the Sailing Club, which provided him quality time on the water and the joy of beating the Naval Academy (his brother Joe's school) at its own game.
Upon graduation, Cam was commissioned a second lieutenant in the Corps of Engineers. As a recipient of a National Science Foundation Scholarship, Cam was able to go directly to graduate school at the University of California, Berkeley, where he received a master's degree in civil engineering. He then joined the 31st Engineer Battalion at Fort Bliss, TX and commanded a company as the battalion rotated to Vietnam. He extended his tour in Vietnam to serve with the 34th Engineer Construction Group. His next assignment was to the Rock Island District of the Army Corps of Engineers, where, in addition to utilizing his engineering skills, he acquired his private pilot's license.
Then it was back to Vietnam, where he supervised construction near Long Binh. He became good friends with a contractor he worked with which resulted in Cam being introduced to the contractor's daughter, Deborah, who was living in Saigon. A growing romantic spark developed, and Cam and Deb were married in 1973 at Mount Vernon, VA, upon Cam's return from Vietnam.
Cam left active Army duty as a captain but retained his ties to the military throughout his civilian career, serving both in the Army Reserves and the National Guard and retiring from military service as a lieutenant colonel.
Cam had a long and successful engineering career in civilian life. He had stops in Washington, DC, Florida, New Orleans (where his only son, Camden William McConnell II, was born), and Minnesota, but his true career happiness was working for TranSystems in Oakland, CA. He stayed with them for 28 years because of their challenging and satisfying work and the great friendships and relationships he established. He was particularly pleased to be a mentor to many of the young engineers in the company.
Here is a quote from TranSystems on the occasion of Cam's retirement:
"As folks have come and gone, touched our lives and practices and then moved along, we can attest to that none of us will ever forget Cam. We'll never stop quoting Cam, we will never stop being amazed at his intelligence, and we will never cease to appreciate that fact that our lives intersected with his, in this fast-paced and entertaining place called TranSystems."
While in California, Cam became passionate about economics and the state of economic affairs in the country. Rather than just grumble about what he saw, he opted to run for the U.S. Congress on two separate occasions. He ran against an entrenched politician, so he was not successful, but he got his message out.
Cam and Deb moved to Tennessee in 2009 to be near their son, with Cam still working remotely for TranSystems. He retired completely in 2018, although struggling with Parkinson's in his last few years. While in Tennessee, Cam was bolstered by monthly lunches with several of his nearby classmates. He continued his passion for economics and world events and spent hours in discussion and debates with friends and acquaintances.
Cam died peacefully at home in 2019 and will be greatly missed by all. His intellect, wit and care for others will live on forever in the memories of his family, his friends, and his associates.
— His loving wife and son, with gratitude to classmate Chuck McCloskey