Mr. Robert W. Huffhines Jr.

Cullum: 25534




Class: 1965




Cadet Company: K2




Date of Birth: February 1, 1943




Date of Death: March 20, 2012




Died in Port Orchard, WA




Interred: Cremated. Interred in West Point Cemetery, NY - View or Post a Eulogy




Location: Colu 1-20, Row B, Niche UR



---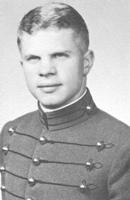 Robert Welch 'Bob' Huffhines Jr. was born Feb 1, 1943, in Dallas, TX, to Robert Sr. and Jana (Conrad) Huffhines. The family moved to Longview in 1948. Bob graduated from R.A. Long High School in 1961 with a 4.0 GPA. Not only the valedictorian of his class, Bob was also voted most popular and was elected Student Body Vice President.
Bob was appointed to the United States Military Academy from the State of Washington. He headed to New York in June 1961, carrying along his portable typewriter. Old grads will recall the importance of the typewriter case, if not the machine itself.
At West Point, Bob displayed many talents. Nicknamed "Huff" by his classmates, he excelled academically, finishing in the top ten percent of his class. He was humor editor of the monthly cadet publication Pointer and drew the cartoons for the magazine.
During his cadet days, attendance at Sunday chapel was mandatory; which service to attend, however, was left up to the individual cadet. Huff chose to go to Jewish Chapel. Classmate Gordon Larson recalls: "Jewish services were at 9:00a.m., which was later than the first session of Protestant Chapel but before the second service, which meant that you could sleep-in half the time and the other half you got to start Sunday off a little earlier. Not infrequently, the rabbi from East Orange failed to show, and our services on those days lasted about ten minutes. Even when he did appear, the Jewish services were significantly shorter than Protestant services." But the main reason Bob attended the Jewish Chapel was that his close friends, who were Jewish, invited him. They were his true friends all through his tenure at West Point, and they remained Bob's friends until his death.
Bob was commissioned in the U.S. Air Force upon graduation from West Point and left the campus in his brand new 1965 Mustang, a gift from his Aunt Elsie for his academic accomplishments.
Bob then earned a scholarship to Harvard Law School. While a student there, he fit in as a member of the student body with his long hair and hippie-style clothing, leading to some unpleasant confrontations when he exercised his PX privileges at nearby Ft. Deven, MA. He graduated first in his Law class in 1968, with a 4.0 GPA, and became a Judge Advocate officer in the USAF. He is the only West Point graduate known to have attended the Woodstock Music Festival in New York in 1968. Having fulfilled his military obligation, Huff was discharged at the rank of captain in 1970.
Early on at Harvard, moonlighting as a professional musician, Bob showcased his talents as a guitar player and singer; he was with the Richie Havens group for a time. To conceal his West Point and Harvard identity, he went by the pseudonym of "Professor Anonymous." He then practiced law in Boston from 1973 to 1979. He was married to Teresa, a local English teacher, for a time but they then divorced.
He was a member of the Legal Bar Association of Massachusetts, the Legal Bar Association of California (he passed the Bar in three months), and the Legal Bar Association of Washington. He did a great amount of pro bono work and was known for it.
Huff returned to the Longview Kelso area of Washington where he practiced law for more than 30 years, and also was an accomplished clarinet player with the Southwest Washington Symphony Orchestra.
The Longview Bar Association sponsored periodic social get togethers, and on one of these occasions Bob stood out because of his eccentric attire—three piece brown striped suit, hair in a pompadour style, and cowboy boots. He was spotted by one Dolores Erickson, friend of a local attorney. She was an experienced model, famous for the Herb Alpert "Whipped Cream" album cover. Bob married Dolores in 1980; they were together for more than 32 years.
One of Bob's cases, an adverse possession suit where Huff successfully represented an indigent squatter against the Burlington Northern railroad, is taught today in law schools as an example of effective advocacy for the disadvantaged. When asked what his favorite case was, Huff said it was an appeal he wrote for a woman sentenced to life in prison for killing her husband. He successfully argued that the lady did not really mean to murder her spouse with rat poison, and the sentence was reduced to a few years!
In 2004, Bob began to exhibit symptoms of a neurological disorder that would eventually become very serious. His unknown illness was characterized by diminished motor skills, an inability to walk, and progressively more difficulty speaking. From his wheelchair Bob still attended West Point gatherings. Huff had to curtail his law practice, and lived in assisted-living homes as his health deteriorated even further. Dolores cared for Bob religiously through all these years and found him a home at the Washington State Veterans facility in Port Orchard, WA. It was there that Bob's body finally gave up the long fight.
Bob loved people; his slogan was 'The People First".
A memorial service was held in Longview on Mar 30, 2012, with several classmates and other graduates in attendance. Dolores then accompanied Robert's ashes to West Point, where a service was held. She, along with more members of the Class of '65 and other classes, witnessed his inurnment, fittingly, in the Jewish Chapel. Bob had come home again.
— George Ruggles, Classmate