BG James F. Hennessee USA (Retired)

Cullum: 25524




Class: 1965




Cadet Company: C1




Date of Birth: January 31, 1943




Date of Death: June 1, 2020




Died in: Annapolis, MD




Interred: Arlington National Cemetery, Arlington, VA - View or Post a Eulogy



---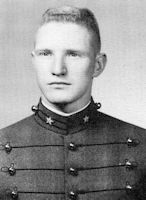 James Franklin "Frank" Hennessee was born in McMinnville, TN on January 31, 1943, the only child of James E. and Frankie Hennessee. He enjoyed an active childhood, and his family were faithful members of McMinneville's Westwood Church of Christ. In 1961, he graduated valedictorian from McMinnville High School, where he excelled in football, basketball, and baseball. He was recruited by several Division I football programs but injured his knee his senior year and decided to attend West Point. Frank received a congressional appointment from Tennessee.
At West Point, Frank was active in the Water Polo and French clubs. He was the class historian. During his First Class summer, Frank was part of the cadet leadership, running Beast Barracks, and was invited to the home of his tactical officer, Colonel George Maerten, for dinner. He met Colonel Maerten's daughter, Cam, and dated her for the remainder of his time at West Point. During his First Class year, he commanded C-1. For his exemplary leadership, the West Point Class of 1927 awarded Frank a Rolex watch for his exemplary performance and leadership.
After graduating in 1965, Frank attended Airborne and Ranger schools. He returned to West Point in December and married Cam. After a short honeymoon, Frank reported to Fort Bragg, NC, where he initially served as assistant executive officer, Battery B, 1st Battalion, 319th Artillery, 82d Airborne Division. He also served as aide-de-camp for the assistant division commander, 82d Airborne Division. After a branch transfer to the Infantry, he commanded Company C, 1st Battalion, 505th Infantry, 82d Airborne Division.
In 1967, shortly after welcoming their first child, Rachael, Frank deployed to Vietnam. In Vietnam, Frank initially served as assistant S-3 (Ops), 1st Brigade, 4th Infantry Division. He then commanded Company B, 3d Battalion, 12th Infantry, 4th Infantry Division and led his men through many months of frequent and intense enemy contact. Among other awards and medals, Frank was awarded a Silver Star for gallantry in action during a heliborne assault. Frank also served as S-3 (Ops), 3d Battalion, 12th Infantry, 4th Infantry Division.
Upon his return from Vietnam in 1969, Frank attended the Infantry Officer Advanced Course. Frank and Cam welcomed their second child, Marc, and then moved to Atlanta, where Frank attended the Georgia Institute of Technology. He earned a Master of Science degree in Operations Research and Systems Analysis in 1971. Frank then served as operations research system analysis officer, Materiel Training Directorate at Aberdeen Proving Ground, Maryland.
In the summer of 1974, shortly after their third child, Jonathan, was born, Frank deployed to Korea, where he served as S-3 (Ops), 1st Battalion (Mechanized), 17th Infantry, 2d Infantry Division. He then attended the U.S. Army Command and General Staff College. In 1976, Frank moved their family to Lake Ridge, VA, where the family enjoyed suburban life over the next five years while Frank worked at the Pentagon. He worked as staff officer, Programs and Allocations Division, Office of the Deputy Chief of Staff for Operations and Plans, and then as staff officer, Office of the Chief of Legislative Liaison.
In 1981, Frank was selected to command the Berlin Brigade's Combat Support Battalion. He and his family thoroughly enjoyed their experience for three years in Germany, taking the opportunity to explore Europe and visit classmates and former colleagues serving throughout Germany. In 1984, the family returned Stateside, and Frank attended the U.S. Army War College at Carlisle Barracks, PA. He then returned to the Pentagon and served as staff officer, Office of the Chief of Staff, U.S. Army and Chief, Warfare Policy Branch, Office of the Joint Chiefs of Staff.
In 1987, Frank assumed command of the 3d United States Infantry Regiment ("The Old Guard") at Fort Myer, VA and distinguished himself as a model of professionalism and excellence in this high visibility position. He then served as executive to the CINC, SOUTHCOM, where he was fundamental in the planning and execution of the U.S. actions in Panama in late 1989. Next, Frank was selected as assistant division commander, 10th Mountain Division, where he served for two years. During this time, Frank was selected to be promoted to brigadier general.
Now empty nesters, Frank and Cam moved to Heidelberg, Germany in late 1992. Frank served as deputy chief of staff for resource management, United States Army Europe and Seventh Army, for which, among other achievements, he dutifully executed the unenviable task of helping to downsize USAREUR. Frank and Cam again enjoyed their time in Germany and eagerly hosted visits from their adult children and embarked upon further exploration of Europe. Frank's final position in the Army was deputy chief of staff for resource management, United States Army Training and Doctrine Command at Fort Monroe.
He retired from the Army in May 1998. Frank's honors and awards include the Distinguished Service Medal, Silver Star, Defense Superior Service Medal (with oak leaf cluster), Legion of Merit (with three oak leaf clusters), Bronze Star, Meritorious Service Medal (with two oak leaf clusters), Combat Infantryman Badge, Senior Parachutist Badge and Ranger Tab. The respect, trust and high performance of his soldiers was truly his most valued professional achievement.
After retiring from active duty, Frank worked as the deputy director at the U.S. Army Soldiers and Airmen's home in Washington, DC, where he and Cam also resided. In 2006, Frank and Cam moved full time to Annapolis, MD, and he assumed the role of COO at the Distaff Foundation (Knollwood). He later was appointed CEO before retiring in 2011.
Frank is survived by his wife, Cam; his three children: Rachael, Marc and Jon; and his four grandsons: Cormac, Ryan, Konnor and Jack.