LTC John M. Deems USA (Retired)

Cullum: 25519




Class: 1965




Cadet Company: F1




Date of Birth: September 29, 1942




Date of Death: January 19, 2008




Died in Pasadena, CA




Interred: West Point Cemetery, West Point, New York - View or Post a Eulogy




Location: Sect XXXIV, Row B, Grave 071





---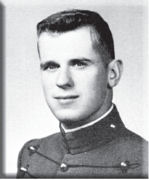 Rarely does one encounter an individual of such extraordinary talent, intellect, and exemplary personal qualities as John Michael Deems. It was my privilege to know him as a classmate, roommate, teammate, brother-in-arms, and friend for life. Mike and I roomed together for three of four years, and although we came from remarkably different backgrounds, our time together as cadets forged an incredibly strong personal bond that continued after graduation to our final conversations shortly before his untimely death.
Mike came to West Point from a military family of six children that had traveled extensively, planting roots all over the world. As an Army Brat, he was familiar with the challenges and rewards of military service, and this experience was invaluable preparation for the rigors of Beast Barracks and Plebe year as he joined the Strength and Drive Class of 1965. Mike was the ultimate "whole man" who personified the Academy's ideals of Duty, Honor, Country throughout a lifetime of dedicated service.
During cadet years, he excelled in military aptitude, achieving the rank of Cadet Captain, battalion commander; was in the top 5% of his class in academics (Star Man); and captained the Army soccer team, setting an individual scoring record and leading his team to the final four in the national playoffs. He was a leader everywhere -- on the field and off. Inspite of all these accomplishments, "Minski," as we called him, was anything but all work and no play. He was the first to join in after Taps escapades and merciless practical jokes and usually was the point man for weekend forays to the City and other destinations in search of fun, fine company and material for the latest war stories to share after the inevitable frantic race back to sign in before Sunday evening formation.
Mike's impressive achievements in virtually every aspect of cadet life spoke for themselves, but those of us who knew him recognized his personal attributes as his most valuable and memorable qualities. Mike's magnetic, upbeat personality was reinforced by a frequent smile, devilish sense of humor, positive outlook, sincere humility and a willingness to lend a helping hand or sympathetic ear to a friend in need. It was never "all about him." When he asked you how things were going, he really was interested, and his "aw shucks" modesty was becoming and genuine.
On 9 Jun 1965, 2LT Deems, behind the wheel of his beloved green Austin-Healey, departed West Point full of his usual enthusiasm and confidence for the new challenges facing a young Infantry offcer with the probability of a combat tour in Viet Nam in the very near future. Mike's initial assignment was to the 1st Bn, 501st Inf (Geronimo), 101st Airborne Div, at Ft. Campbell, KY, along with orders to Airborne and Ranger School, which he completed with distinction. The call to arms came all too quickly with his deployment to Viet Nam with the 4th Bn, 503rd Inf, 173rd Airborne Bde, eventually commanding a company until 1968. He returned to Viet Nam two years later with MAC-V as an operations offcer. Mike received Bronze Stars for heroism and meritorious service during his two combat tours.
Mike progressed rapidly through advanced civilian and military schooling, earning a master's degree in Operations Research from Georgia Tech and completing CGSC. He also applied for the NASA Astronaut Program and competed successfully to the final round but had to forgo space walking for a 1977-80 faculty position at the Academy, where he met Christine. They married in 1979.
After subsequent assignments in the Washington, DC, area with Concepts Analysis Agency and the Military Personnel Center, Mike retired in 1986 as a lieutenant colonel. He then worked as a Systems Engineer for MITRE Corporation, a nonprofit research and development agency that supports military and national needs. Mike was a senior analyst in the Economic Decisionand Analysis Department, where he also happily mentored many budding engineers.
Throughout the years following graduation, our paths crossed occasionally, and I was the frequent recipient of his many acts of thoughtfulness and generosity. Whether during trying personal times or good times and celebrations, my friend "Smeed" was always there for "his bud BL."
Mike was always an avid soccer fan and continued to play and referee. He also was a talented woodworker, loved to travel, walk, and was avid music lover, collecting 85 versions of his beloved hymn Amazing Grace. But the most important part of his life was being involved in every aspect of his family's activities, showing support and enthusiasm at each event, a priority never more evident than during his last months with us.
Sadly, in July 2007, Mike was diagnosed with kidney cancer, a condition that would ultimately prevail in spite of aggressive treatment, multiple surgeries, and a tenacious battle on his part. During this time, Mike continued to participate in family activities, downplaying the severity of his illness. It was during a family trip to California in December that he was hospitalized with complications and passed in the company of his devoted family.
Mike is survived by his loving wife of 29 years, Christine Deems; son Jason and wife Tina; son Nik and wife Kristin; daughter Elizabeth; mother Gene Deems; brothers Ron Deems and Bill Deems; and sisters Cathie Gerlicher, Susan Roske, and Barbara Sudek.
Mike Deems' distinguished military career, academic distinction, and outstanding achievements in the business sector were consistent with his lifelong paradigm of setting and achieving the highest standards. If you had asked Mike what he considered his greatest accomplishments, he would not mention his West Point degree, athletic records, distinguished service to his country, or his successful civilian career. Though indeed proud of all these things, he would say his life's greatest accomplishment was being a father to Elizabeth, a Georgia Tech/MIT graduate and rocket scientist; Jason, a psychology professor; and Nik, a talented musician and a budding geologist; and being a loving and supportive husband to Christine. It was always the success and happiness of his family for which Mike was truly concerned. Though he is no longer here, the continuing success of his family will be his legacy.
Well done, my friend. Save my place.
--B.J. Mogan '65, classmate