Mr. Albert E. Knauf Jr.

Cullum: 25518




Class: 1965




Cadet Company: K1




Date of Birth: September 26, 1943




Date of Death: September 16, 2013




Died in North Myrtle Beach, SC




Interred: West Point Cemetery, West Point, NY - View or Post a Eulogy




Location: Sect XXXIV, Row AA, Grave 011



---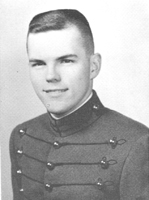 As an Air Force officer and defense industry executive, Ed Knauf proudly served his country by making lasting contributions to numerous national security programs, including the Minuteman Missile, "Star Wars," the Tomahawk Cruise Missile, and the B-2 Stealth Bomber. Although remembered for his significant professional accomplishments and for his integrity, generosity, and optimism, it was Ed's ebullience and concern for others that made the most lasting impressions. His classmates say it best: "Being in Ed's company was special. He had an ability to make everyone laugh. We always looked forward to seeing Ed and being inspired by his buoyancy. Always upbeat with a quick smile, Ed cheered everyone up."
Soon after Albert Edward Sr. and Mary Carmichael Knauf moved from New Hampshire to Port Chester, NY, their first son, Albert Edward "Ed" Knauf Jr., was born. It was in that idyllic setting that Ed and his younger brother, Daniel, spent their childhoods. Ed excelled at Port Chester High School while pursuing his dream of attending West Point. Susan Ricci, the Catholic school girl he would marry, was also from Port Chester. (Ironically, though, they met on a blind date at West Point!) Ed's happy-go-lucky nature was put to the test during plebe year, and the steel at the core of this extraordinary person was soon revealed. Ed graduated near the top of his class and, a year later, Lieutenant and Mrs. Knauf married in the Catholic Chapel at West Point. Son Michael was born in 1968 and twin sons Andrew and Christopher arrived in 1972.
Ed was drawn to the Air Force for a combination of reasons. The first was that the Air Force would send him to graduate school after one year of service. Another was that the Army orientation training in Germany left him with doubts about fitting into the Army. However, it was the tour of Berlin that summer, specifically East Berlin, that provided a lifetime of inspiration. In Ed's own words, "This visit had a profound effect on me personally and put me on a path to commit a major portion of my life to ending the Soviet Union's dictatorship of many of the world's people." Ed's first assignment was as a site activation officer with the Air Force Systems Command. Installing top secret facilities in Japan and Germany for collecting data on the Soviet Union's missile test program was an ideal first assignment for this ambitious young officer. It provided him uncommon insights into the Soviet Union's nuclear arsenal and valuable experience working with the Air Force's industry partners.
After earning an M.S. in aeronautical engineering at MIT, the Air Force assigned Ed to White Sands, NM to work with weather balloons. He later wrote, "Thankfully, Colonel Bill Manlove rescued me and had me reassigned to the Minuteman Missile Program, the best assignment I could ever have hoped for." Over the next five years, Ed's contributions were substantial. However, overshadowing all else was his finding that Soviet missiles "could not attack our missile silos with any degree of confidence and accuracy." Ultimately, the accuracy problems Ed documented (and the astronomical cost of fixing them) figured into Gorbachev's April 1988 decision to abandon the Brezhnev Doctrine. Then, a year later, the Berlin Wall came down. Recalling his indirect role in those historic events, Ed wrote, "It is one of the things I personally did which I am very proud of."
When Ed resigned his commission after eight years of service, Gene Ray hired him at SAIC, where he "learned what it takes to build a successful business," and where he also formed an enduring friendship with Gene. In 1977, Ed left SAIC to serve as Deputy Worldwide Military Command and Control Systems (WWMCCS) Systems Engineer in the Pentagon. After four eventful years in that job, Ed decided to start his own company and broached the idea with his friend.
On March 30, 1981, Ed, Sue, and Gene met for supper in Old Town Alexandria, where (on paper napkins) Ed and Gene excitedly outlined the business plan for a new venture they would call Titan. Over the next 25 years, their vision grew into a diversified $2.6 billion defense contractor. As co-founder and President, Ed was responsible for developing Titan's strategic business plans and for securing Titan's position on highly classified national security programs. Ed's personal efforts quickly put his new company in the White House, working to assure the survivability of the National Command Authority in the event of nuclear war. This program was of such vital importance to the nation's security that it was overseen personally by Vice President Bush. Of his resignation from Titan's Board in 1995, Ed later reflected, "One of the things I learned at Titan was that I was an entrepreneur. I greatly enjoyed the start-up risk." Until his battle with multiple myeloma intruded, Ed continued to pursue that passion by founding, managing, and investing in several successful start-ups.
Ed and Sue kept the disease in check for more than 10 difficult years. Ed's priority always was to spend as many good days as possible with his family, especially his eight grandchildren, to whom he was known as Obi (short for Obi-wan Kenobi). Before he died, Obi experienced the joy of embracing his ninth grandchild, a baby girl named Paige. Through it all, Ed's devotion to West Point and to his classmates could not have been more evident. For many years, Ed donated generously to West Point and attended every golf outing and every other class function, despite not being a golfer and the other obvious difficulties during his last few years. He did all of this with unfailing good humor, optimism and courage, serving as an inspiration to us all.
— A K-1 classmate