Omar Edwin Rood, Jr.

Cullum: 25517




Class: 1965




Cadet Company: B1




Date of Birth: December 14, 1943




Date of Death: October 24, 2019




Died in: Tucson, AZ




Interred: Inurned, Fort Snelling, MN - View or Post a Eulogy



---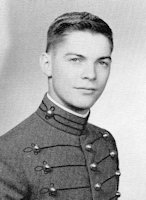 Omar Edwin Rood Jr. was born in Crookston Minnesota, the son of Omar and Florence Rood. He grew up in Crookston and attended Central High School. While in high school, he participated in speech, debate, and served as senior class president, graduating in 1961. Outside of school, Omar worked for his father in the fall of his sophomore year and for a local floral business the following spring. He spent the summer of 1960 working at an island resort in Lake of the Woods, just a short swim from the Canadian border. He continued to work after school during his senior year.
He entered the United States Military Academy with the Class of 1965. His activities at the academy included the Astronomy Club, French Language Club, Mathematics Forum, Rocket Club and Outdoor Sportsman Club. He was highly respected as a cadet for his intellect and willingness to assist his classmates in academics. One classmate recalled: "Ohms was always fun to be with. His inquisitive mind and wry sense of humor were likely to set one to thinking about whatever the subject of his interest was." Omar graduated in June 1965 with a commission in the Army Corps of Engineers.
His first military assignment was attendance at the University of Illinois Civil Engineering Graduate School where he earned a master's degree in 1967. He then attended Army Ranger School at Ft. Benning, Georgia.
He arrived in Vietnam in September 1967 where he first served as a combat engineer platoon leader for the 9th Infantry Division, supporting a mechanized infantry battalion south of Saigon. Upon promotion to captain, he became commander of a construction company based in the Mekong Delta. Both units came under attack during the Tet Offensive in 1968. He then served as the advisor to the civilian province engineer and worked with village elders on small projects to improve their communities. This year was followed by teaching bridge design and structural engineering at the US Army Engineer School, Fort Belvoir, Virginia. Following Thai language school, he arrived in Thailand in February 1970 as an advisor to the Royal Army Engineers in northeast Thailand. In the spring of 1971, he resigned his commission upon returning to the United States.
That fall he went to work at the Construction Engineering Research Laboratory (CERL), a new Army research lab associated with the University of Illinois. In 1974, Omar was honored as Engineer of the Year by CERL and earned his PhD from the University of Illinois.
In the fall of 1977, during an executive development assignment in Washington DC, Omar decided to take a year off. So, in early 1978, he resigned from CERL and returned to Crookston, Minnesota. In the spring of 1979, he decided to stay in Crookston and went to work for WSN Engineers. In 1980, he ran unsuccessfully for the Minnesota State Legislature. Two years later, he was elected to the Crookston School Board and served two terms from 1983-1989. During this time, he also served on the governing boards of Prairie Public TV and Radio and the Minnesota Job Skills Partnership.
Omar started JOR engineering in 1987 as an engineering consulting company to provide water resources engineering services to local governments. In 1995, MTS Systems Corporation recruited him to be an international project manager for custom earthquake simulation test equipment. He enjoyed the international travel and working in foreign research laboratories. He loved the unique challenges in this work, such as serving as the MTS representative on the world's largest 6DoF seismic simulator in Japan.
He retired in 2009 and moved to Arivaca, Arizona in January of the following year. In this small village just nine miles from the Mexican border, he found a wonderful, eclectic, tight-knit community of people with amazing backgrounds from around the country. He continued his life of service by chairing the Arivaca Fire District Board and loved helping his community.
Omar was deeply proud of his children, Erika Rood and Charles Chevalier Rood. He was the oldest of five siblings who all knew their older brother was there for them no matter what was needed. All his life, he was known for his brilliant intellect, his kind and generous heart, his loyalty as a friend, and his love of his family and country.
Omar's wish was to be inurned at Fort Snelling, Minnesota, National Cemetery with his fellow military comrades. His moving service with military honors was held on June 26, 2020, with family, friends, and several West Point classmates in attendance. Omar was so proud to be a member of the West Point Class of 1965. Blessed be his memory.
Submitted by Lori L Larson, Omar's sister