Thomas Hawkins Johnson

Cullum: 25511




Class: 1965




Cadet Company: A1




Date of Birth: November 11, 1943




Date of Death: June 26, 1990




Died in Washington, DC




Interred: West Point Cemetery, West Point, NY - View or Post a Eulogy




Location: Sect XXXIV, Row E, Grave 197



---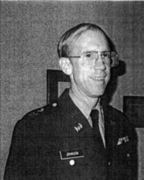 THOMAS HAWKINS JOHNSON was born in Boston, Massachusetts on 11 November 1943, the son of John Frank and Elizabeth Johnson. Tom's father, USMA January 1943, was attending the Harvard/ MIT Radar School. Shortly thereafter, Tom's father was assigned as an instructor in the Department of Electricity at West Point and remained at the Academy until September 1947, when Tom was almost four years old. Therefore, Tom's earliest childhood memories were of the Academy. Tom grew up in the Army with its attendant pattern of relocations stateside and abroad, but he was always an outstanding student. In this regard he did not require any prodding. Rather, he was intensely interested in academics and fiercely competitive. During his high school years it became apparent that Tom had the intelligence, interest and drive to excel in multiple areas. In addition to a quick grasp of science and math, he was interested in dramatics, creative writing and public speaking. He founded a school literary magazine, was active in the dramatic society, won a state-wide public speaking contest and was a National Merit Scholar. It was during these years that Tom also embarked on a lifelong career as a poet, sending some of his poems to Archibald MacLeish for critique. Mr. MacLeish recognized Tom's talent and encouraged him. The two became fast friends, and Tom often visited MacLeish during the remainder of the elder poet's life. Since his childhood, Tom had determined to attend West Point; both its historic challenge and his family's ties drew him. He competed for two appointments to West Point and one to the Air Force Academy. He won all three. He accepted a presidential appointment to enter West Point at age 17.
Tom sparkled at West Point because of his intellect and varied interests. His extraordinary talent as a creative poet and writer appeared, whether it was in directly typing a 9.0 composition in less than an hour or in the creation of a lovely poem to satisfy a 6.0 theme on "some aspect of Southeast Asia." He served as an intellectual leader of classmates, whether writing for the First Night Show or giving impromptu lectures on classical music criticism. One roommate wrote in the Class Howitzer, "He. . . probably coached more goats through turnouts in more subjects than any man in Academy history." Tom graduated in 1965, wearing stars for all four years and winning the Law award. He took a commission in the Air Force because of the Air Force's promise to send him for his doctorate. And, in fact, within a few years he received his Ph.D. in plasma physics from the University of California at Davis/Livermore.
Tom served at DASA and the Air Force Weapons Laboratory, where he tackled problems in computational plasma physics with originality and insight. From 1975-77 he was chief of the physics section at the Laboratory, beginning a long career of leadership in national science policy. In 1977, although an Air Force officer, he was assigned to West Point as an instructor in the English Department. Tom's extraordinary intellectual breadth was soon realized and he was tasked to teach classes in a wide range of disciplines. His courses included "Laser Physics," "Tradition and Innovation in Modern Poetry," "Numerical Solutions of Partial Differential Equations," "Film Analysis and Criticism," "Electricity and Magnetism" and a "T. S. Eliot Colloquium." Tom transferred from the Air Force back to the Army in order to accept a tenured full professorship in Applied Physics at West Point. He also was made director of the Science Research Laboratory and Associate Dean for Academic Research. In addition, Tom was a popular adjunct professor at Columbia University, where he taught in the Political Science Department. He gave seminars on arms control and science policy at Harvard, Princeton, Stanford, Cornell and Yale Universities and contributed seminal articles in the same subject area.
From 1981-83, on special leave from West Point, he served as special assistant to the President's Science Advisor and executive director of the White House Science Council.
Tom was a first-class physicist and statesman of science. He was an authority on fusion, lasers, satellite communications and nuclear weapons. He was a visiting scientist at the Lawrence Livermore and Los Alamos Laboratories and was a consultant to the Central Intelligence Agency. He was the 1986 recipient of the Institute of Electrical and Electronic Engineers' Donald C. Fink prize for the best review article published by the Institute during the year. He was the author of many technical articles on laser and plasma physics and was a reviewer and editor for several scientific journals. His work for the Defense Department included service with the Defense and Army Science Boards, and as an advisor to the National Security Council and the House Armed Services Committee. For the Department of Energy, he played a major role in setting the national policy on fusion energy research, the superconductor supercollider and biomedical research. Upon learning of his death, Defense Secretary Richard B. Cheney hailed Dr. Johnson's work on the Strategic Defense Initiative, high energy lasers and nuclear safety.
Throughout this intense academic activity, Tom's creativity as a poet continued and increased. He often said, "I earn my living doing physics, but my first love is poetry." He was the author of many literary essays and poems that appeared in The New Republic, The Sewanee Review, The Southern Review and The American Soldier, among other publications. He leaves an unparalleled legacy of poetry on famous Americans, the human condition and science.
In 1989 Tom accepted a temporary assignment in Washington as special assistant to the Secretary of Energy. Early in this assignment his fatal illness was diagnosed. He was retired as a colonel in April 1990 and died of cancer at Walter Reed Army Hospital on 26 June 1990. Tom had planned to retire from the Army in the summer of 1990 and had already accepted a tenured professorship from Carnegie Mellon University in Pittsburgh, effective the fall of 1990.
Tom left his wife, Cynthia Galas Johnson, and three young daughters, Jennifer, Emily and Laura, all residents of Cornwall-On-Hudson, New York. We, his family and close friends, have suffered a great loss. Our country has lost one of its finest science leaders and a man of great integrity. Tom had great intellectual curiosity over a wide range of disciplines, and it would be difficult to name a person who had made better use of the time given to him on earth. Tom is buried near the Old Cadet Chapel at his beloved West Point. His marker reads simply, "Thomas Hawkins Johnson, Colonel, United States Army, Poet-Physicist."
His father, John Frank Johnson; his
brother, Nick Johnson; and his
classmate, Rick Ozgood