COL Frank Xavier Reller, III USA (Retired)

Cullum: 25504




Class: 1965




Cadet Company: M1




Date of Birth: September 2, 1943




Date of Death: June 13, 2006




Died in Leavenworth, KS




Interred: St. Joseph Cemetery, Plamyra, MO - View or Post a Eulogy



---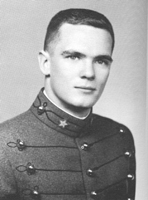 Frank Xavier Reller III entered this world on Sep 2, 1943, and left it much too soon on Jun 13, 2006. Fortunately for Frank's family, friends, and professional colleagues, he made excellent use of the time our good Lord gave him. Frank entered West Point right after completing high school in Hannibal, MO. Frank had a variety of interests as a cadet. He was active in the Glee Club, the Cadet Catholic Choir, and the Portuguese Language Club. A classmate wrote that Frank was "a star man who avoided books with as much enthusiasm as he pursued dragging…" Frank's chosen branch was the Corps of Engineers. He completed Airborne and Ranger Schools enroute to his initial duty assignment with the 538th Engineer Construction Battalion in Thailand. During his 27 years of active duty, Frank served in a variety of positions stateside and overseas. He commanded a training battalion at Ft. Leonard Wood and served two tours with ROTC, including his final assignment as commander of the 2nd ROTC Brigade. He earned a master's degree in nuclear engineering at the University of Illinois and was a graduate of both the Command & General Staff College and the Army War College. His decorations included the Legion of Merit, the Bronze Star medal, and the Defense Meritorious Service medal. After retiring from active duty, Frank, among other pursuits, enjoyed having the time to use and enhance his computer skills.
Frank met his future bride, Donna, while in New York City on a weekend pass from West Point. Donna was a student at the Bellevue School of Nursing. One of their dates was to the Army-Navy Game in 1964. It was memorable not only because it was Army's first victory in four years but, as Donna relates, it was so cold! They were married on Jun 10, 1967, in Queens, NY. Frank was very proud of their four children: Frank IV (Chip), Kelly, Kim, and Kate, and of his seven wonderful grandchildren.
Frank was a thoughtful and generous person, not only with his family but with other individuals and organizations. He was active in his Catholic faith. Frank was someone his friends knew could be counted on. Although typically a quiet person, Frank had a quirky sense of humor appreciated by his family and friends. He was a forthright person and did not hesitate to speak his mind, even when it was not politically correct to do so. Frank loved to cook, and his cooking was one of the reasons why his children loved bringing their friends home. Frank and Donna supported local Catholic Seminarians in various ways; Frank enjoyed having challenging theological discussions with them. Donna commented that they had entertained everyone from Seminarians to Cardinals in their home, but that titles were always left at the door.
Frank preferred command assignments, enjoying the challenges/opportunities command affords. His favorite assignment was as battalion commander at Ft. Leonard Wood. He was a leader who really cared about and for his troops and their families. Frank was equally dedicated to the mission and to the welfare of his soldiers and their families.
Frank's physical presence is missed every day, but his spirit remains in the memories, the lessons taught, the example set, the love and generosity shared.
— Family & Classmates

admin