Mr. Thomas D. Mac Vicar

Cullum: 25493




Class: 1965




Cadet Company: L1




Date of Birth: February 26, 1944




Date of Death: March 11, 2020




Died in: Los Altos, CA




Interred: TBD - View or Post a Eulogy




---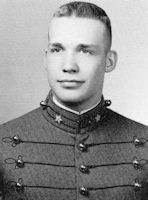 Thomas Duncan MacVicar, USMA Class of 1965, championed community volunteerism across a broad range of areas. He lived a life full of joy and accomplishment. He was a business entrepreneur who loved singing and enriched the lives of others through tireless community volunteering.
Mr. MacVicar died March 11, 2020 at his Los Altos home, surrounded by family. He had recently celebrated his 76th birthday. He had been battling a rare cancer the past three years.
Born in Cleveland, he excelled in academics throughout his school years and was accepted to West Point, where he graduated eighth in his class in 1965. He served on the brigade staff his senior year as the brigade activities officer and was also cadet in charge of the West Point Glee Club. His love of music and singing was a defining characteristic of his entire life.
Mr. MacVicar served in Vietnam as a combat engineer and company commander in the 626th Engineer Battalion, 101st Airborne Division. He received two Bronze Stars and two Air Medals for his Vietnam service and an Army Commendation Medal for work at the Lawrence Livermore National Laboratory.
He earned a master's degree in physics from UC Berkeley. While working as a junior physicist at the Livermore Lab, Mr. MacVicar met teacher Jeanne Knox. They later married at the University of Kansas' Danforth Chapel in 1971. The MacVicars welcomed a daughter, Bryn, in 1975.
Mr. MacVicar pursued a career in marketing that included employment at Hewlett-Packard and Spectra-Physics. Later, he started his own consulting business that focused on high-tech strategic planning. He also enjoyed working with startups and co-authored a book on entrepreneurship, Managing High-Tech Start-Ups.
Beyond his career, Mr. MacVicar was devoted to a life of service. He brought knowledge, insight and goodwill to the multitude of organizations he served.
He was a longtime member of Los Altos United Methodist Church. Singing in the church choir was a favorite activity. Mr. MacVicar wrote parodies of concert songs and limericks, which would be performed as the choir and supporters gathered for after-concert get-togethers. He and his wife traveled with the church choir, visiting cathedrals all over Europe. With the Starfire Singers, the high school choir, they traveled to the Baltics, Great Britain and Russia as the Berlin Wall came down in 1989.
Recently, Mr. MacVicar helped initiate and lead Los Altos United Methodist Church's Cancer Support Group.
An advocate of social justice, he and Jeanne were members of the church's Accompaniment Team, through which they assisted a Guatemalan mother and her children seek asylum in the United States. After three years, that effort is still in process. Last year the MacVicars accompanied the mother and children when they appeared before a judge in the immigration court in San Francisco.
He always had a deep desire to perform community service, a function of his West Point training. In 2004, the MacVicars initiated the Los Altos-Los Altos Hills Relay for Life to benefit the American Cancer Society, which became one of the top relay events in the nation. His volunteering extended to serving on the board of the Community Services Agency and joining Sons in Retirement, Branch 35.
Among his many awards and accolades, the Los Altos Community Foundation honored him with its John W. Gardner Building Community Award.
As a Vietnam War veteran who experienced post-traumatic stress disorder, Mr. MacVicar put his experience to use in 2011 as a consultant with the California Veterans Legal Task Force. His work focused on helping fellow veterans with service-related mental health problems. Mr. MacVicar worked with the task force to establish Veterans Treatment Courts (VTCs) throughout Northern California. At his own expense, he traveled to more than 20 counties, meeting with veterans, treatment providers and court officials to help the task force increase the number of VTCs in California from four to 33 at the time of his death.
Mr. MacVicar was a sought-after expert and speaker for legislative committees and collaboratives of veteran service providers and veterans. Recognized as Veteran of the Year by the 24th Assembly District in 2017, he was a strong advocate for his fellow veterans.
He also worked nationally to promote diversion and alternative sentencing for veterans, seeking formal recognition of the value of treatment over incarceration.
Family members underscored Mr. MacVicar's positive outlook, compassion and willingness to help.
"Dad was his best self when bringing joy and support to others. He could play goofy games with his granddaughters for hours or just as easily discuss the complexity of veterans' courts with legal teams," daughter Bryn said. "No matter the type of interaction, he gave himself completely. Such was his capacity to care for others in word and deed."
Wife Jeanne also paid tribute.
"Duncan's greatest joys, in addition to his family, were helping others and serving the community," Jeanne said. "His sense of duty made him a courageous inspiration, always positive to the end."
Duncan is survived by his wife of 49 years, Jeanne, of Los Altos, CA; by daughter Bryn (Chris) Pennington; and by granddaughters Chloe and Harper of Lafayette, CO. Also surviving are his brother Robert (Jane) MacVicar, South Nyack, NY, and nephew Duncan (Jenna) MacVicar of New York City. He was predeceased by his parents, Dr. Donald and Jean MacVicar.
— Wife, Jeanne MacVicar, and classmates