Dr. Randy K. Nanstad
Cullum:25272
Class:'64
Cadet Company:C1
Date of Birth:June 10, 1942
Date of Death:December 19, 2021 - View or Post a Eulogy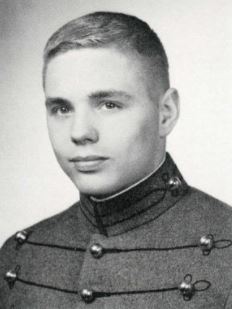 Eulogy for Randy's Funeral - December 30, 2021
On behalf of our dad and our mom, Sonya, we want to thank you all for being here.
If Dad where to write his own eulogy he might have started it with the introduction to one of two bios, he wrote for human resources at Oak Ridge National Laboratory when HR requested some background information on him for a biography following his acceptance of new leadership position.
The first one started with "Randy was born a baby a long, long time ago in a land far, far away...." and went on from there in the same fashion. The second bio was more formal but less entertaining. He left it up to the HR person to use what they wanted.
We don't have our Dads wit or way with words so his eulogy won't be as funny as it would have been if he would have written it. Actually, we are kind of surprised he didn't write one as he set us up with everything else that needed to be coordinated following his passing -that was his way- to make sure everything was going to be a good as it could be for the people he loved when he moved on. And we know without a doubt that he would like all here to leave feeling better than when they arrived and, if possible, with a smile on their face remembering the good times you've had together. So, with that we'll do our best to provide a eulogy for this man who touched so many people and lived life to the fullest.
Though cancer stripped him of his short-term memory, his ability to read and write, and nearly everything else he loved to do - it could not, no matter how hard the cancer or the treatment of it tried, strip him of his undefeatable sense of humor, desire to help others, his love for his family and friends and determination to enjoy what time he had left with grace and ease for all around him.
Today we remember Randy Kent Nanstad, PhD. Loving father and husband, who passed away on December 19th, after a valiant battle with brain cancer. In typical Dad fashion he beat all odds surviving more than a year longer than the doctors predicted - giving those around him more great memories and more good times.
Dad was born on June 10, 1942, to Donald and Dorothy Nanstad in Richland Center, Wisconsin. He grew up there and played high school basketball, baseball and football while also being in the school band and being a working musician playing trumpet for a swing band. Dad was a very good athlete and even had a tryout with the professional baseball team the Milwaukee Brewers.
In 1958, Dad was introduced to his future wife, Sonya Goad, by his sister Suzanne while they both attended Richland Center High School. From that point on they were the classic high school sweethearts. Following High School graduation in 1960, Dad was accepted to the United States Military Academy at West Point where he earned his bachelor's degree in engineering. Dad married Sonya in 1964 after graduating from West Point.
Following graduation, he attended and graduated from both Ranger School and Airborne Training. Only the most elite soldiers were accepted to these trainings, and most did not make it all the way through. He and Sonya then moved to Germany where he served for 1.5 years transporting nuclear weapons across German highways and mastering heavy artillery at the Grafenwoehr artillery range before being deployed to Vietnam. While serving his county in Vietnam he survived a deadly helicopter crash which put him in the hospital for four months. He retired from the US Army in 1968 with the rank of Captain and went on to obtain his MS degree in Nuclear Engineering in 1971 and his PhD in Metallurgical Engineering in 1974, both from University of Wisconsin-Madison. Dad joined Oak Ridge National Laboratory (ORNL) in 1974, where he devoted his career to materials science and engineering research, with a focus on engineering fracture mechanics and the effects of radiation on structural materials. Dad made significant contributions internationally to advance the understanding of the effects of neutron irradiation on materials used in the construction of nuclear reactor pressure vessels. Dad was a fellow of ASME International, a member of the American Society of Mechanical Engineers Boiler and Pressure Vessel Committee, the American Society of Testing and Materials, the American Nuclear Society, the Metallurgical Society, the Minerals, Metals and Materials Society, and was an officer of the International Group on Radiation Damage Mechanisms in Pressure Vessel Steels. He served as a consultant for the International Atomic Energy Agency (IAEA), participated in several IAEA Cooperative Research Projects, and served as the chairman of the IAEA Cooperative Research Project on Nickel Effects in Reactor Pressure Vessel Steels. Dad was an author and co-author of more than 200 peer-reviewed publications and technical reports, primarily dealing with understanding the fracture behavior and the effects of radiation on structural materials. In 2013, Dad received the ORNL Distinguished Engineer Award. Dad retired from ORNL in 2017, after 43 years of service, but continued to contribute his scientific knowledge and insight through his consulting firm, R&S Consulting.
That's a long and impressive list and probably still not complete. But we thought it important to try to list as many of his career achievements as we could because Dad was one of those rare individuals who truly loved what he did for a living and lived to do it. We think that's part of what made him so much fun to be around. We were going to say one of those "lucky individuals who love what they do" but there really wasn't any luck about it. He made all the above happen with his work ethic, energy, intense intellectual curiosity, and enjoyment at being part of the international research community.
Outside of work Dad was an avid handball player despite a left shoulder that couldn't reach over his head due to the helicopter crash in Vietnam. He loved that game. We thought it was a strange game, however, because it only required a hard rubber ball, your hands, and a wall. It hurt to hit the ball with your hand and was kind of primitive. And we think that's what he liked about it. It was straight forward and physical but required strategy and skill while using the simplest instruments.
He played for many years until his left knee had finally had enough. And then he continued playing for many years until his right knee had had enough. And then he continued playing for a few more years until his right ankle had had enough and required fusing. The amount of ace bandages, knee and ankle braces, Ben Gay and Icy Hot that man used in his pursuit of that game could probably fill a handball court!
Dad also really enjoyed riding his Indian Chief motorcycle. He was a real biker who loved to ride just for the sake of riding-didn't matter if there was a destination or not. If you pulled up next to him you might get a little nervous thinking this dude looks a little dangerous - riding down the road on a menacing looking, black v-twin cruiser in his worn brown leather jacket, biker boots, leather chaps, and a half helmet...until you saw the small figurine of Albert Einstein mounted to the front of his handlebars with the dolls crazy white hair flying in the wind.
Dad also enjoyed music and singing. He had the most beautiful falsetto voice. When we were children, he would sing to us at bedtime-a colleague of his recently remembered that he was over visiting Dad at their small apartment in Madison when Dad was in graduate school. While they were socializing Dad excused himself so that he could sing myself, Lisa and Rachel Bridge Over Troubled Waters or Where Have all The Flowers Gone after putting us to bed.
As adults we enjoyed many hours as a family listening to Harry Chapin and Bruce Springsteen or figuring out songs and having him sing them while we played guitar. He was always up for singing and just spending time together doing the simple things. We always looked forward to that during the holidays.
Dad also loved the outdoors. He was a founding member of the LaidBacs -which was short for "Leisurely and Indulgent Dudes Backpacking and Carousing Society". Esteemed members included Tim Reilley, Gene Goodwin, Mark Goad and several other Oak Ridger's. They would have an annual backpacking trip into the Smokies for a night or two-from what we understand they always made room in the packs for fine food, wine, and cigars - which never struck us as very outdoorsy but sounds like a very good time. The picture on the LaidBac's t-shirt they had made showed a cartoon guy with a backpack, sitting down, back against a tree while sipping a martini-looking extremely laidback.
Dad loved to travel and was a master at it. In the summer of 1983, he took his family of five to Europe for three weeks where we visited Spain, Italy, France, Germany, and Austria. Consider that he did this without the aid of a cell phone- had to use payphones everywhere we went and not knowing any of the associated languages. None of us had ever left the county except for mom-and where basically of no help being typical teenagers. We travelled on military planes thanks to his retired military status for $5 each-yes it was cheap but much more difficult than booking a flight on a typical airline-it required coordinating standby flights from nearby military bases where you were just as likely to get bumped if a soldier or some cargo bumped you. Somehow, he made it all work and we had the trip of a lifetime. We still tell stories that trip.
Another example of Dad's mastery of travel was our trip to Peru. Dad, David, and David's girlfriend Maureen (now his wife) travelled to Peru together during the summer of 2019 to visit Machu Pichu and other sites. David and Maureen spend two days and nights in Lima seeing the sights before Dad arrived and they flew together to Cusco-the nearest airport to Machu Pichu. After a week of exploring Cusco, Machu Pichu and other nearby sites, Dad returned home while Dave and Maureen continued to the Amazon. Dad had an 8-hour layover in Lima on his return flight. He asked me for a list of the sites we saw in Lima while we had been there without him. Thinking of his limited time, I suggested I just give him the best thing from our two days of exploring the city-but he wanted the entire list. Somehow, he managed to see and do everything that had taken us two days to accomplish within an 8-hr. layover and not be late to his flight including getting drinks at two bars famous for their Pisco Sours.
We could go on and on and without a doubt will do so for years to come remembering all the great memories this wonderful man left us with. He really isn't gone at all as his antics, stories and reassuring voice are still heard by so many especially us.
Our family would like to extend a special thanks to Roger and Robin Stoller, Michael and Julia Sokoloff, and Gene, Linda, and Scott Goodwin and many of his other colleagues for their support during Dad's illness. It made a huge difference and he and his family really appreciate it. We can't thank you enough. It meant so much to him that his friends and colleagues were there to provide support to him and his family. He was truly blessed to have such amazing friends.
In closing we ask that all here and all that knew Dad celebrate an extraordinary life, well lived, with fond remembrances, smiles, laughter, and hugs.